Can Hollywood Kill the Casting Couch?
The country's biggest actors' union has struck a deal to eliminate the kind of private auditions that can lead to abuse.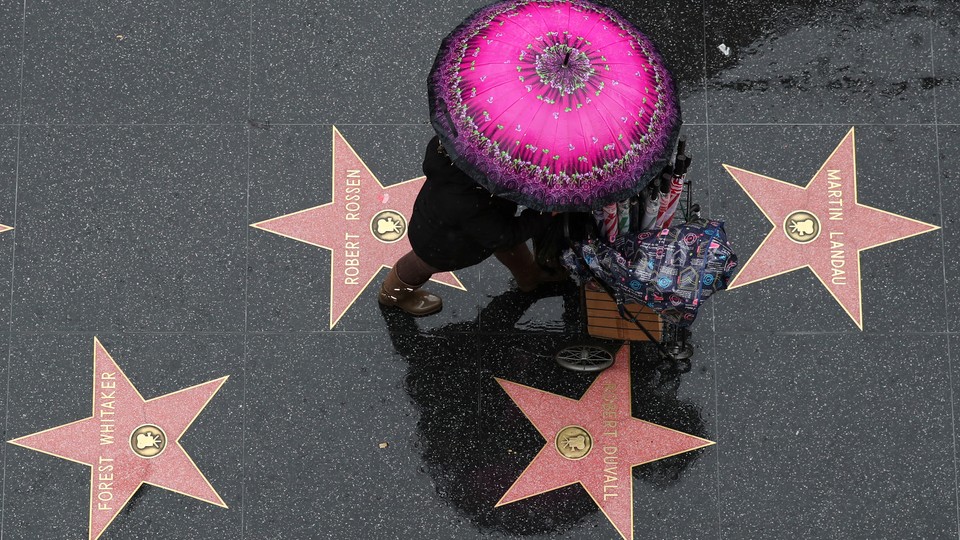 The casting couch is a phrase that has only ever existed as a queasy euphemism in Hollywood. In the early studio era, when the film industry was run by ultra-powerful moguls who could make or break stars, even the most iconic actresses (like Shirley Temple or Judy Garland) were sexually harassed by producers early in their careers, as they later recounted. More recently, multiple stories about Harvey Weinstein describe the former mega-producer allegedly luring women to his hotel room under the pretense of discussing a role in a movie. After Weinstein was indicted in May on rape charges (to which he pleaded not guilty), his attorney claimed the producer didn't "invent the casting couch in Hollywood." The statement framed the allegations against Weinstein as the kind of "bad behavior" that's long been part of the industry.
No wonder, then, that the country's foremost actors' union recently reached an agreement with the four major TV networks to try to ban the "casting couch" as a concept. The deal—struck between SAG-AFTRA and ABC, CBS, NBC, and Fox—could serve as a benchmark for other meaningful agreements in the future, as the union seeks to limit situations in which extreme power imbalances can lead to abuses of authority. For now, the deal is intended to provide some basic protection against the most obvious kind of predatory behavior in Hollywood—even if wider swaths of the industry will need to take further substantial action in order to address the systemic issues that lead to harassment and assault.
SAG-AFTRA represents about 160,000 actors, journalists, dancers, and other media professionals, who must vote to approve the deal (which is part of a wider contract governing pay increases). The goal of the union's "Guideline No. 1," which was initially codified in April (and became the basis of the contract language), is to put an end to all "high-risk" locations for professional meetings—places like private homes or hotel rooms.
The union's president, Gabrielle Carteris, said the agreement "represents a partial realization of our work toward industry culture change," implying that more work still lies ahead. The initial language proposed by SAG-AFTRA in Guideline No. 1 calls on "producers and other decision makers" to only conduct auditions in a professional setting. In the "unlikely event" of one not being available, according to the guideline, actors are encouraged to bring a "support peer," who should be in the room with them the whole time. (Weinstein's modus operandi, as alleged by dozens of women, was to have an assistant escort an actress to his hotel room and then immediately leave, so that actresses were trapped alone with the producer.)
The "casting couch" phenomenon goes beyond the stereotype of entertainment executives preying on newcomers. It's something that has happened to men and women at every level of the industry. Megan Fox said in a 2009 interview with British GQ that things actually got worse after she achieved fame. "It's really so heartbreaking," she recalled of some of the "Hollywood legends" who had harassed her. Making auditions a formal process, which are taped and have casting agents present, can help curtail harassment. But so often in the business, this process is bypassed or takes the form of casual meetings with producers, which is when inappropriate or dangerous encounters can more easily occur.
The SAG-AFTRA contract, at best, offers a solid baseline for conduct, even if it only currently applies to four TV networks. It recognizes, on some level, that there's an inherent power imbalance between a producer and aspiring actor at the start of a project. After all, when there are countless actors jockeying for a single part, that situation can be prone to exploitation. A natural next step for the union will be working this language into other agreements with TV networks and movie studios, once those contracts expire. A more ambitious move would be to come up with clear procedures for reporting and investigating abuse, to establish a mechanism for holding Hollywood's power brokers accountable, when necessary. This would be a more complicated goal to work toward than setting up rules around auditions, but it's one the union should explore in future negotiations.
Any serious efforts to combat the "casting couch" will require understanding that it can manifest in more shadowy ways. Weinstein's accusers have alleged that the producer also used his clout to spread rumors and to discredit serious stars like Ashley Judd and Mira Sorvino as retaliation for rejecting his advances. The widespread gossip that '90s ingenues like Gwyneth Paltrow and Gretchen Mol landed big roles after trading sexual favors persisted in the industry for decades. Last December, Paltrow charged that Weinstein had told other actresses that she had sex with him for a part, saying, "He used the lie as an assault weapon" (a claim Weinstein's spokesman rejected). A couple of months earlier, Mol wrote about the persistent rumor that she "had some kind of transactional relationship" with Weinstein, which she flatly denied.
That kind of hearsay is, in part, what has allowed the casting couch to be used as a defense for Weinstein. Weinstein wasn't doing anything out of the ordinary, let alone criminal, in those hotel rooms, his attorney Benjamin Brafman told reporters in May. "To the extent that there's bad behavior in that industry, that is not what this is about. Bad behavior is not on trial in this case," Brafman said.
His words chillingly echo an excuse that Bill Cosby's lawyers employed during a hearing in 2016 before the actor's first sexual-assault trial. "The age-old 'casting couch' is not unique to Mr. Cosby, and thus not a 'signature' nor a basis for the admissibility of these witnesses' stories, let alone a conviction," his attorneys wrote in his defense. It's a flimsy argument, and a reminder that the notion of the casting couch has long been an effective shield for powerful men accused of abuse. Still, Cosby was eventually convicted, and Weinstein was arrested. Now, at last, SAG-AFTRA is taking steps to dismantle a pernicious, "age-old" tradition for good—a worthy, if painfully slow, process.