Robert De Niro's Toothless Protest
At the 2018 Tony Awards the actor and director gave a brief, profane, and pointless outburst about President Trump.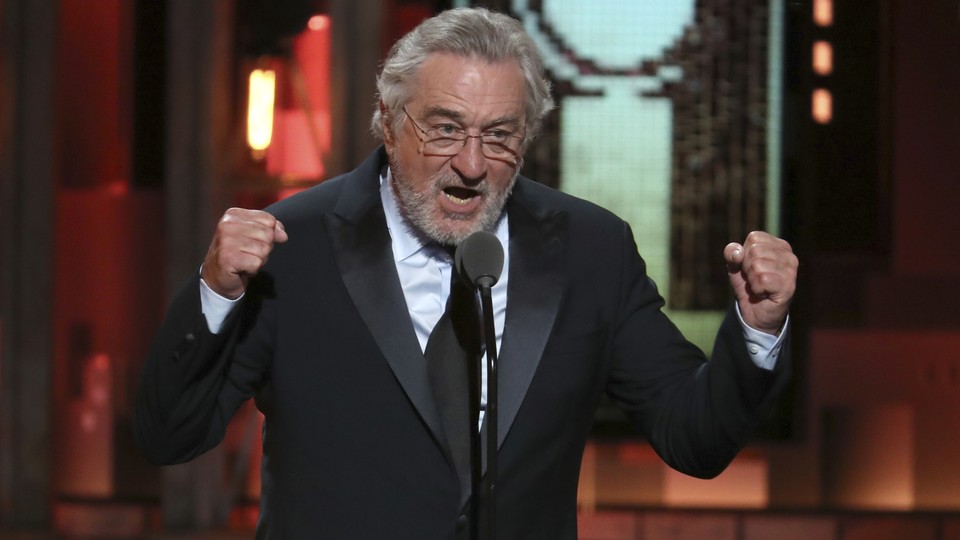 For the first two hours and 40 minutes of the 2018 Tony Awards, everything went according to the playbook. There were wry, funny introductions from the hosts, Sara Bareilles and Josh Groban; there were warm but nonspecific nods to political flashpoints from Patti LuPone and Andrew Garfield; there was the omnipresent reminder that the Tonys are for the theater kids, a tribe of performers, players, and misfits who find their people in drama class and never look back. And there was a moving performance by a group of just those kids: students from Marjory Stoneman Douglas High School in Parkland, Florida, who honored their award-winning drama teacher, Melody Herzfeld, by singing "Seasons of Love."
And then Robert De Niro arrived. Barreling onto the stage while the band jauntily played him in, De Niro leaned into the microphone. He clasped his hands together. "I'm just gonna say one thing," he said. "Fuck Trump." The crowd gasped, then shrieked their appreciation, as De Niro raised his fists above his head, pugilistically. "It's no longer down with Trump," he continued, clearly enjoying the room's reaction. "It's 'Fuck Trump.'" He got a standing ovation, which was predictable given that the room he was speaking to was filled with coastal artists and creators—not a demographic that tends to represent the president's voter base.
De Niro's words encapsulated the progression of the Trump presidency grief cycle. Denial is apparently over; the oppositional mood has shifted back into anger. De Niro, posturing like the Jake LaMotta he once was instead of the Jack Byrnes he's been for the last 20 years, offered an outburst of profane rage that was bleeped by CBS's censors for most viewers, a fact that only underscored its futility. Because besides his comments, which were only a terse interlude before the actor launched into his prewritten introduction of Bruce Springsteen, De Niro didn't say anything at all. A brief outburst was apparently as far as his onstage protest was willing to go.
In that, the moment was of a piece with the bulk of the other statements made on the Tony stage, and with Kelly Clarkson's vague call for "action" on mass shootings at last month's Billboard Music Awards, and with the Oscars in March, where President Trump's name was barely mentioned at all. De Niro's exclamation was easy—cathartic in its plosive syllables and its matching, guttural vowel sounds, and employing a profanity that postures itself as daring, subversive. It might have been a satisfying moment for De Niro and for his audience, but it was toothless otherwise.
This is the problem that's afflicted artists over the last 18 months as they grapple with the shadow of politics darkening a realm that's constructed to entertain. Last week, the comedian Samantha Bee was obliged to apologize on-air after her description of Ivanka Trump as a "feckless cunt" drew fury from the right-wing media and tutting from the left. What Bee ultimately recognized in her apology is that her statement wasn't just offensive to many; it was counterproductive. When Bee first uttered the words on her TBS show, Full Frontal, she was critiquing the First Daughter's seemingly tone-deaf Instagram picture of herself with her son, during a week when news reports about immigrant children being forcibly removed from their parents were inescapable. But the story, instead, became all about Bee, as the comedian herself noted.
"I hate that this distracted from more important issues," Bee said in her apology. "I hate that I did something to contribute to the nightmare of 24-hour news cycles that we're all white-knuckling through. I should have known that a potty-mouthed insult would be inherently more interesting to them than juvenile immigration policy. I would do anything to help those kids. I hate that this distracted from them, so to them, I am also sorry."
In other words, it's easy to be angry. It's easy to take a platform that offers easy (if bleeped-out) access to millions of people and use profanity to capture a mood, to express an emotion. But the outrage that will doubtless ensue is a distraction from what really matters, and what's much harder to realize: the work of trying to change a situation, not just rage against it. Before De Niro strolled onto the stage at the Tony Awards, the night's most powerful and resonant moment had been a performance by high schoolers whose protest since their classmates were gunned down in front of them has been pointed, deliberate, disciplined. De Niro might have stolen the show, but it's easy to guess whose actions will have the more enduring impact.