What's Going on With Novak Djokovic?
He's perhaps the most confounding player the game has ever seen—and he enters the Wimbledon draw after emerging from one of the coldest stretches of his 15-year career.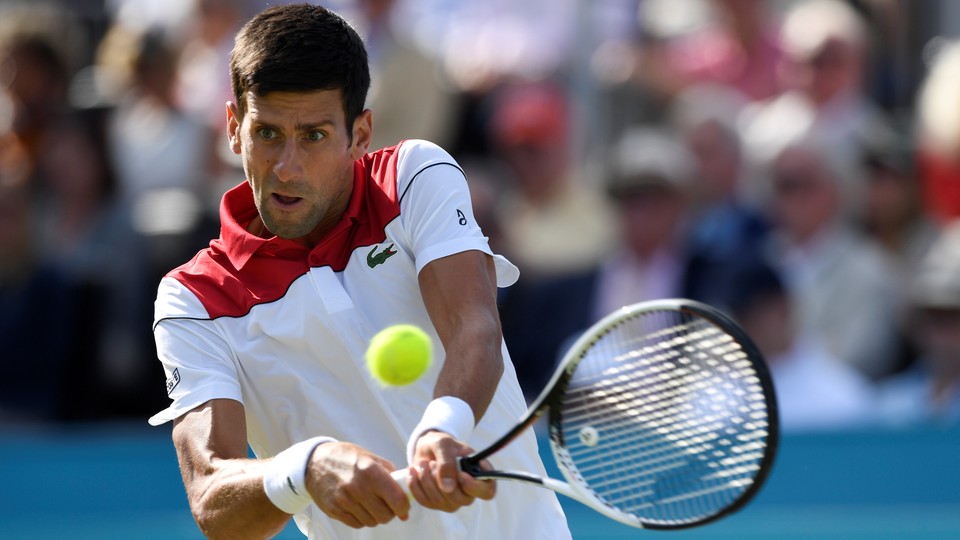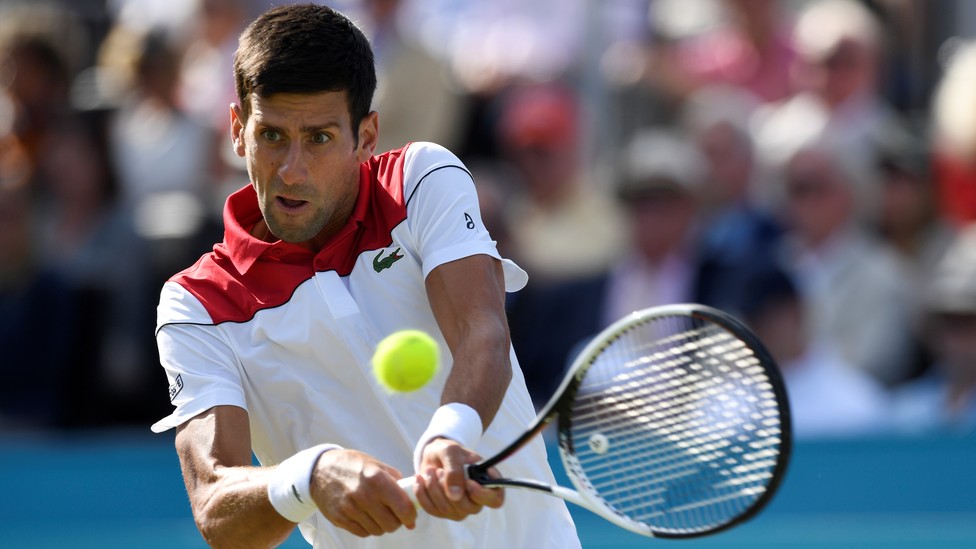 True loyalty in men's tennis tends to cut one of two ways: You're either with Roger Federer, or you're on the Rafael Nadal bandwagon. Together, the Swiss and the Spaniard have ruled for the better part of the past 15 years, cowing all challengers while making their genial domination something well worth cheering for—those plucky underdogs be damned. Each time Federer and Nadal reach the finals of a Grand Slam, whether pitted against mere mortals or each other in yet another titanic clash, the race for the title of greatest tennis player of all time draws evermore narrow.
After collecting his 11th French Open crown earlier in June, Nadal now has 17 career major singles titles to Federer's 20. Between Nadal's edge in age (he's four years younger than Federer) and Federer's upper hand on playing surfaces that aren't clay (where Rafa is king), there's little telling who might come out on top when they call time on their epic careers. So it figures that their respective supporters would be keen to take out any available insurance policy that might help their man sew up undisputed G.O.A.T. status. Which is to say that more often than not, they've had to hold their noses and rally behind Novak Djokovic—maybe the most confounding player the game has ever seen. His abundant skill is obvious. But the particular thing that makes him great? Not so much. Even more puzzling: His magic touch has gone missing. He enters this week's Wimbledon draw looking to keep a modest streak going after emerging from one of the coldest stretches of his 15-year career.
It all makes Djokovic that much harder to peg. Federer exudes worldly charm, and Nadal melts your heart with his profound humility. By comparison, the Serbia-born Djokovic can come off as smug and polarizing. And then there's his game, which hardly moves a crowd. Federer plays with an ethereal brilliance. Nadal counters with matadorial swagger. They are sui generis talents who make their genius plain to see. Djokovic does not. He is tennis's Floyd Mayweather, a technical fighter who swings for points instead of knockouts and racks up one tedious victory after another.
Djokovic's counterpunching style traces to grinders like Björn Borg, Mats Wilander, and Michael Chang. The twist with Djokovic is that his game is colder, more clinical. It's built around an elastic 6'2" frame, a lethal two-handed backhand that lets him switch from defense to offense on a dime, and marathon stamina. On hardcourts in particular, it's a struggle keeping up with him, and he exhausts opponents and spectators alike. When he outlasted Nadal in the 2012 Australian Open final, the longest Grand Slam final ever played (at five hours and 53 minutes), it wasn't considered a spectacle to rival Federer and Nadal's 2008 Wimbledon final—a.k.a. the greatest match ever played. Rather, it was submitted as an argument against five-set matches.
Djokovic, 31, might not inspire prose from David Foster Wallace or shoutouts from Lil Wayne, but he sure gets the job done. He can justifiably claim three of the greatest seasons ever recorded in men's professional tennis. In 2011 he won an Open-era record 41 straight matches (on the way to a 70–6 overall mark) and three of the four majors—Australia, Wimbledon, and the U.S. Open—while maintaining an ironclad lock on the catbird seat in the rankings. In 2015 he won those same three Slams again while improving his single-season personal best to 82–6. The next year he beat Britain's Andy Murray in the French Open to become the eighth man ever to hold all four major titles on his career résumé, and the third man ever to hold all four slam titles concurrently—a boast neither Federer nor Nadal can make.
But the thing that really made those Djokovic campaigns so impressive was the 33–16 record he compiled against Nadal and Federer in that five-plus year span, including a mind-bending 10–1 stretch in 2011. Djokovic's victory in the 2016 French Open and the preceding Australian Open, the highlight of which was his four-set defeat over Federer in the semis, gave the Serb a staggering 12 major titles altogether. And then suddenly and without warning he tumbled from the mountaintop.
The fall began at last January's Australian Open—which saw Djokovic lose to Uzbekistan's Denis Istomin, then the world's 117th-best player, in the second round; the defeat was Djokovic's earliest exit from the tournament in 11 years and the first time he had ever lost to a player ranked outside the top 100 in Grand Slam tournament. Two months later he suffered back-to-back losses to 17th-ranked Nick Kyrgios, a now-23-year-old Aussie who could just as easily flick a backhand volley on the hop for a searing cross-court winner as smash a bagful of his own racquets upon conceding a point. (Interestingly, Federer has said Kyrgios reminds him of a younger version of himself.)
Next thing you know, Djokovic was the one acting rashly. In May he fired long-time coach Marián Vajda (who'd been with Djokovic since he turned pro in 2003), fitness specialist Gebhard Phil-Gritsch (the man who made Djokovic so elastic), and physiotherapist Miljan Amanović (the man who made Djokovic so durable). Then Djokovic hired Andre Agassi to coach him, which was nothing short of a coup, given that the eight-time slam champion and former world No. 1 had never coached before. But the partnership didn't provide Djokovic much positive momentum. He suffered massive setbacks in the quarterfinals of the French Open and Wimbledon in 2017, then shut himself down for the season (just prior to the U.S. Open) to recover from a right elbow injury that had hampered his groundstrokes and his on-again-off-again-serve. Djokovic said the joint had been bothering him for "over a year and a half."
And yet: He played in January's Australian Open, lasting until the round of 16 before having surgery on his tennis elbow—"a small medical intervention," he called it. It seemed to cure the soreness ("After two years finally I can play without pain," Djokovic said), but not the slump. After dropping opening matches on the hardcourts of Indian Wells, California (to 109th-ranked Taro Daniel of Japan), and Miami (to 47th-ranked Benoît Paire of France), Djokovic hired Vajda back on and cut ties with Agassi—who, on his way out, mentioned that "we far too often found ourselves agreeing to disagree." Also hanging over Djokovic were tabloid reports of marital strife. (Never one to hold his tongue, John McEnroe, tennis's self-appointed conscience, was quickest to jump into the fray, comparing Djokovic's alleged infidelities to the ones that chastened Tiger Woods while intimating that the Serb may have lost all competitive motivation.) And then in the quarterfinals of this year's French Open, Djokovic was upset by 72nd-ranked Marco Cecchinato of Italy; he entered that tournament ranked 22nd, a new low.
As Djokovic falters, Federer and Nadal's battle for eternal supremacy intensifies. Nadal's most recent triumph at Roland Garros wasn't just historic for him; it marked the third time in 13 years that Federer and Nadal have combined to win at least six straight major titles. After taking off the entire clay court season, Federer made his return earlier in June on the grass court in Stuttgart, Germany, and swiftly raised his 98th ATP tour trophy—an unfathomable distinction that also made him the oldest player to hold the No. 1 ranking. Of course he'd taken that spot over from Nadal, who's since taken it right back.
Meanwhile, the game's other great players play for pride and little else. Andy Murray, a three-time slam champion who matches up well with Federer and Nadal, has been out of commission since last year's Wimbledon with a bad hip. Switzerland's Stan Wawrinka, another three-time slam champion who's exasperated Federer and Nadal, is still playing his way back to form after a pair of surgeries on his left knee. Croatia's Marin Cilic and Argentina's Juan Martin del Potro are the only other players to swipe a major from Federer and Nadal while those greats were in their primes but haven't consistently threatened them since. Austria's Dominic Thiem looked like he was ready for primetime. And then Nadal wiped him off the red clay in Paris in May in straight sets.
Djokovic might well be his generation's Ivan Lendl, a man Sports Illustrated famously dubbed "the champion that nobody cares about," but there's no question that men's tennis is far more interesting with Djokovic at the peak of his powers. There are few players on tour more sporting, especially to ball kids, or more amusing—as his note-perfect impersonations of Nadal and Maria Sharapova will surely attest. More to the point, Djokovic keeps Federer and Nadal honest, and he gives younger players in his grinder mold reason to believe their hard work and determination will lead them to breakthroughs against those two legends as well.
To those who wonder whether Djokovic can come back strong, consider: Federer was written off as recently as four years ago (and then he had knee surgery and adjusted to playing with a larger racquet head), and Nadal was supposed to see his career cut short by patellar tendonitis (but he keeps bouncing back after long rehab stretches off-tour). The same developments that were deemed fatal to a tennis career 15 or 20 years ago—chronic joint pain, 30th birthdays, kids—are now basically just hiccups. (The flexibility to truncate the playing schedule for maximum efficiency surely helps.)
So there's hope for Djokovic. In fact, he's already starting to show signs of a resurgence. Last weekend, he reached the finals of the Fever-Tree Championships in London, his deepest run so far this season. It's a grass-court result that bodes well for his prospects in the Wimbledon draw, where he is seeded 12th and slotted on the same side of the bracket as Nadal (a two seed), del Potro (a five seed) and the ascendent German Alexander Zverev (a four seed). Djokovic could prove a ripe stumbling block for the seventh-seeded Thiem in the quarterfinals. Or he could lose for a third straight time to Kyrgios in the quarterfinals. Either way, the wild-card role suits him. It's good for the game, too.