Nine Inch Nails Enters Its Least Compromising Phase Yet
The rock band's Bad Witch completes a trilogy of terse, inventive, post-Trump blasts of rage.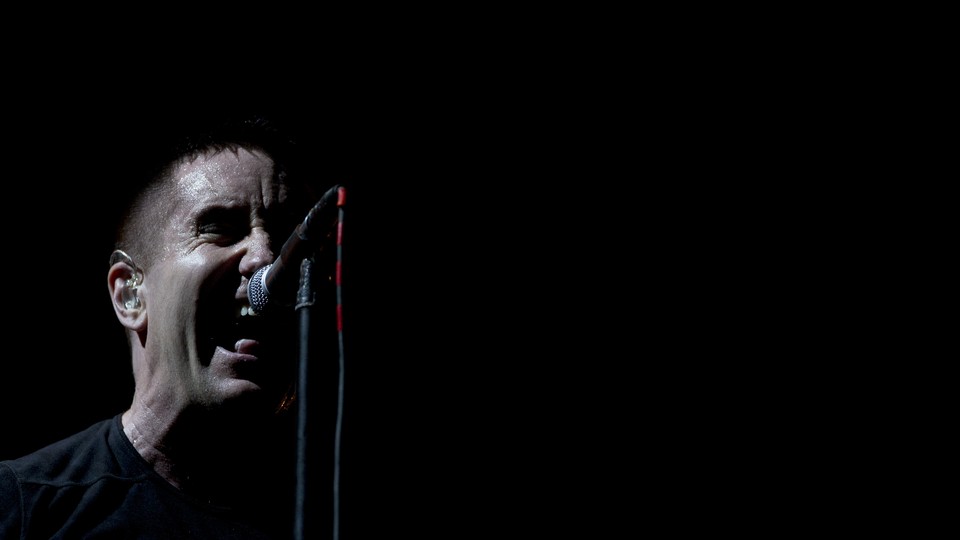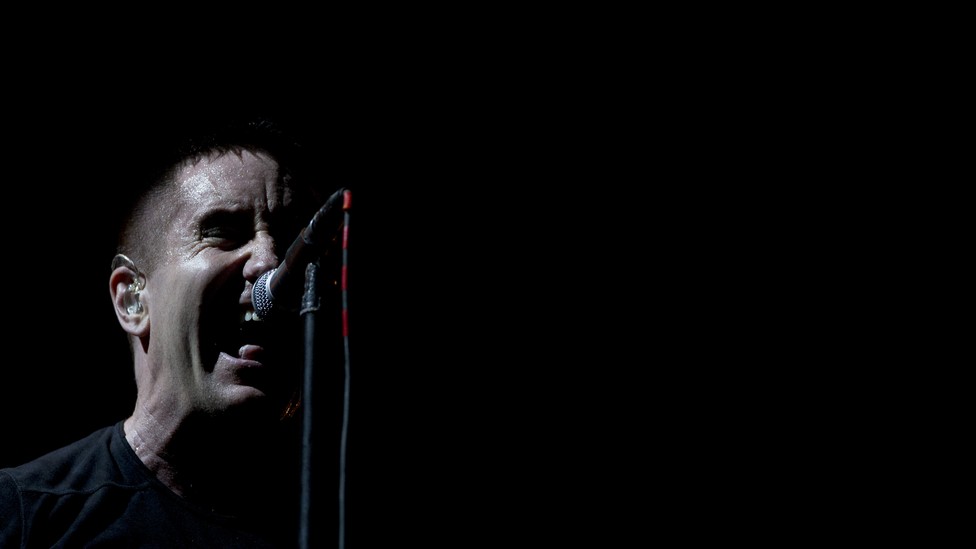 In December 2016, I opened an envelope that arrived in the mail, and a fine black dust—like magnet shavings, or gunpowder, or ground-up malice—poured out onto my countertop. It gunked my fingers, and it to this day contaminates the file drawer where I've kept the envelope. This was how Nine Inch Nails delivered the band's then-new album: as something that might stain you. Three decades into making anguished, seductive industrial rock, Trent Reznor had entered his least-compromising phase yet.
Which is saying something, given that this is the guy whose defining hit lobbed the phrase I want to fuck you like an animal into karaoke bars. His 1989 debut, Pretty Hate Machine, paired chintzy synth-pop symphonies with shockingly abject self-loathing, but his true breakthrough of confrontation came with 1992's Broken, one of the best EPs in rock history. A sorcerer of studio production, Reznor made chainsaw-like guitars somehow gleam pleasurably, screamed fang-sharp hooks, and engineered horror-movie jump scares by switching between silence and noise. One accompanying music video depicted a man putting his genitals into a meat grinder.
He'd go on to make grand opuses, but the guerilla spirit of Broken, all these years later, animates Reznor's latest triumph: a trilogy of short-form records released at the rate of one a year, loosely inspired by political-cultural feelings of alienation. Reznor has always also been a pop craftsman, yet 2016's Not the Actual Events EP—the one that made a mess in my kitchen—buried its melodies deep. Its lead single, "Burning Bright (Field on Fire)," came off like Led Zeppelin playing through a megaphone on a blazing oil derrick. For 2017's Add Violence, the mix was cleaner, and bright keyboard sounds reemerged. Still, every song had something off. The closing track built and then dissolved into a static-y loop over 11 minutes.
Now arrives the culmination, Bad Witch, whose six songs Reznor labels—for practical more than artistic reasons—an album rather than an EP. It is enveloping and relentless: satisfyingly terse, built with an ear for energizing rhythm, and as adventuresome as anything Reznor has done. If summer's sunshine clashes with whatever inner turmoil you feel, put on the album and the world will appear to darken appropriately.
Reznor has always trained his sneering voice on feelings of anger and hurt that, listeners understood, came from within—even if bullies, betrayers, and an uncaring God served as his triggers. In the new millennium, politics entered the picture; 2007's
Year Zero
, for instance, channeled Bush-era anxiety into an apocalypse tale. The three new releases have partly reacted, Reznor has said, against Donald Trump's rise. But as with much other
protest music of late
, social alienation blurs with preexisting personal demons. He explained
Bad Witch
's message to
Entertainment Weekly
like this
: "We're not living in a simulation, and there's not a convenient external thing we can blame this on—at our core, [humans] are just an accident, and when fully realized, we will just exterminate ourselves, and we aren't these enlightened creatures." That's bleak, but not worse than what he yowled back on
Broken
: "Pigs we get what pigs deserve."
Some lyrics do jump out as timely. "Celebration of ignorance!" Reznor periodically cries out on "Ahead of Ourselves," a contagious freakout of whimpered harmonies and double-time drum 'n' bass. Toward the end of the opener, "Shit Mirror," a punkish onslaught shifts to a danceable "Hey Mickey!" rhythm over which Reznor pants, almost joyfully, "New world / New times / Mutation feels all right." If there is a musical mutation at hand, it's in the jazz influence that enters later in the album. Creeping saxophone marks the instrumental "Play the Goddamned Part" and the sweeping single "God Break Down the Door." In the latter, both the woodwinds and vocal tenor obviously recall Blackstar, the final album by David Bowie.
Bowie was a friend of Reznor's, and Blackstar appears to inform Bad Witch in more than superficial ways. Many of Nine Inch Nails' most singular influences, like Bowie, Lou Reed, and Leonard Cohen, only intensified in their questing, negative energy as they reached the later stages of their careers. The 53-year-old Reznor may be approaching his arc similarly. "All of these EPs started out with the same question, which is, 'Where is my place in the world today?'" Reznor told EW. "And I'm asking myself that question as someone who's getting older and looks at a world that feels increasingly unfamiliar." When discussing why he continues making music, he said, "We're not making any money from putting albums out, but the other side of that is freedom. I'm not worried about charts, I'm not worried about trying to appeal to playlists on radio stations. I just want to make the most challenging, best music I can."
These works might not reach the "best" height—there's no beating Broken and 1994's The Downward Spiral—but they don't dishonor the mission either. You get the clearest sense of the risks he's taking on Bad Witch's surprisingly poppish closer, "Over and Out," whose catchy rhythm recalls Jimmy Jam and Terry Lewis's production for Janet Jackson. Rather than leverage the groove for a would-be hit, he lets it breathe, unspool, and die. "Time is running out," he croons. "I don't know what I'm waiting for." The line could have any number of distressing interpretations, but it could also be confirmation that whatever he's been keeping in has, on these albums, been irrevocably unleashed.