The Wisdom of Going Back to School in Retirement
The historian Nell Painter discusses her lifelong love of art, and how it felt to finally pursue her dream after she left the workplace.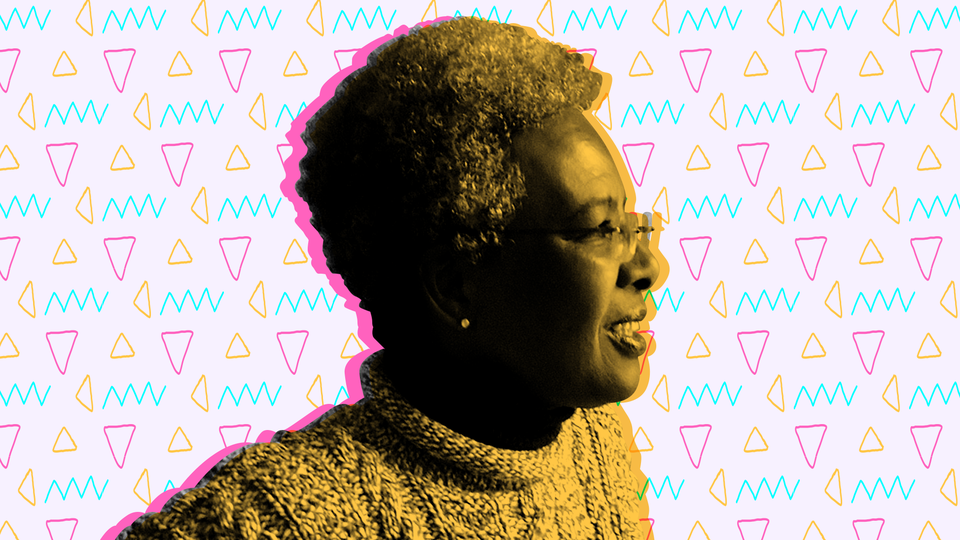 Not a lot of artwork covered the walls of the historian Nell Painter's childhood home, but the art that did was political. The work of Charles White and Elizabeth Catlett, both African American artists concerned with black subjects, lurked in the background of Painter's life as a child. Her family was not an art family—her mother worked in education, and later wrote books, and her father worked as a lab technician at the University of California at Berkeley—but Painter found herself attracted to drawing.
For much of her career, Painter worked as a historian at Princeton University, studying gender and race, primarily. She is the author of The History of White People, one of a few books chronicling whiteness throughout history, and a biography of Sojourner Truth called Sojourner Truth: A Life, a Symbol. Upon retiring, Painter decided to go back to school—to get her MFA from the Rhode Island School of Design and become an artist. This week, Painter published a new book, Old in Art School: A Memoir of Starting Over.
I recently spoke to Painter about the short period she spent as an art major in college, the climate of higher education in the 1960s, and her experience of being one of the oldest students in art school. This interview has been lightly condensed for length and clarity.
---
Lolade Fadulu: Did you make art for your family and friends?
Nell Painter: I drew for myself. When I was in college, I was briefly an art major, and I drew, I think, two covers for the California Pelican, which was UC Berkeley's humor magazine.
Fadulu: As a kid, did you have any formal art training?
Painter:  When I was in high school, we had what was called the art club. We went around the Bay Area to sketch. And that was glorious. We would each carry our own sketchbook and we would make sketches of Fort Cronkhite or Marin County.
Fadulu: You said you were briefly an art major in college. What happened?
Painter: I was fine with drawing and painting, but I had to take a sculpture class, and I had never done any sculpture. I didn't do any work in that class. I was awful. My teacher gave me a C. I was absolutely shocked. I didn't get Cs. But I earned my C, because I didn't do any work, and whatever it was I made was terrible. But I thought if you had talent, then you didn't really have to do any work. So when I got a C, I thought, This proves I don't have enough talent. I look back, and I think that was such dumb-kid reasoning.
Fadulu: Do you remember anything about that teacher who gave you the C?
Painter: I know we were not close. I don't feel I was close to any of my art teachers at Berkeley. When I think about my art teacher, it's my high-school art teacher that I think of.
Fadulu: What was your high-school art teacher like?
Painter: I remember his name, Stan Richardson. He was young. He was an MFA student at the California College of Arts and Crafts, right up the street. He was very enthusiastic. He was white. All my teachers were white. And he was very warm. He was very encouraging. He stayed in touch with the people he taught. And he only taught for a while, while he was a student at CCAC. After he got his MFA, he went to New York to become an international artist, which is a thing one did, and still does. But he did not become an international artist. He returned to the Bay Area and made his career teaching art at San Jose State University.
Fadulu: Why do you think you remember more about him than the art teachers in college?
Painter: It was a question of warmth. I took him for granted at the time, but that was not the right thing to do. When I went to Berkeley, there were 20,000 students. You could count the black students on the fingers of one hand, or so it seemed. The air said, You are stupid and you're not going to succeed. It wasn't just because I was a black student. I remember being in a great big lecture hall with 1,000 students. I was the only black student. The professor who was convening it said, "Look to your left and look to your right. Next year, only one of you will be here." There was that assumption that a whole bunch of people were gonna be washed out, but there was also the assumption that black students were stupid. This made no sense, because everybody got in in exactly the same way. Years later, I would try to explain that to black students who are bitter about affirmative action. I would say, "No, no, no. Before affirmative action, when there was no reason to say race was the only reason you got in, people still thought you were stupid."
Fadulu: So fast-forward: You end up retiring from Princeton and decide to pursue art. How did you make that decision?
Painter: It was a series of steps. The first thing was getting from text to image. That happened over the course of a decade or so. I wrote Sojourner Truth's biography: Sojourner Truth: A Life, a Symbol. Sojourner Truth did not read and write. What she did was have her photographs taken. She posed. She paid for the photos, so she was the one who decided how she wanted to be seen. I had to give myself a visual education.
Then, as I was working on another book, called Creating Black Americans, I decided to use black fine art. There I could see all this fantastic art. Stuff I didn't know existed. I had not paid attention to art for a long time. I discovered artists who were thrilling.
Then, of course, there was my mother, who had changed her life. So I retired a little early.
Fadulu: How did your mother change her life?
Painter: When my mother retired at 65 from hiring teachers and writing reports and going around the state talking about education, she decided that I and my friends were having such a good time writing books that she wanted to write one too. She wanted to write this book about basically herself and her friends. Nice, middle-class black people. It took her 10 years. But she wrote it and she published it, and then she started another book, which also took her 10 years.
Fadulu: Did being a historian help you at all as an art student?
Painter: Quite to the contrary. It was a hindrance, because my teachers didn't want me to use historical subject matter, and they didn't want me to use text. That was all considered academic, which, in the categories of my disabilities, the biggest one is old, then the next one is academic.
One of my strengths as a historian is that I can take complicated, sometimes even contradictory, people and events or phenomena and present them in a way that is clear, but is also nuanced. My role as a historian is to take you, the reader, with me so that you see what I see.
In art, you don't dictate to the viewer. This is true whether I'm working abstractly or figuratively, that I make something the way I want to make it, the way my hand wants to make it, the way I see it, and if you see that same thing, okay. But if you see something else, that's okay too.
Fadulu: Which do you prefer?
Painter: I like the freedom. One of the reasons I got into art in the first place was I wanted to free myself of being true to the archive. When I go to the archive as a historian, I can't say what I want to find. As an artist, I can do whatever I please to the archive.
Fadulu: If you had to advise your younger self, would you follow the same trajectory?
Painter: I would say to my younger self, "Go ahead and do it, but know it's going to be excruciatingly painful at some point, and that that point will pass."
There is one thing I would change if I had it to do all over again. In my book there's a chapter called "A Bad Decision." The bad decision was to spend three years instead of four at Mason Gross as an undergraduate, and then maybe not taking a few years off before going to graduate school. I went immediately to graduate school after three years because I felt that time was just running out on me. I realize now I felt that because my mother had died.
You know, if you just go to the internet and you ask it, "Should I make a big decision like this when my mother has died?" the internet will say, "No. Don't make important decisions when something terrible has happened to you, when you're in trauma." But I made that decision when something horrible had happened to me, and I was feeling traumatized. It was the wrong thing to do.