Miss America 2.0: The Inner Beauty Pageant?
The competition is getting a #MeToo-era makeover. But even if the bikini tops are on their way out, the biases will remain.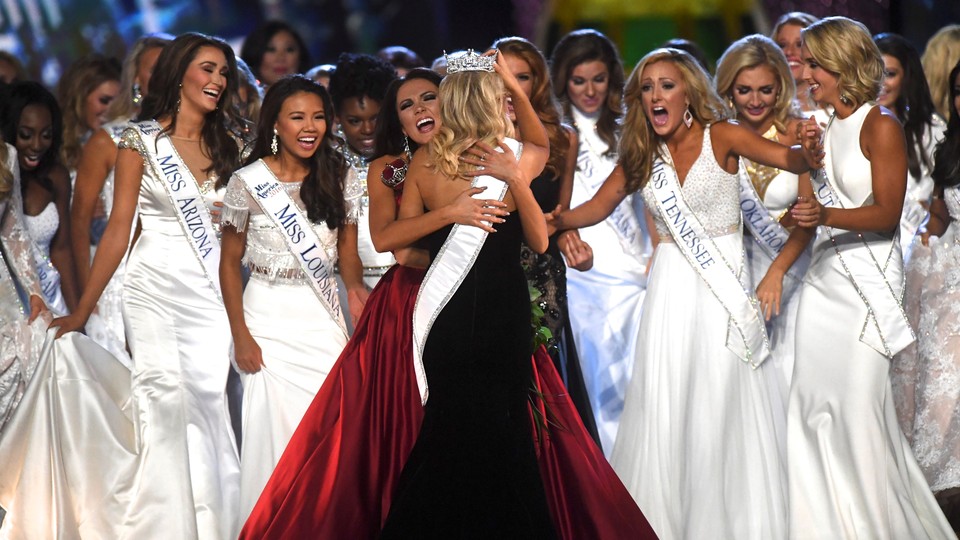 The New York Times' breaking-news alert went like this: "The Miss America pageant will end its swimsuit competition. 'We are not going to judge you on your outward appearance,' the chairwoman said."
The chairwoman in question is Gretchen Carlson, the former Fox News host, the Miss America for 1989, and now the head of the board of trustees for the Miss America Organization. And the news in question is this: On Tuesday morning, the organization rolled out, with glittery fanfare worthy of the topic at hand, what it is calling "Miss America 2.0." The new version of the 97-year-old pageant, Carlson and its other organizers announced, will aim to be "empowering." And "inclusive." And "transparent" about its own workings. "We are no longer a pageant," Carlson said on Good Morning America. "We are a competition."
Which means, among other things, as the Times' and so many other headlines emphasized on Tuesday morning: no more swimsuits. (Which means, even more specifically: no more bikinis.) And also: no more mandatory evening gowns. Instead, contestants will be able to choose clothing that "makes them feel confident, expresses their personal style, and shows how they hope to advance the role of Miss America." The Tracy Flicks will have their moment. "We want you," Carlson told prospective pageant participants, "and we want to celebrate your accomplishments and your talents and then we want to hand you scholarships."
The updates are a combination of admirable and inevitable. Miss America 2.0, after all, steps onto the American stage after a scandal that involved the publication of misogynistic emails exchanged among Sam Haskell, then the CEO of the pageant organization, and his staffers: notes that critiqued the intelligence—and the sexual behaviors—of pageant contestants. Miss America 2.0 arrives, as well, after news organizations reported on the ways the pageants of Miss America's fellow organizations, Miss Teen USA and Miss Universe, allegedly served as hunting grounds for their former owner Donald Trump. You could read the assorted revampings of Miss America, announced by a woman whose story has been a prominent element of #MeToo, as what BuzzFeed called it: "a #MeToo makeover."
They also amount, even more broadly, to a 21st-century makeover. Miss America, after all, has long lived with an uncomfortable tension: It has claimed to represent something real and true about American womanhood, while representing, in practice, only the narrowest vision of that womanhood. Miss America is an organization—"the nation's leading advocate for women's education," it says, "and the largest provider of scholarship assistance to young women in the United States"—that manifests most obviously as an event: the national pageant that takes place at the end of each summer, in Atlantic City. It's both a noun and a verb, both a thing and a happening, but most Americans, of course, know Miss America primarily for the fact of its literal pageantry. On the one hand, there is Miss America, the organization that declares, "Miss America is more than a title, it's a movement of empowering young women everywhere to achieve their dreams" … and on the other, there is Miss America, the show that equates the fulfillment of dreams with the ability to fill out a bikini top.
The pageant began as a marketing ploy—in 1921, business owners in Atlantic City, looking for ways to extend the summer season, established a September competition that sought to find "The Most Beautiful Bathing Girl in America"—and the event that was eventually dubbed the "Miss America" pageant remains true to that initial vision. The event that still takes place in late summer is an extended advertisement not for taffy shops on the boardwalk, or even for particular Beautiful Bathing Girls, but indeed for the opposite: for the Beautiful Bathing Girl, as a general idea. For feminine beauty itself—as a standard. As a structure. As a set of rigidly enforced rules. She's beauty and she's grace / she's queen of 50 states, William Shatner croons in that classic send-up of the "scholarship competition" that won't admit it's another kind of contest, and the song's fictive lyrics are nonetheless revealing. The Miss America pageant is native advertising for the beauty myth.
What might a pageant, shed of the myth, actually look like? When Gretchen Carlson announces that Miss America 2.0 will help young women "learn leadership skills and pay for college and be able to show the world who you are as a person from the inside of your soul" … what, realistically, will that mean? Will Miss America become a speech contest? Will it become a talent show? An essay competition? A spelling bee? A platform for young women to share their visions for a better world—ted, but with better clothes?
Probably not. It's nearly impossible to imagine any of that actually happening in the context of a pageant, even if "beauty" has been carefully excised from its marketing messages. There's an old Parks and Recreation episode that finds Leslie and Tom judging the Miss Pawnee pageant; Leslie guns for Susan, a great student and an expert piano player and a volunteer at a children's hospital. Susan loses, though, to Trish—who is not manifestly intelligent, who is not manifestly talented, but who compensates for it all by being, everyone agrees, "the hot one." It's a joke that, like Shatner's song, doubles as an insight. American culture, after all, has gotten extremely adept at the performance of progress. It has gotten very good, in this case, at talking about—talking up—inclusivity and body positivity and empowerment. It has gotten very good at ignoring the invisible hands that guide our aesthetic marketplaces as well as the other kinds.
But words are easy; change is hard. It is one thing to claim that "we are not going to judge you on your outward appearance"; it is quite another to make good on that promise. Miss America may be best known as a single event; in reality, of course, it is also a deeply connected network of different events—city competitions, state competitions—that lead up to the most (in)famous one. It is a cultural infrastructure unto itself. And it has been built up within a world in which beauty standards for women—standards that are deeply connected to race and class and the persistent inequalities that lurk among our easy pageantries—are so omnipresent as to be utterly unremarkable. Punishingly narrow assumptions about feminine beauty: They are part of the American scenery. They varnish the stage. They make it dangerously slick.
So I will be watching, with great interest, September's Miss America 2.0. And maybe I'll be, in some ways, commending it. It's trying, after all. It's adjusting. It's acknowledging that progress is sometimes best made with small steps, especially when you're walking in heels. But the updated event will also be necessarily limited in its vision, because there are two worlds at play in the promises of Miss America 2.0: the world that might exist—one that is truly representative, one in which women's "accomplishments and talents" really are celebrated above all—and the world that actually does. A world in which, for so many women, beauty is, rather than empowering and inclusive and self-expressive, precisely the opposite. A world that, like beauty pageants themselves, has a way of clinging to outdated traditions simply because they are traditional. "The Miss America pageant will end its swimsuit competition," The Times' breaking-news alert went. "'We are not going to judge you on your outward appearance.'" If only those two things really were that connected. If only it really were that easy.