Lorna Simpson Maps the Complex Galaxies of Black Women's Hair
The artist's new book of collages incorporates magazine clippings, watercolor, and geological formations.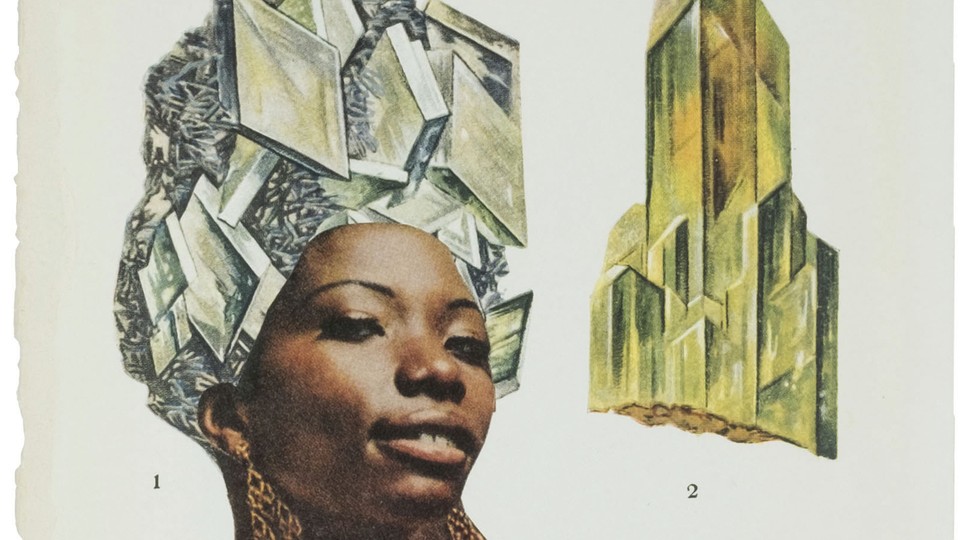 "Black women's heads of hair are galaxies unto themselves," poet and professor Elizabeth Alexander writes in her introduction to Lorna Simpson Collages, a new book of that artist's work. Much of Simpson's career has been dedicated to documenting the specificity and breadth of black womanhood, and this collection continues in that vein. Black women's hair, that fraught matter, is not simply the inspiration for this set of collages; it is the subject.
Simpson has long exhumed the ghosts of American history through her presentation of modern subjects, and the collection grants new life to images taken from magazines by layering them with multimedia flourishes and with consumer copy. Simpson's own artist statement reflects the thorny sources she pulled from: It's composed, she notes, entirely of "phrases culled from the advertising that originally accompanied many of the images that appear within the collages."
That Simpson would have a facility with integrating found images isn't surprising; while the artist gravitates toward photo-based mediums, she's also painted, drawn, directed, and sculpted. She's used wigs as props, her own body as a subject. She's familiarized herself with the smoky allure of charcoal. Simpson's work is distinctive, the patterns of her photography and collages often immediately recognizable. Simpson's images operate in concert with the texts that frequently share their plane—her art is a study in meticulous harmony.
From its first pages, Lorna Simpson Collages sets forth the artist's multidisciplinary lens. Alexander's preface, "Of the black & boisterous hair," draws its title from Pulitzer Prize–winner Gwendolyn Brooks's 1949 book of poetry, Annie Allen. The collection traces the life of Annie, an "ordinary," which is to say largely forgotten, black girl as she experiences the epic journey from childhood to the landmine-studded province of womanhood. Annie Allen's centerpiece, "The Anniad," consists of 43 stanzas of meandering text; its title is a riff on Virgil's The Aeneid. In both deference to and defiance of Latin conventions, Brooks casts her protagonist as a classical hero. In doing so, Brooks insists that Annie is a being whose adventures—localized though they may be—are worthy of close inspection, that the lessons therein telegraph truths about the entire universe. The poem's opening lines foreground the neglect of its starry-eyed hero:
Think of sweet and chocolate,
Left folly or to fate,
Whom the higher gods forgot,
Whom the lower gods berate;
Physical and underfed
Fancying on the featherbed
What was never and is not.
Alexander's introduction pulls from several stanzas later, when Brooks presents some of the most striking building blocks of her Annie:
Think of thaumaturgic lass
Looking in her looking-glass
At the unembroidered brown;
Printing bastard roses there;
Then emotionally aware
Of the black and boisterous hair,
Taming all that anger down.
Like that of Annie, writes Alexander, the hair Simpson "paints has a mind of its own. It is sinuous and cloudy and fully alive." Alexander's marriage of the two forms—Brooks's poetry and Simpson's visual art—illuminates the aesthetic and thematic threads that connect the women's creative pursuits. Put plainly, Simpson's collages do for black women's (and men's) hair what Brooks's poetry does for the liminal space in which a black girl becomes a black woman. Simpson's eye magnifies her subjects with curiosity and tenderness; her hand doesn't flinch as she catalogs shifts in hair, clothing, social strata. Collages of women greet the viewer with piercing eyes; with their hair manipulated beyond the colloquial definition of natural, the women's faces take center stage. Simpson's subjects observe even as they are studied. She focuses her attention on the mundane; in the process, she excavates the sublime.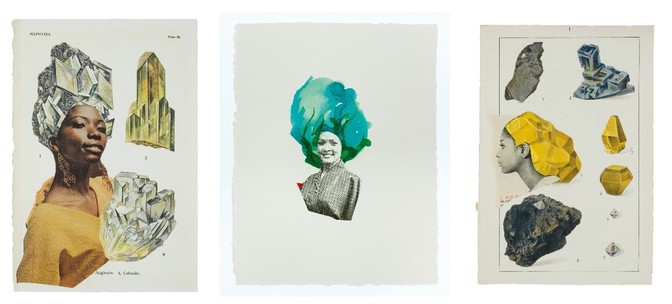 To begin some of her recent work with found images, Simpson dove into her personal archives of Ebony and Jet magazines, with her grandmother's being the first she turned to for inspiration. "The Jet and Ebony magazines are of course, as an American, on the East Coast, really familiar to me—African American thought and point of view over a series of decades," Simpson told Frieze earlier this year, ahead of "Lorna Simpson: Unanswerable," her exhibit at London's Hauser & Wirth, which featured paintings, collages, and sculptures. "That's been a really interesting and fertile ground for me to play with in terms of the work, an interesting marker of time and politics."
Both Ebony and Jet have long showcased the entanglement of consumerism and black (women's) beauty; advertisers looking to target this specific demographic could place their "miracle" products alongside articles detailing issues of grave importance to the community. Simpson's artist statement culls its language directly from these advertisements, lingering on the conflicting descriptions—"Colonial Cascade," "Dome of Curls," "Black Pearl," "Around-the-clock Loveliness," "Naturally difficult hair"—that have lived in the magazines' pages for years. The resulting collages render image and politics inseparable, arranging on one page what the magazines attempted to silo.
After Alexander's and Simpson's tandem theses, the book is divided into four sections: Earth & Sky, Ebony, Jet, and Riunite & Ice. The collages themselves take multiple forms: In each, a black man or (more often) woman is depicted with hair replaced by some billowing foreign matter. In one from the "Earth & Sky" section, a Nefertiti-like coif is constructed with the iron-mineral stone haematite. In another, from "Ebony," sharp cerulean watercolor drops create a bright, smoke-like billow above a woman's head. Multimedia in the literal sense, the collages also focus on the artistic potential of black hair itself: Coils and kinks grow up, not down; black hair is itself sculptural.
A sense of experimentation clearly infuses the work. "In working with the collages, they're almost like a way for my subconscious to kind of play," Simpson noted in her Frieze interview. "I find it very satisfying that there are all these kinds of subtle things that start to happen in the collages that are built over time, this kind of ever-evolving group of imagery, transforming themselves somewhat subsconsciously." For Simpson, that has often meant dramatizing the ugliest parts of the social fabric by intentionally beautifying the people who bear its heaviest burdens.
In playing with both convention and context in this way, Simpson draws attention to the artifice around her, and occasionally within her own work. The performances—both Simpson's and that of her subjects—are lively, layered. They are at once true, in the sense that they are real works subject to the real intentions of their real creator, and also inherent falsifications. The collages are, by their very nature, subject to the same demands of capitalism as the advertisements, and magazines, Simpson pulls from to assemble them. Still, the book resists leaning too heavily into social critique and obscuring those pictured in the process. The smartest trick of Collages isn't that Simpson forces us to examine her subjects' phantasmagoric tresses. It's that the follicular mysticism directs our gaze somewhere else entirely: toward the women's faces.