Long Live Samantha Jones
Through six seasons and two movies of Sex and the City, no love story could supersede the one in which Samantha was the object of her own affection.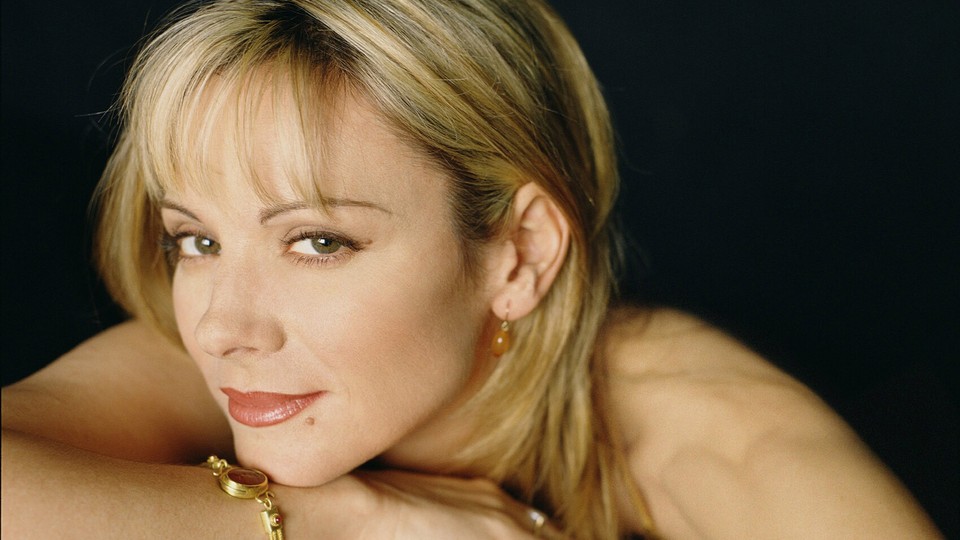 Last year, a clip of Sex and the City star Kim Cattrall sitting across from Piers Morgan went viral. In the most heavily circulated snippet of the interview, the 61-year-old actress tells Morgan about the intra-cast turmoil that influenced her choice to not reprise her role in the SATC franchise:
We've never been friends. We've been colleagues, and in some ways it's a very healthy place to be, because then you have a clear line between your professional life and relationship and your personal. To get any kind of negative press about something that I've been saying for almost a year of "no," that I'm demanding or a diva. And this is really where I take to task the people from Sex and the City and specifically Sarah Jessica Parker, is that I think she could have been nicer. I really think she could have been nicer. I don't know what her issue is.
Moments beforehand, Cattrall had spoken with passion about the joy she derived from playing her character, the sexed-up bombshell publicist Samantha Jones. The decision to leave the role behind, which she says she made in 2016, at the age of 60, was a choice to conclude one long chapter of her life. To Cattrall, her departure also marked an opportunity for the series to expand beyond the provincial territory it explored during its original run—and correct prior wrongs in the process:
It's a great part! I played it past the finish line and then some, and I loved it. And another actress should play it. Maybe they could make it an African American Samantha Jones! Or a Hispanic Samantha Jones!
Throughout the interview, and the ensuing press whirlwind, Cattrall spoke clearly about putting her own needs above that of the franchise and its fans. At 60, the actress simply had less time to devote to the resuscitation of a character who had already lived through six seasons and two full-length films. It was a refreshing admission, a candid reflection on how actors' lives are changed by the demands of fandom. In a reboot-happy entertainment landscape, Cattrall's commitment to her personal growth was striking (if also controversial).
That same self-determination is what set Cattrall's Samantha Jones, the hypersexual entrepreneur, apart from the rest of Sex and the City's iconic foursome. The Darren Star–created HBO series, which premiered 20 years ago today, drummed up new avatars of womanhood through its four leading women: Sarah Jessica Parker played Carrie Bradshaw, the protagonist and neurotic sex columnist based on the author Candace Bushnell; Kristin Davis played Charlotte York, the uptight art dealer obsessed with marriage and traditional values; the current New York gubernatorial candidate Cynthia Nixon played Miranda Hobbes, the no-nonsense careerist lawyer turned working mother. Of the four, it was always Samantha who prioritized herself above the needs of anyone else—especially any men.
Samantha Jones is most remembered for her love of sex. Screenshot after gif after meme of the legendary character spouting pithy anti-monogamy one-liners circulate the web. Multiple SATC scenes featured Cattrall splayed across a bed, holding a vibrator up, or contorted into some comically acrobatic sex position. The scenes were outlandish and refreshing, the domain of a character who once referred to a partner's anatomy as "dickalicious." Samantha's love of sex and independence were often pitted against her friends'—and partners'—inclinations toward more traditional couplings. Her lusty exploits served as some mixture of comedic relief, vision-board fodder, and cautionary tale for the other three women.
As a character, Samantha could be brutally honest, but even when she was, it was in defense of her friends—or her libido. In one particularly infamous episode sequence, Samantha frets because James, her nearly perfect partner, has an impossibly small penis. Attending couple's therapy at James's behest, she initially tries to mask her displeasure at their carnal conundrum; after her partner insults her and stomps out, she trades some self-assured banter with the therapist: "What can I say? I need a big dick." Samantha's refusal to compromise was most obvious when it pertained to her own sexual pleasure; she regularly chided the other women for staying in relationships with men who did not insist on both parties climaxing. For Samantha, sex was not something to be given, it was something to be shared—and she demanded that her needs always be part of the equation. With a dramatic, husky voice, Samantha spoke her own destiny into existence; she didn't wait for anything or anyone.
But Samantha's covenant with herself extended far beyond the bedroom. The first Sex and the City movie finds Samantha having moved her publicity business to Los Angeles to support—and cohabitate with—Smith Jerrod (Jason Lewis), the "Absolut Hunk" whose acting and modeling career she had jump-started. After years of being nearly allergic to commitment and public displays of affection, Samantha's finally settled down with her boy toy. He stood by her as she battled cancer, even cutting his signature locks when chemotherapy began to ravage Samantha's hair. Their pairing wasn't without its problems, but it was the closest Samantha had ever gotten to domestic bliss. Naturally, the sex was amazing.
And so it was initially surprising that Samantha left Smith in the end, the breakup quickly establishing itself as one of the series's most devastating dissolutions. The moment begins comically, with Samantha chiding Smith for returning to their apartment late and leaving her to lie on the kitchen table covered in sushi for hours. Soon, though, her larger concern is revealed:
Yes, I love you—ah, fuck it—I'm just gonna say the thing you're not supposed to say: I love you, but I love me more. And I've been in a relationship with myself for 49 years and that's the one I need to work on.

You're gonna find a wonderful woman who loves being in a relationship.
When Smith asks her what she'll find, Samantha is preternaturally calm: "I don't know. But that's a risk I'm willing to take." The scene, which is apparently so resonant it appears on YouTube in multiple languages, is both difficult and instructive to watch. Samantha remains self-assured even and especially as she parts ways with a man she's grown to love more than she thought was possible. But their love story could never supersede the one in which Samantha was her own protagonist.
That steadfast independence is woefully rare in depictions of female characters in pop culture—especially heterosexual women whose entire character arcs are written around the men whose lives apparently give theirs meaning. Even the closest recent example, Book Club's relationship-phobic, sex-happy sexagenarian Vivian (Jane Fonda), eventually sheds her veneer of independence and settles down with the old flame who's come back to woo her 40 years after he first proposed. But Samantha remained uncompromising, casting doubt on the de facto valence of negativity that's layered onto female selfishness. Her decisions raised difficult questions about what women could do, or get away with: If men on TV could be bachelors without explaining themselves, why should Samantha Jones have to?
Like the other women of Sex and the City, Samantha was by no means a perfect character. She was often casually racist and transphobic; her judgment of the prudish Charlotte sometimes veered into condescension. In the franchise's boorish second movie, nearly every interaction she has with a nonwhite person in Abu Dhabi is mortifying—and an actress of color could never play the role without facing the racist perceptions that would make a nonwhite Samantha far more shocking to most viewers than Cattrall's interpretation ever was.
Still, amid the male-centric trajectories of the show's primary characters, Samantha stands out for her resolute dedication to her own needs above all. Carrie spends six seasons and two movies trying to figure out who she is in relationship to New York, to her craft, and most importantly, to Big (Chris Noth). Charlotte spends the arc of the franchise wondering if she'll ever be the stay-at-home mother she's always dreamed of becoming—while sabotaging herself nearly every step of the way. Miranda pushes love away until it's almost too late, then struggles to reconcile her new familial duties with the sense of self she established before becoming both mother and wife. But Samantha knew herself, and she acted accordingly. Twenty years later, that still feels rare.