Kanye West's Ye Sparks and Sputters
Amid a few gripping moments, the rapper's eighth album all-too-briefly glances at politics and mental health.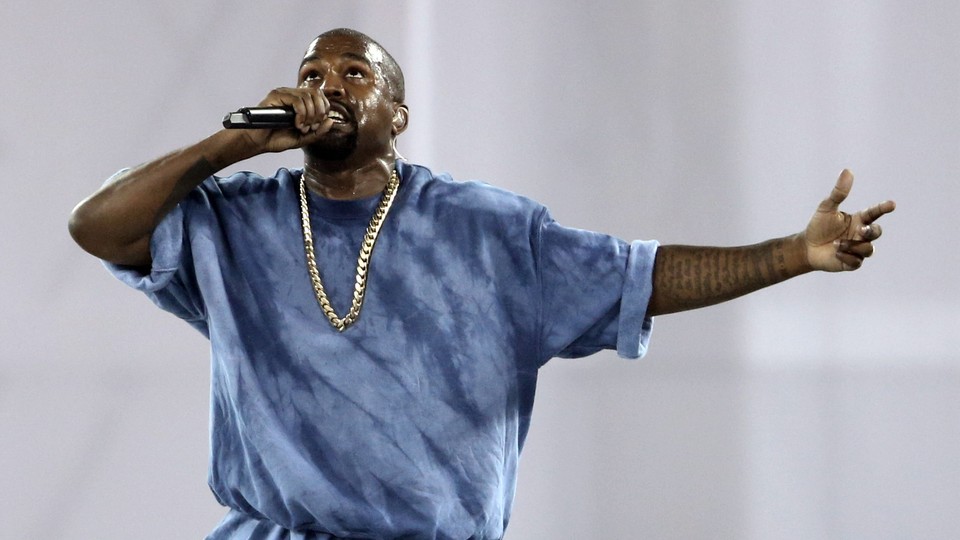 In a meadow set against literal purple-mountain majesty, as dusk started to fall in Jackson Hole, Wyoming, the livestream of Kanye West's album-launch party began. Speaker stacks stood, black and blocky, near a crackling bonfire and a pack of wandering horses. Shortly before midnight (for those tuning in from the East Coast), West's guests milled into sight, looking diverse and cosmopolitan, with a few cowboy hats bobbing amid structural streetwear. Most noticeable were the pops of neon orange and yellow that affixed the event's custom merchandise. They were the colors of traffic cones and hunting jackets, colors whose visibility is protective, that posit that the best way to not get hit is to be loud.
Those same colors, on Thursday, radiated off Kanye West's loose-fitting outfit, scrawled with a flaming skull and short poem. But West's entire career has, in a way, been written in safety orange: He interrupts every landscape, he always cuts a contrast, he's always pleading for amnesty. This was clearer than ever in Wyoming, where the rumble of city nightlife stampeded across a cattle ranch, where Chris Rock opened the proceedings by joking he'd seen a moose who'd been surprised at all the black people around. The album that then played, Ye, insisted on being paid attention to, but asked surprisingly little.
To start Ye, a provocation: "The most beautiful thoughts are always besides the darkest / Today I seriously thought about killing you." The words float amid manipulated soul vocals that undulate like sea water around the piling of West's flat, conversational speech. "I think about killing myself," he continues, his voice pitching and panning, "and I love myself way more than I love you, so … " He's taking to the confessional booth, or he's performing a satanic ritual in the apse. Either way, something mystical is happening, and we listeners are intruding.
The West of the song, eventually, appears to notice his audience. He muses that if he wanted to be more relatable, he should be delivering a more on-trend call to love thyself, rather than an observation that he might die by suicide in spite of his self-love. As he begins to rap, he promises, "Time to bring in the drums." They arrive, and the spell breaks: We're in hip-hop now, and West is in autopilot, making vague boasts and vague swipes over a hard, hollow thwack punctuated by screams. There's a line he appears to have forgotten to write all the words for, substituting mmms for nouns. I did laugh at one couplet: "Got too many bad traits / Used the floor for ashtrays." He's a sinner, he's a litterer.
The text on the album cover reads "I hate being Bi-Polar it's awesome," and it's a long-awaited coming-out. West has hinted at mental-health issues in song, and plenty of people have guessed that his erratic and emotional public persona showed signs of mania. Over a warm, punkish bass, the chorus of track two, "Yikes," has him singing of scaring himself sometimes. The verses, twitching with tambourine, offer a collection of psychedelic drug abbreviations—"Tweakin', tweakin' off that 2CB, huh? / Is he gon' make it? TBD, huh"—and the song closes with him yelling about his "bipolar shit" being not a "disability" but a "superpower." Mental health has, of late, become more common for rappers to address, and 2016's The Life of Pablo already felt like West's big statement on this issue, what with its references to the supposed link between insanity and genius.
Ye is a correction from Pablo's woozy, undercooked ambition, though. Its terse seven tracks put rhythm first and, sadly, don't often swerve into the what-am-I-listening-to zone. The middle three songs—each of which feature high, soulful choruses and triumphantly nasty verses—bleed together unremarkably save for discrete moments of controversy baiting. "All Mine" continues his career-long meltdown about monogamy, with him somewhat jealously referencing a few instances of celebrity infidelity. "Wouldn't Leave" describes the fight between him and Kim Kardashian after his recent comments about slavery being "a choice," and he thanks all the women who stand by their man. On "No Mistakes," he says, "it's been a shaky-ass year," and the unspoken punchline is that this album isn't likely to steady things.
As always, West has a crass and selfish take on gender, and the album closes with one truly unforgivable example: "Violent Crimes," a wannabe-maudlin note to his daughter that's actually a horrifying example of chauvinism, with him envisioning her—and discouraging her from—developing curves. My colleague Hannah Giorgis pointed out that it's the most Trump-like thing here (remember the president's objectification of Ivanka?) and indeed, we get no further evidence about the motives or sincerity of West's nascent MAGA phase. The biggest political statement Thursday was that Candace Owens, the conservative commentator he praised on Twitter, got an invite to West's bonfire.
With West referencing but not really engaging with his various controversies, the album's most interesting debate prompt will be whether, after two decades of innovating, he remains a vital musician. The two spots that say "yes" are the gripping, gothic passage that opens the album, and the bizarre triumph of track six, "Ghost Town." It's a classic-rock song, it's a gospel workout, it's a wedding toast. West warbles through one verse, but the main attractions are the peaks and valleys—surges of guitars, pockets of silence—and the contributions of the rapper 070 Shake. "We're still the kids we used to be," she howls, herself indeed sounding like a raspy kid. "I feel kind of free!" The vibe must be the same one West had been aiming for as he brought his world into the mountains. It is unafraid and love-drunk and loud, a roar of flame amid mere embers.