Kanye West's Rock-and-Roll Moment
On the highlights of two recent albums—Ye and Kids See Ghosts—the rapper reaches across genres to redefine "freedom" again and again.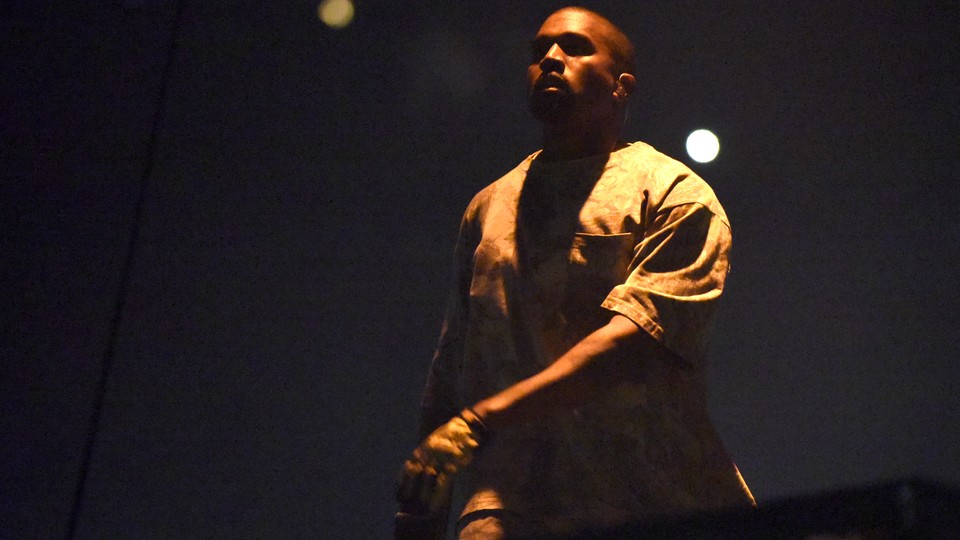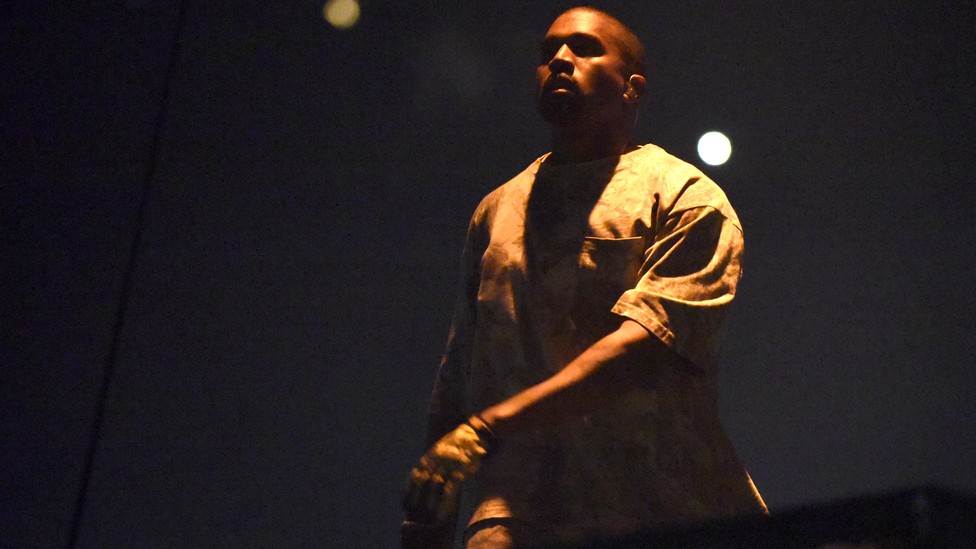 Kanye West has put a lot of words into the world this year—in tweets, epic-length interviews, and an album-a-week producing spree—but his most memorable statements haven't been verbal. They've been beats, as in the sleek rattle of Pusha T's Daytona. Or they've been images: the crackling bonfire of the Wyoming release party for his album Ye, or the infamous signed MAGA hat he put on Twitter. Or they've been mouth noises: the gat-gat-gats he opens the Kid Cudi collaboration Kids See Ghosts with, or the scoopity-poop he trolled the world with on the pseudo single "Lift Yourself." He's in a phase of feeling, of signaling, rather than effectively explaining. Words fail.
Which might explain why, in 2018, the best music from hip-hop's lead provocateur is rock and roll. The standout songs of his album Ye and the follow-up Kids See Ghosts are a duo—"Ghost Town" and "Freeee (Ghost Town, Pt. II)"—that roil with peeling guitar, off-key yowls, and drunken drumming. Six-string strums, including from a Kurt Cobain sample, figure in other songs, too. Rap and rock have been for the last few years in a crossover moment as the younger genre has leapfrogged the older one in popularity while borrowing its signifiers, and West and Cudi have long admired guitar gods. But West's work of the past month highlights the deeper ethos that's been crossing over: rock's specific approach to the visceral over the verbal—its comfort with the gloriously inarticulate—as it strives to portray inner conflict.
Hip-hop has, any traditionalists will tell you, been playing with willful incoherence in other ways lately, too. As "mumble rap" rises, so does the importance of the ad-lib (catchphrases and onomatopoeias blurted in the margins). West, hearing the braps, skrrts, and yughs of his peers, has responded with baby talk: scoop! Which fits with his general childishness kick of late. One recent tweet: "We're trying new ideas without the fear of not being perfect … It's just a gut feeling sometimes … just making stuff with your friends … " Another: "We're still the kids we used to be." That last line quotes from Ye's "Ghost Town," the song that's both the outlier from and decoder for this phase of West's music. It is his big rock-and-roll coming out; it is his declaration about what, precisely, all his recent imprecision is about.
"Ghost Town" starts with one of West's patented soul samples, but rather than having it lock into an 808-steadied loop, the arrangement opens up with languid, warm guitars and organ. West and his collaborators then take turns singing hoarsely, imperfectly, the way someone might at the end of a concert where they've been screaming along in the crowd. The lyrics imagine feeling so good that it's dangerous. The rapper/singer PartyNextDoor: "Now that I'm livin' high, I do whatever I wanna, oh yeah." West: "Sometimes I take all the shine / Talk like I drank all the wine." The groaning voice of Kid Cudi, quoting the Vanilla Fudge tune the song samples, offers a contrast: "I've been tryin' to make you love me / But everything I try just takes you further from me."
The climax—immediately ranked by fans as a top-tier Kanye West musical moment—comes from 070 Shake, a New Jersey newcomer to hip-hop. With her rasp presented in multi-track, she sounds like a jubilant crew of friends—or an individual's inner chorus—rather than just one woman. Around her, zipping guitar lines and reverberating drum hits alternately seem to afford her miles of open space or else lift her off her feet. "Whoa, once again I am a child," she begins, and the vertigo of that whoa is convincing. "I let it all go, of everything that I know … And nothing hurts anymore, I feel kinda free." The free is drawn out, sounding a bit like a steam whistle, and releasing pressure like one too.
That same word gets stretched in other directions on "Freeee (Ghost Town, Pt. 2)," off Kids See Ghosts. The song is a highlight on what's generally a more successfully experimental album than Ye, and it builds on a crunchy funk-rock tune from the producer Mr. Chop. When the rapper Ty Dolla $ign and the soul veteran Anthony Hamilton harmonize their I feel frees, it's like they've assembled a meditation circle, blissful and serene. Thrillingly, it gets trampled—ambushed—by the riff. West's version of I feel free is entirely different: a campy Vincent Price or George Clinton bellow. This delivery has annoyed some listeners; to quote a hater on Reddit's Kanye West forum, not everyone sees "the rich artistry behind singing 'freee' like a big spooky ghost lmaoo."
There is artistry in the spooky-ghost routine (if it's rich is a question of taste). Ghosts are a motif of West and Cudi's album, as illustrated by its name, lyrics, and cover by Takashi Murakami. "Kids see ghosts sometimes" goes the chorus of the title track, suggesting the sense of childlike wonder and clarity that West covets (as well as childlike lack of responsibility: "You should quit your job to this," he shouts, excellently, on "Freeee"). But he's clearly using the concept of "ghosts" in more than one way. "I don't feel pain anymore," he sings, echoing 070 Shake's "Nothing hurts anymore." Which suggests that the freedom West is chasing is not only that of a child. It's also that of someone exempt from hurt, as if in the afterlife. He wants to be both Haley Joel Osment and Bruce Willis.
The scary subtext, especially amid a wave of celebrity tragedies, is that dreams of escaping this life's pain are not always just dreams. West put his bi-polar disorder front-and-center on Ye's album art, and it's unclear if the freedom he's glorifying is mania itself ("That's my superpower!" he shouts on Ye's "Yikes") or a total and final respite from turmoil. He envisions killing himself in Ye's first moments, and Cudi, who in 2016 checked himself into rehab for suicidal urges, raps of how he's "sick of running" and "can hear the angels coming." Claims of emotional transcendence abound—Kids See Ghosts' "Reborn" is a stately call to "keep moving forward"—but so does a general lack of resolution, and the dread-making sound of Cobain's guitar surfaces on Ghosts' final track.
It's likely no coincidence that the psychedelic, space-soul, and prog sounds West plays with on the "Ghost Town" songs have been often used to illustrate "craziness," whether in Pink Floyd's tributes to Syd Barrett, Funkadelic's LSD freakouts, or King Crimson's "21st Century Schizoid Man," which West famously once sampled (yes, sampled: West of course remains a hip-hop producer, not a rock-band leader, and his engagement with rock is still through cut-and-paste). Such music's questing, messy, unpredictable style hitches form and content in exactly the way that West always tries to do. It also fits his general approach as an innovator—as someone who wants to, in one more ghostly parallel, walk through walls. "We're experimenting with new sounds structures and ideas," he tweeted this week.
If only that sense of adventure didn't also appear to enable sloppiness and half-baked concepts. His dutiful rap sermon about learning to love women by fearing for his daughters ("Violent Crimes") and his detached description of cyclical violence in the city streets ("Cudi Montage"), as well as his lyrical references to #MeToo and Donald Trump, don't really pop: Neither his convictions nor his delivery on these are nearly bold enough to fascinate. But in the way that the sound and potential meaning of I feel free keep shifting across his recent work, West and his allies achieve something closer to greatness, communicating that which can only be felt rather than said.