The Anguished Comedy of Helen DeWitt
The stories in Some Trick, just the writer's third book in almost 20 years, spin out weird, unlikely conceits with rigor and glee.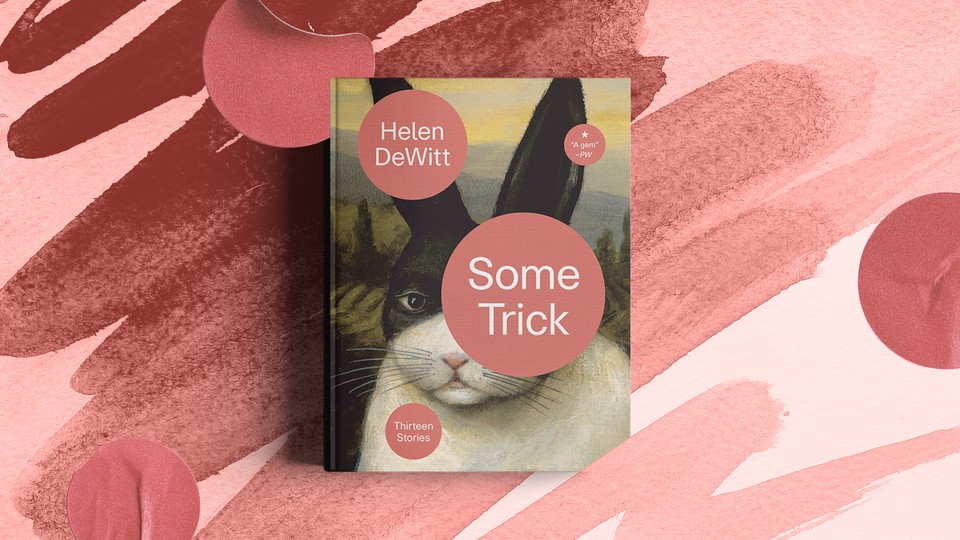 If you didn't already know that Helen DeWitt is a writer with a troubled relationship to the publishing establishment, her new book of stories, Some Trick, would make it obvious. DeWitt was the subject of a memorable 2016 profile in New York magazine, which told the tale of an ornery prodigy afflicted by unusually bad luck, and by her own inability to conform to the customs of commercial publishing. DeWitt's debut novel, The Last Samurai—which, despite the title, has nothing to do with Japan—was a sensation in 2000, earning rave reviews and selling some 100,000 copies. Then came more than a decade of struggle and poverty, before the appearance of her second book—Lightning Rods, an outrageous satire on American capitalism and office life. Some Trick, a slim collection of short stories, is just DeWitt's third book in almost 20 years.
Yet on the basis of this slender body of work, DeWitt has achieved a considerable cult reputation. She is one of those writers who seems to demand the description genius: Her writing is intelligent, inventive, and unpredictable, in ways that can sometimes feel ostentatious or self-conscious. She is a wonderful satirist with a gift for seizing on the technical vocabulary of a group or profession: In Some Trick, for instance, DeWitt riffs on art-world pretension, mathematical lectures, and English society chatter.
And she is especially fond of taking a weird, unlikely premise and then developing it rigorously, with the iron logic of a crazy person. Lightning Rods begins with a failed salesman's eureka moment: Companies can avoid sexual-harassment claims by providing male employees with anonymous sexual encounters in the office bathroom. The social and political comedy inherent in the idea is obvious; but what's so strangely compelling about DeWitt's novel is less its message than the extreme care with which the central conceit is worked out. If you were really to put such a scheme in action, you would face all the little problems and obstacles that DeWitt imagines: how to make a hole in the wall between the men's and women's bathrooms, how to disguise the women so the men can't identify them, how to schedule the rendezvous during the workday, and so forth. At its core, Lightning Rods is about the impossibility of making a fantasy come true—the way the compulsive imagination makes unsatisfiable demands on reality.
One definition of a genius is that she is so dissatisfied with the way the world is that she compels it to adjust to her, rather than following the usual course of adjusting to it. The 13 stories in Some Trick are full of this kind of figure, so much so that the book comes to read like a disguised confession. What happens when a person like DeWitt comes up against the world of "the arts," which is finally an economic sector like any other—dominated by the profit motive, bureaucratic inertia, and polite evasiveness?
The answer, in these stories, is a kind of anguished comedy. Take "My Heart Belongs to Bertie," an account of a disastrous meeting between Peter, a mathematician, and Jim, a literary agent. Peter is the author of a math-related bestseller, but success was poisoned for him by his publishers' resistance to following his exact wishes—in particular, their refusal to include opaque mathematical symbols in the book. Negotiating for a second book, what matters most to Peter is not money, but his intellectual vision; he wants to convince Jim that he will sign with any publisher who will agree to do exactly what he wants. "The thing that matters is not, ultimately, an understanding of number theory, or the structure of the atom, or the semantic tradition, but an unswerving commitment to the pursuit of truth," he earnestly lectures Jim.
But the agent, of course, thinks Peter is either joking or delusional—especially when he declares that he will be happy to give Jim 85 percent of the profits. "It is entirely reasonable for me to determine my own ends and offer financial compensation to you for the inconvenience of promoting them," Peter impotently explains. He is quite aware that he is being perceived as an unworldly nerd, but he doesn't care; for DeWitt, nerddom is allied to genius in its deep indifference to conventional expectations. In the end, Peter gets distracted by his own thoughts and ends up walking out of the meeting without saying goodbye. He can't get what he wants from the world, but he is adept at making up a world in his head.
A similar dynamic plays out in dramatically different settings over the course of the book. The first story, "Brutto," is about a middle-aged artist who gets her first and, she fears, last shot at fame when her work attracts the interest of a rich, feckless gallerist. The artist only wants to paint, but the gallerist is entranced by an ugly suit of clothes that the artist made decades earlier, as part of a professional apprenticeship as a tailor. Can she make 20 duplicates to exhibit in a museum, he asks? And while she's at it, can she provide samples of all her bodily fluids—sweat, blood, spit—to display alongside the suits? It's the opposite of what she wants to do, but the temptation is great: "If you have never been there you think it is easy to walk away," she muses darkly.
Other tales of misunderstood, misanthropic genius in Some Trick feature a reclusive Dutch writer who is wooed by a group of American admirers, and a rock-and-roll musician who refuses to sign albums for his fans. Remarkably, DeWitt manages to keep the theme fresh through the power of her style, which is unique in contemporary fiction. If it resembles anything, it is the elliptical, syncopated, highly artificial prose of certain English writers like Ronald Firbank or the early Evelyn Waugh. One story, "Remember Me," is told entirely in the mode of gossip. Names and allusions fly past in a hectic fashion that makes you feel like you wandered into a fancy dinner party without an invitation:
Gerald was only a Canon in the Cathedral, not a very forceful one. He put it to the Bishop that it might be A Good Thing to invite a Jew to participate in the VE Day service, and the Bishop waved a hand affably, as who should say, if a Jew can be found it might not be a bad thing at all.
Several stories in the book bear the note "Oxford, 1985," and perhaps it was as an American graduate student in Oxford that DeWitt picked up her outsider's sensitivity to English conversational style. These early stories focus on bright young men who run roughshod, conversationally and sexually, over polite young women, and at first sight they seem out of place in the book—as if DeWitt wanted to bulk out an already short collection by including juvenilia. But in the end, these stories earn their place, because they ask the same question, essentially, as the later tales about artists: How do you get a complacent world to stop talking and pay attention? Some Trick suggests that the answer involves stubbornness, oddity, and a great deal of talent.