Beyoncé and Jay-Z's Marriage of Conquest
With Everything Is Love, pop's biggest couple celebrates itself—and its significance to America.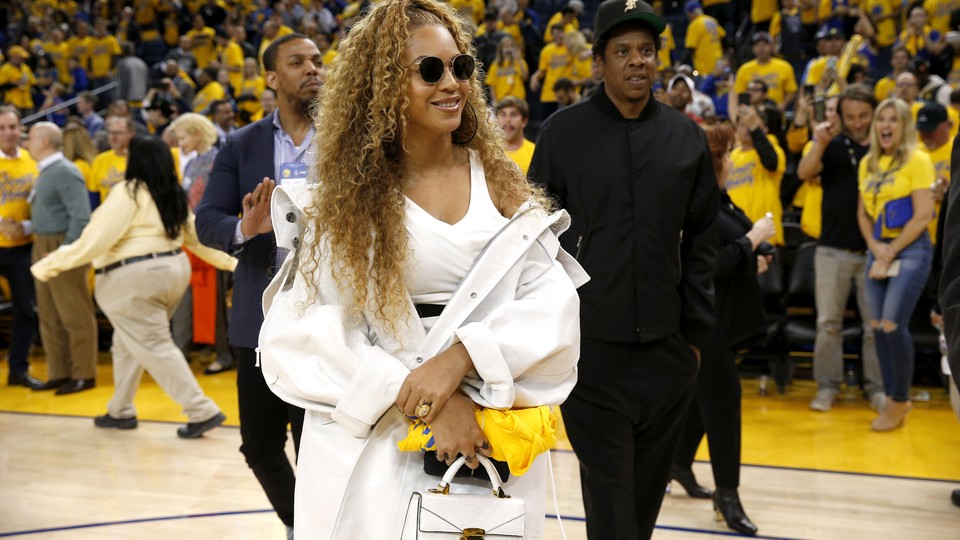 The marriage rate remains low, but Jay-Z and Beyoncé are doing their best to keep wedlock fashionable. On Everything Is Love, the joint album the couple surprise-released on Saturday, their union again glitters as a luxury item as covetable as their Alaïa boots and Aruba vacations. Even the fact that they nearly broke up comes off as a form of conspicuous consumption. "He went to Jared, I went to JAR out in Paris," Jay-Z raps. Beyoncé's reply: "Yeah, you fucked up the first stone, we had to get remarried." (Adorably, it continues. Jay: "Yo, chill man." Bey: "We keepin' it real with these people, right?")
Everything Is Love represents the long-awaited with-our-powers-combined capstone from the megacouple who, in their album credits, call themselves the Carters. After marrying in 2008 amid successful individual careers, Jay-Z and Beyoncé embarked on a 2014 arena tour beset by rumors of Jay-Z's infidelity that appeared to be confirmed by two separate confessional albums, her Lemonade in 2016 and his 4:44 in 2017. Now, their joint narrative arc—a masterful conflation of art, commerce, and gossip—has culminated in a second arena tour and a surprise full-length album. Its nine songs (plus one nonalbum single) offer solid summer-fun fodder whose infectious glee comes with moments of throat-tightening emotion—not unlike at a wedding party.
Marriage may be a traditional institution, but the Carters present it almost as a weapon of revolution, allowing them to strike out against other institutions—first among them racism and its pernicious symptom, black poverty. In the high-concept-yet-visceral "Apeshit" video, the couple critique the overwhelming whiteness of the holdings at the Louvre—the actual Louvre—with a troupe of black dancers. And amid the wafting reggae of the opener "Summer," the first of the aforementioned throat-tightening moments arrives when Jay-Z's mind wanders from his present reality of sex on a plushly appointed beach to the gunfire that rang out in the projects where he grew up. Today, by contrast, "it's not lost on me, music has my kids sound asleep."
The notion that a flourishing career can mean a safer home deepens even the pettier score-settling on the album. Within the entertainment industry, the Carters have steadily tried to build their own fiefdom to compete with the old order established by white men. On the lyrical diss list are the Grammys (which invites black stars for ratings while denying them the biggest prizes) and the Super Bowl (Jay-Z says he declined a halftime gig, and in light of the NFL's anti-protest policy, he doesn't have to elaborate on his contempt). The album arrives exclusively on Jay-Z's streaming service, Tidal, and though that company hasn't enjoyed much positive buzz, it's clear that any hope for success it does have rests on the combined draw of the Carters. "If I gave … two fucks about streaming numbers / Would have put Lemonade up on Spotify," Beyoncé spits. Jay-Z vents about peers who'd "rather work for the man than to work with me," likely referring to Apple partisans such as Drake.
The emphasis on it taking two people—two superstars, no less—to thrive in both their public and home lives may be read as a subtle sociopolitical stance in the face of rising single-parenthood across America (and in light of how much scrutiny gets placed on the black family in particular). Elsewhere in hip-hop, arguments about domestic obligations are playing out in intra-rapper beef: It's hard not to think about the accusation that Drake is "hiding a child" when Jay-Z now raps about a supposedly spurious paternity suit ("Billie Jean in his prime / For the thousandth time, the kid ain't mine"). But the Carters here don't make any out-and-out statements about the right way to maintain a family. They only describe, in various ways, that they feel stronger together—and that they have decided, even after personal betrayals, "the ups and downs are worth it."
Indeed, there's an air of bets-hedging about the album. Beyoncé's recent work electrified audiences with an expansive, experimental sensibility that has, alas, been squelched for Everything Is Love. To be sure, it's still high-quality stuff: "Boss" boasts a subtly tricky interplay of grinding rhythm and defiant horns, and "Heard About Us" mixes uptempo shuffle with downtempo pensiveness nicely. Generally, though, the songs aim to please crowds with sharp executions of familiar pop-rap sounds, lacking the hairpin turns of Lemonade or Beyoncé. "Apeshit," for example, drives with intensity but little novelty, echoing the cadence of recent hits and chasing currency with ad libs from members of Migos. Even the weirdest song—the gravity-free "713"—interpolates a famous chorus Jay-Z wrote for Dr. Dre and Snoop Dogg.
At least the album's vocal performances are interesting, in large part because the couple seems to be drawing from each other. Beyoncé raps more than ever, and although she exerts such tight control of her husky drawl that it can seem robotic, it's a thrill when she breaks character: Check her appropriately hammy delivery of "he want to give me that vitamin D." Jay-Z, meanwhile, intensifies the lucid-but-vulnerable mode he found himself in on 2017's 4:44, and ends up providing many of the album's most gutting passages. The story of him, for example, jumping in the ocean for the first time, while on a trip with her: unexpectedly moving.
Beyoncé does, however, get the headline lyric of the entire affair. "I can't believe we made it," goes part of the chorus of "Apeshit," delivered with a casualness that belies its importance. Beneath the album's aspirational sparkle, a sense of vertigo lends Everything Is Love real drama. "Friends" pays tribute to the couple's allies but also imparts their sense of embattlement, which'll be amplified in the press given that this album's release may have screwed with the plans of frenemies Nas and Kanye West. On "Nice," over Pharrell's queasy chords and Potemkin-peppy rhythms, the Carters contemplate how even they might be knocked from their perch. "After all these years of drug trafficking, huh / Time to remind me I'm black again, huh?" Jay-Z asks, referring to a slew of recent legal troubles. "I have no fear of jail, I was born in the trap," he later adds. "I have no fear of death, we all born to do that."
These flickers of insecurity singe all the hotter in the context of the album's warm-and-fuzzy moments, like those that recount the Carters' meet-cute and quote their daughter Blue Ivy. "My great-great-grandchildren already rich / That's a lot of brown children on your Forbes list," Beyoncé sings, implying yet again that her wealth represents something bigger than itself. It's this sense of achievement in the face of ongoing peril that, for better or worse, helps explain Beyoncé and Jay-Z's huge appeal. In the story of their marriage lies a question crucial to the national identity: Can they survive in America?