Beyoncé and Jay-Z's New Vision of Gender in 'Apeshit'
In their recently released music video and collaborative album, the Carters show just how much their dynamic as a couple has evolved.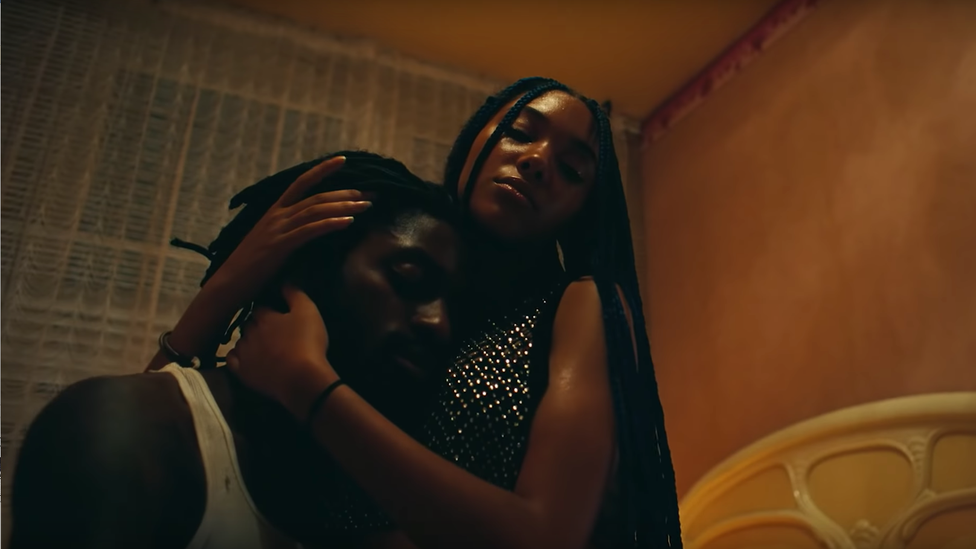 "The strongest thing a man can do is cry, to expose your feelings, to be vulnerable in front of the world," Jay-Z told The New York Times after releasing his confessional record 4:44 in 2017. "You feel like you have to be this guarded person. That's not real. It's fake." Just a year earlier, Beyoncé went on her own public journey in her album Lemonade, not solely to reckon with her husband's infidelity, but also to better explore the many dimensions of black womanhood in America. If both musicians' last solo records announced their newfound interest in more holistic conceptions of masculinity and femininity, then their new music video, "Apeshit," and its accompanying album, Everything Is Love, show them living out some of these visions of gender together.
In "Apeshit," which is set in Paris's Louvre Museum and rife with centuries-old images of conquest, the Carters present themselves as a modern kind of royal family—one that's not helmed by a patriarch, but by two equal partners. The other men and women who populate the video also embrace a more mutualistic and fluid approach to gender and power. Men are shown as graceful and valiant, women as both matronly and aggressive—though it is the latter who are depicted in "Apeshit" as the backbone of the Carters' world.
Throughout the video, Beyoncé and Jay-Z borrow inspiration from the strength and grace of women. In the now-iconic first glimpse of the couple, the camera glides toward them as they stand in front of the Mona Lisa, each wearing pastel-colored suits with no shirt underneath. The full-body shot calls attention to Beyoncé's pants and Jay-Z's elegant attire as the duo re-create the gaze of the woman in the painting. The other main artwork that orients "Apeshit" is a statue of a goddess, the Winged Victory of Samothrace, which appears to symbolize their success—as individuals and as a couple. At another point in the video, female dancers lying on the stairs beneath the duo resemble a foundation, lifting up the Carters' "empire" with pulse-like movements. At times, the dancers' formation calls to mind a spine.
In "Apeshit," classical art helps define the Carters' vision of how men and women relate to each other. The video subtly contrasts paintings of suffering in male-controlled societies, such as ancient Rome, with peaceful, present-day scenes of couples who are presumably equals. Perhaps the most striking work showing the toll of male violence is The Intervention of the Sabine Women by Jacques-Louis David. It depicts a group of women—who were kidnapped and raped by Roman soldiers in the eighth century B.C.E.—throwing themselves between their captors and the men of their home city in an effort to stop the war. The tableau, a political statement of its own, highlights the breakdown of order that can occur when women aren't respected. Later in "Apeshit," a painting of a crying woman clinging from below to a man in anguish (the two trapped in "hell" for adultery) is followed by a contemporary scene of a black man leaning his head peacefully on the chest of a woman as she holds him. When the two are kissing and caressing one another, they're at eye level; neither is the more dominant.
Similar moments of mutual tenderness show up throughout the Carters' work, suggesting a personal resonance for the duo. Everything Is Love is sprinkled with lyrics that revel in gentleness, most notably on the song "Summer" when Jay-Z says, "We hugged, made love, on the seats … We watched the sky turn peach … She taste like Corona Light—sweet." Beyoncé adds that they should "make plans to be in each other's arms." These scenes mark a dramatic departure from the more aggressive sexual dynamic of earlier music videos like "Déjà Vu" from Beyoncé's B'Day in 2006, or "Partition" from her self-titled 2013 album. At this stage in their relationship it's hard to imagine the couple reducing Beyoncé's sexuality to an ornamental prop as they have in the past. In Jay-Z's 2003 "Public Service Announcement," for instance, he lists his many achievements, including "Got the hottest chick in the game wearing my chain." And the Jay-Z of today seems to have found a way to gloat about his skills in realms typically associated with women. On "Black Effect" he says, "I like purple and purple rain … These people tryna get me out the paint cus I cook collard greens and yams better than your aunt."
For all the album's focus on a softer masculinity, much of Everything Is Love is also driven by Beyoncé casting aside feminine stereotypes. She pushes back against expectations of ladylike behavior throughout the record, talking more than usual about smoking, and repeating Notorious B.I.G.'s classic hip-hop lyric, "If you don't know, now you know, nigga." In the "Apeshit" video, Beyoncé sits on the floor in an expensive dress demanding "Put some respect on my check"; later, posing as if for a royal portrait, she raps "Get off my dick," taking on an assertive role because—as she says on the song "Boss"—there "ain't nothing to it." This style of hers isn't totally new, but Jay-Z had been noticeably absent from some of her most memorable power-grab moments, like her fan-favorite line about Red Lobster on "Formation" or any of the more angry tracks on Lemonade. In the music video for Beyoncé's 2006 song "Upgrade U," she dresses up as Jay-Z, lip syncing parts of his verse (while he's off-camera) with an exhilarating swagger. But when he does finally arrive onscreen, she balances his bravado and reverts to a classically feminine appearance, wearing a sensual white dress.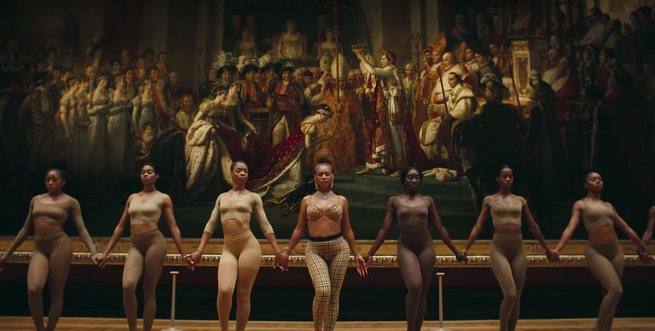 What's different in "Apeshit," then, isn't that Bey is expressing her independence; it's that she's often doing so with Jay-Z in the frame. This shift adds a layer of meaning to the dance she performs before David's painting of the coronation of Napoleon Bonaparte. The work shows Napoleon crowning his wife Josephine Bonaparte empress of France at his own coronation in 1804 while she kneels before him. (Earlier in the ceremony, he had crowned himself emperor.) Napoleon choosing to have this moment captured by his official painter was, at the time, a way to honor his wife.
In the Carters' present-day world, of course, women don't need men to accord them status. Instead, Beyoncé uses the painting to, on the one hand, align herself with the empress, proclaiming in her verse (which she delivers in part next to Jay-Z) that she, too, has "expensive fabrics" and "expensive habits." But she also undercuts the power dynamic of the painting's ceremony, saying, "He wanna go with me … He wanna be with me"; seconds later she says, "Bought him a jet / Shut down Colette." (Colette was a high-fashion French retail store.) In a way, the music video is the Carters' own coronation ceremony, only in their version, no one is on their knees.
In addition to centering women, "Apeshit" recognizes social experiences and struggles particular to men. Jay-Z's verse and the scenes of young black men kneeling acknowledge the insult that the NFL anthem-protest controversy represents for them, specifically. "I said no to the Super Bowl. You need me. I don't need you," Jay-Z raps, as if understanding he's in a unique position to stand up for the young men and himself. That political comment adds gravity to a related solo shot in the video, when Jay-Z smiles next to a painting, Theodore Gericault's The Raft of the Medusa, which shows a destroyed raft in choppy waters with a black man guiding it bravely. Instances of male assertiveness in the Carters' world are decidedly hopeful rather than violent. There's a quick shot of the raised spears from The Intervention that cuts to a row of young black men pointing to the sky, only their gesture isn't a destructive one: They look like leaders, not conquerors.
---
So how did one of the most visible couples in the music world—who have already toured together and put out decades of videos about their love, sex, and mutual success—create something that feels even the slightest bit fresh? The spectacle of making new art using some of the most famous Western art in the world certainly helped. But though the duo had grappled with their evolving conceptions of gender in their own projects, "Apeshit" and Everything Is Love represent the Carters' first real attempt to stitch those ideas together into a cohesive whole. Until this point, most of their collaborations had credited them by their respective names: as "Jay-Z feat. Beyoncé" or vice versa. But their new joint alias, "the Carters," signals a blending of their artistry.
The duo's latest project is, to be sure, far from a revolutionary examination of heterosexual love and affection. As my colleague Hannah Giorgis pointed out, it can be frustrating to think of Beyoncé working to help Jay-Z discover a healthier masculinity in part because his old self-image may have led him to cheat on her. And they don't go so far as to reverse gender roles; I'm sure many fans would've liked to see an album cover where a man was instead shown tending to a woman's hair, for instance. More broadly, "Apeshit" will likely continue to spur debate about its other prominent themes, like the pursuit of wealth or the takeover of elite white spaces. Still, the couple's effort to portray equality is refreshing in light of their past collaborations—a welcome change from their video-girl-meets-powerful-businessman playbook of yesteryear. At least when it comes to their ongoing interrogation of their marriage, the Carters seem to be following the stream of history.