Bartolo Colón, One of the Last of His Kind
As baseball grows younger and faster, there's less opportunity for the type of late-stage reinvention that salvaged the Texas Rangers pitcher's career.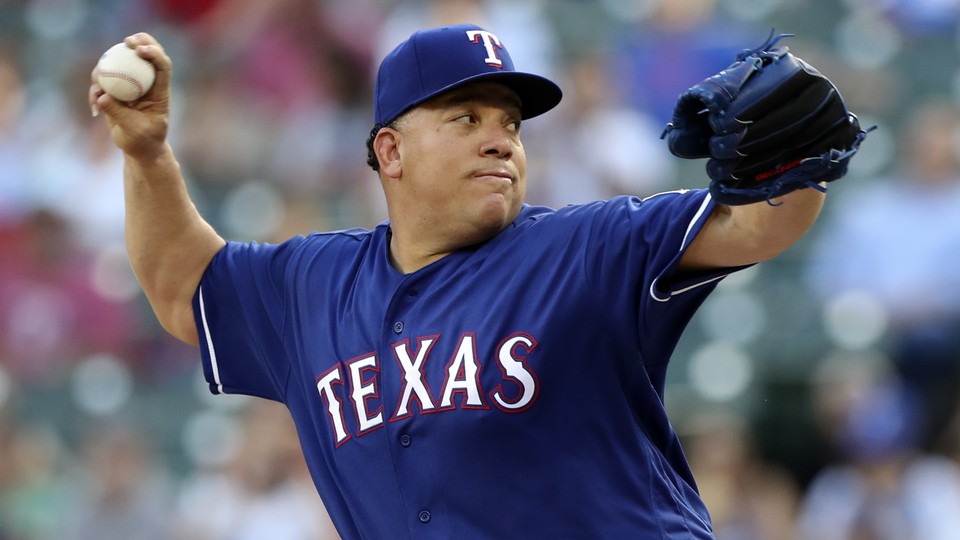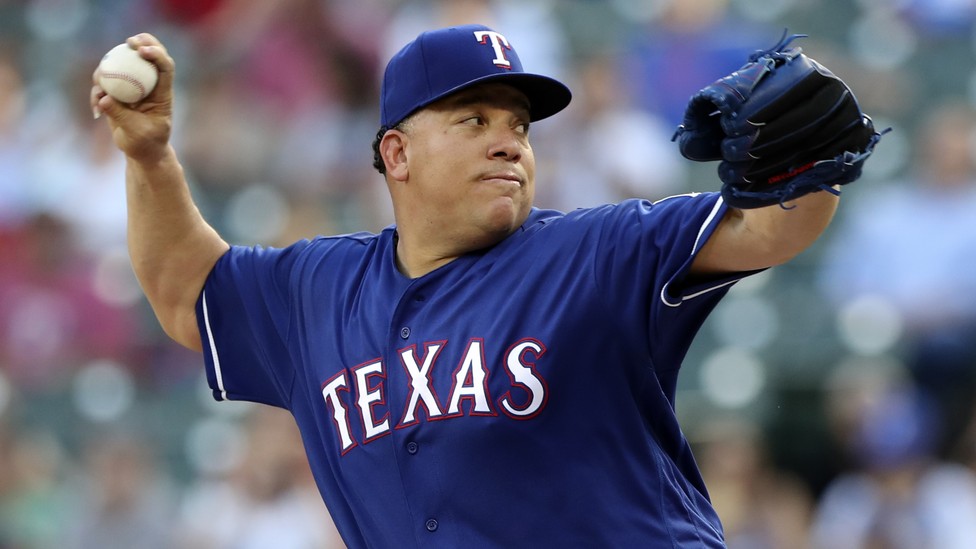 Much of the attention paid to this Major League Baseball season has centered on the promise of youth and the intrigue of the future. The Los Angeles Angels' Mike Trout, who despite his half-decade reign as the sport's top player is still only 26, is having the best season of his career. And he's joined, for good measure, by the 23-year-old rookie sensation Shohei Ohtani, the first viable pitcher/hitter since Babe Ruth. The Yankees­–Red Sox rivalry, that old favorite of TV executives, has been enlivened by a rush of young talent on each side. More broadly, the changing shape of the game—its ever-increasing affinity, borne up by the analytics revolution, for home runs and strikeouts—is a matter of daily conversation. To a rare degree, America's most sepia-tinted sport finds itself looking forward.
For sheer unlikeliness, then, few stories can top the continued presence on big-league mounds of Bartolo Colón. The Dominican Republic–born Colón debuted with the Cleveland Indians 21 years ago; he made his first All-Star team the following year and commenced what looked like a power pitcher's standard career trajectory. In those days, he was a piston-limbed fury, with a mid-90s fastball and a breaking ball that veered like a fighter jet. Though his approach had matured by the time he won the Cy Young Award as a member of the Angels at age 32—"I stopped being a village boy, thinking that I can throw any stone, any rock through a wall," is how he put it—he still relied on what pitchers call stuff: the pure force and action of the baseball, which in strong enough doses can render strategic mistakes moot.
The Colón whom the Texas Rangers signed to a minor-league contract in February, and who has since found his way back to the Majors and into the starting rotation, is a different player altogether. His fastball lost its zip shortly after his Cy Young win; his earned-run average (ERA) ballooned until he spent the 2010 season away from the game, recovering from injury. When Colón returned the following year, with the Yankees, it was as a reinvented 37-year-old setting off on what would amount to a second distinct career—in New York, Oakland, New York again (this time with the Mets), Atlanta, Minnesota, and, now, Texas. He started to throw one offering almost exclusively: a two-seam, high-80s fastball that bent in subtle but devious ways, skimming the corner of the strike zone or dodging the sweet spot of the bat. He became a master technician, a Kasparov of pitch location and sequence. His ERA fell back down, for a time; 2013's 2.65 marked a career-low.
This aging Colón has emerged as a cult hero, beloved by fans unconnected to whichever team happens to employ him. Paunchy even in his prime, he now carries a lordly heft and works with seen-it-all serenity, his face as relaxed after a home run as after a clean inning. Between batters, he plays little games of catch with himself on the mound, tossing the ball up and trapping it with a glove cupped against his belly. He has a biography rich in detail—he claims to have learned his work ethic from a childhood pet donkey named Pancho; his teammates call him "Big Sexy"—and a knack for moments that can feel folkloric to a certain kind of obsessive.
In a 2012 game, as a member of the Oakland Athletics, he threw 38 consecutive strikes, believed to be the longest such streak since 1988. And in 2016, when the notoriously weak-hitting Colón drove his first and only career home run over the outfield wall in San Diego, the baseball world reacted in rapture. "Bartolo Colón hitting a home run proves that God exists," tweeted the journalist Jonah Keri, "and loves us all very much."(This tall-tale element has also seemingly rendered Colón somewhat scandal-proof. Neither a 2012 performance-enhancing drug suspension or a 2016 report of a "secret family" much dented his reputation among admirers.)
With the Rangers, who sit at 25–37 on the year, Colón has been alternately spotty and splendid, as might be expected of a professional athlete who turned 45 last month. He surrendered six runs in three innings to the Angels last Friday night, including doubles to Trout and Ohtani. But just a couple months earlier, he had thrown seven perfect innings against the defending-champion Houston Astros, leading Texas to a 3–1 victory. He put his fastball precisely where he wanted that night, and his slider, on the rare occasion it appeared, was a magic trick. Colón looked easy on the mound and delighted in the dugout, chatting and laughing, forgoing the superstitious silence that usually accompanies perfect-game bids. When an eighth-inning walk-double sequence spoiled both the perfecto and the no-hitter, he raised his glove with no visible disappointment, asking for the ball back so he could make another pitch. "When I'm relaxed, I can do my job better," Colón explained after the game.
The statistics are now middling—the shellacking at the hands of the Angels bumped up his 2018 ERA to 4.21, which still represents an improvement over last year's 6.48—but they are also largely beside the point. Colón belongs to a tradition of older baseball men whose appeal owes less to their hard effectiveness than to the guile they display in hanging on. Some part of the sport's romance is wrapped up in the infielder Julio Franco, who played until he was 49; in Jamie Moyer, the soft-tossing lefty who did the same; in Satchel Paige, that ambiguously aged legend of the Negro Leagues who pitched his last Major League season at a purported 47 (and then reappeared more than a decade later in a kind of promotional stunt and worked three scoreless innings). Like those players before him, Colón suggests a redemptive component to aging: the wisdom it grants to make up for a slowing body, the perspective to appreciate something less than excellence.
It's hard not to wonder if Colón represents one of the archetype's last entries. As baseball gets faster and stronger, it necessarily gets younger; rare is the 40-year-old who can throw 95 or hit that same 95 out of the park. Roster spots once reserved for veteran players valued for their leadership now go to the flamethrowers who make up increasingly crucial bullpens. There is precious little opportunity for the type of reinvention that salvaged Colón's career; by and large, teams respond to an aging player's struggles not with patience, but with a call to the minors, for a fresh arm or big bat.
This is the way with sports. Teams are ultimately tasked with winning, not with honoring fans' nostalgia, and evolutions in thinking can leave certain customs by the wayside. Colón himself may not last the season, if the Rangers decide that it's more in their interest to take a look at a young pitcher down the stretch. One senses, watching him throw and chuckle, that he's not too worried about it.