With Solo, Has Star Wars Fatigue Set In?
The latest entry in Disney's franchise disappointed at the box office in its opening weekend, suggesting even the best-recognized brands aren't invincible.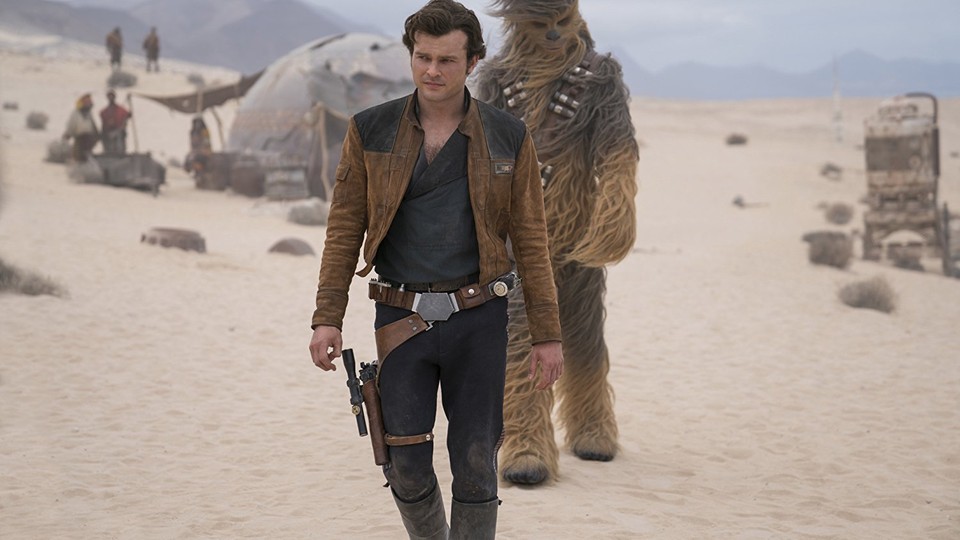 From 1977 to 2005, there were six Star Wars films released in theaters. For better or worse, each was an event; all but one was the highest-grossing movie the year it came out (Attack of the Clones was 2002's third-highest). Since Disney bought Lucasfilm and acquired the rights to George Lucas's storied, moneymaking franchise, it has put out four Star Wars movies in four years. The first three—The Force Awakens, Rogue One, and The Last Jedi—followed that same pattern, with each becoming the biggest release of 2015, 2016, and 2017, respectively. Even with Disney's more compressed schedule, Star Wars remained a required viewing experience.
But the latest entry, Solo: A Star Wars Story, had a $103 million opening weekend over the Memorial Day holiday, well below studio estimates and far from record-breaking. Barring huge word-of-mouth, it will probably fail to claw back its massive budget (reported to be more than $250 million because of extensive reshoots) over the next few weeks. Even if it does, it'll certainly be the least successful Star Wars film ever released, counting for inflation. But beyond that, it may have committed a more unforgivable sin: In failing to generate audience interest, Solo has made Hollywood's most mythic brand feel ordinary.
For most films, a $103 million opening weekend is nothing to scoff at—so far in 2018, only three movies (Avengers: Infinity War, Black Panther, and Deadpool 2) have opened higher than Solo. But Disney's conservative estimates had pegged Solo opening somewhere between $130 and $150 million, the bare minimum it'd need to try and make a profit. There are plenty of obvious reasons for this underperformance—increased competition from other summer movies, lukewarm reviews, and the simple fact that a lot of families vacation on Memorial Day rather than go to the theater.
But perhaps the biggest culprit is that The Last Jedi came out five months ago. Releasing another Star Wars film so soon was an experiment for Disney, which has announced several upcoming movies and TV shows for the franchise. Solo's lukewarm U.S. opening, coupled with its disastrous debut overseas (it made a paltry $10 million in China, a crucial market for any blockbuster), could lead to the studio throttling back. In the case of almost every franchise, past success isn't a guarantee of future performance—look at the DC Comics universe, which bombed with Justice League after a string of hits—but that was a pattern Star Wars had dodged until now.
It could also end up that Solo is just a momentary blip. The movie was always a risky concept, as it required recasting a character who had been defined by the actor who played him in four movies (Harrison Ford). The next Star Wars will be J.J. Abrams's still-untitled Episode 9, a sure-fire hit when it comes out Christmas 2019 to complete the latest trilogy. After that, the brand's future is a little murkier, with several projects in development but none on the release schedule. At least two of them—an Obi-Wan Kenobi movie and a Boba Fett movie—would be like Solo, prequels set in an amorphous time period before Lucas's original films.
Disney would be wise to avoid those projects, since pure nostalgia can only carry the Star Wars brand for so long. The one ongoing franchise that hasn't released a flop yet, the colossal Marvel Cinematic Universe, is helped by the momentum of its storytelling. Each new entry passes the baton forward, introducing new characters or moving the wider plot along. Even films that take place in earlier time periods, like the first Captain America and the upcoming Captain Marvel, exist to feed into forthcoming movies, not to fill in narrative gaps for films released many years earlier.
Solo ends with some dangling plot threads for a potential sequel—a prospect that seems doomed by this underwhelming opening weekend. But by and large, the movie strives to answer questions most viewers probably never thought to ask about Ford's mercurial hero (now played by Alden Ehrenreich), like how Han met his trusty sidekick Chewbacca, the specifics of his acquisition of the Millennium Falcon, and, most clunkily of all, the meaning of his last name. It also contains a surprise cameo that has largely perplexed casual fans and further muddled the overall saga's timeline.
As a one-off caper, the film is well-made, and when you remove the expectations of a Ford imitation, Ehrenreich is a pretty engaging lead. But the movie is more of an on-base hit than a home run. By posting merely adequate returns, Solo is diluting the Star Wars name, offering a necessary reminder that even Hollywood's most beloved trademark isn't enough to drive massive global success. As such, the film is laying bare the high-stakes nature of modern Hollywood, where it seems every new blockbuster ends up as either a record-breaking smash or a colossal disappointment. By all accounts, Solo should fall somewhere in the middle—but Disney abandoned the middle years ago.