Thoroughly Modern Meghan
As the world watched, an American actress challenged stereotypes, tradition, and the history of the monarchy itself.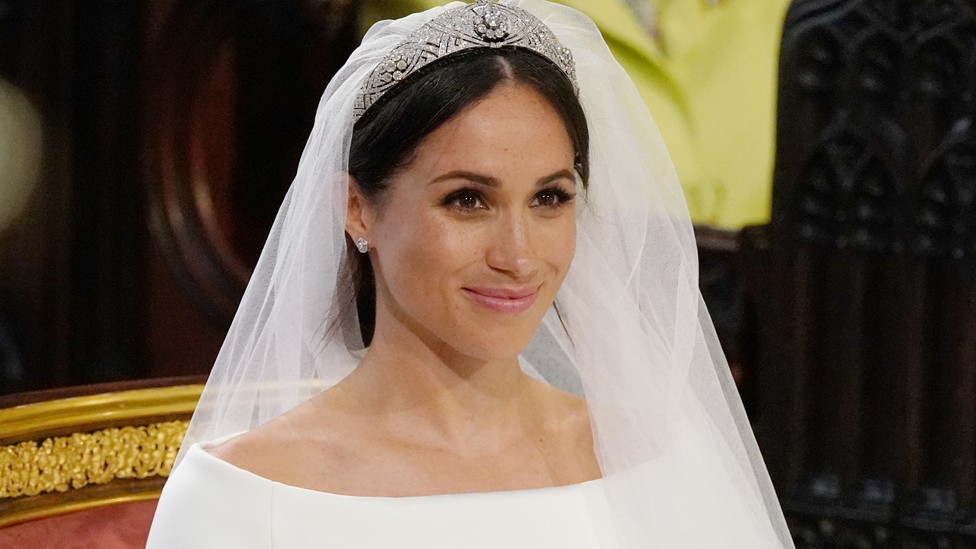 Hilary Mantel has compared them to pandas in a zoo, "expensive to conserve and ill-adapted to any modern environment." Martin Amis once described them as "philistines." When it comes to the Windsors, Christopher Hitchens wrote in 2000, the stubborn appeal of the British Royal Family comes down to a national "conditioning of mild hysteria and personality cult."
Why are we so fascinated by them? "As in all matters royal," Amis concluded before the Queen's Golden Jubilee, "we are dealing here not with pros and cons, with arguments and counterarguments; we are dealing with signs and symbols, with fever and magic." How else to explain the 18 million television viewers in the U.K.—29 million in the U.S.—who tuned in on Saturday morning to watch an actress and a former army captain get married?
Even as signs and symbols go, this was no ordinary royal wedding. The bride, Meghan Markle, is 36, nearly twice the age Princess Diana was when she got engaged to Prince Charles. Meghan has her own career and her own wealth, accumulated not through inheritance, but through industry. For the first half of her journey down the aisle through St. George's Chapel in Windsor Castle, she walked alone. And, more significantly, the ceremony itself was studded with deliberate reminders that Meghan is biracial. In one of the whitest spaces in modern England, Bishop Michael Curry gave a rousing sermon that mentioned Martin Luther King Jr., and spirituals sung by slaves in the American South. It was an address, as Diana Evans wrote in The Guardian, "that will go down in history as a moment when the enduring seat of colonialism was brought before the Lord, and questioned in its own house."
It shouldn't be up to Meghan—now the Duchess of Sussex, Countess of Dumbarton, and Baroness Kilkeel—to singlehandedly modernize an institution that's doggedly resisted change since its inception. And yet here was the House of Windsor witnessing a revolution, whether it wanted to or not. Note the Duchess's new page on the Royal Family's website, which includes a single quote from Meghan in her own words: "I am proud to be a woman and a feminist." And the speech she reportedly made herself at the reception, traditionally given by the bride's father. And her personal lack of formality (she reportedly alarmed the Palace by hugging Prince Harry's security guards) within an environment constructed wholly out of protocol and spray starch.
There are plenty of rational reasons to oppose the existence of the monarchy in the 21st century. But as the British know, it tends to be more complicated than that. It's hard to separate logic from sentiment and hierarchy from history. Two-thirds of Brits continue to support the existence of the Royal Family, and as the wedding on Saturday and its feverish anticipation and coverage proved, Americans are almost more infatuated with the idea of inherited privilege than their U.K. counterparts.
Part of this is cultural. For as long as monarchies have existed they've been enshrined and critiqued in works of art. Shakespeare used King Lear to slyly criticize the autocratic reign of Queen Elizabeth I, and The Crown is one of Netflix's most watched original shows. The fantasy of an ordinary mortal being thrust into royalty is such an enticing one that it's occupied many a fairy tale, including The Princess Diaries and King Ralph. Meghan, in many ways, is the old dream come true. She's an ordinary American who ended up, by virtue of her marriage, joining one of the most exalted families in the world.
And yet it's hard not to intuit that we, the public, are the lucky ones here. Meghan has given up her acting career to focus on charity work, which her royal biography notes has long been her habit. She's also given up her privacy, her independence, her ability to ever again go grocery shopping or get her hair cut without the world watching along. But what she's given in return is the redefinition of the word princess. Her age, her resume, her biography—all of which stand in marked contrast to the people who married into the Windsor family before her—emblematize how much modern conceptions about women have evolved for the better. On her wedding day, Meghan commanded the Royal Family to consider its history, while also making it look a degree more like the country it occupies. If we must be so reliably fascinated by the Windsors, and by princesses from Disney to Diana, it's heartening that the newest representative of both camps is someone so willing and able to challenge what they mean.