The Tale Is a Searing Investigation of Past Abuse
The documentarian Jennifer Fox's film, debuting on HBO, interrogates an early sexual relationship and the troublesome power of memory.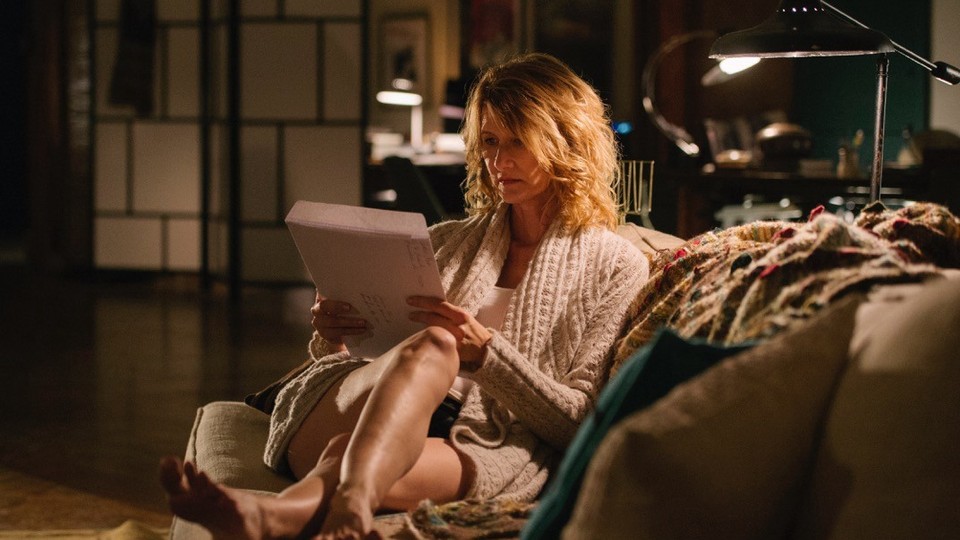 "The body remembers everything, it really does," says the imperious riding teacher Mrs. G (Frances Conroy) to her former student Jennifer Fox (Laura Dern) as the latter guides a horse around its paddock with ease. The Tale is a film about how right, and how wrong, that statement is. The real-life Fox, who spent decades as documentary filmmaker, wrote and directed this searing investigation into her own memories of a sexual relationship she had with a grown man when she was 13 years old. The Tale, which is Fox's narrative feature debut, visualizes the way the director's recollections had bent around the disturbing realities of her past. By jumping back and forth in time, Fox works to piece together how her teenage self turned a troubling affair into something comforting, and considers the aftershocks that can result from unearthing buried trauma.
The Tale was a hit when it premiered at the Sundance Film Festival in January; it got quickly picked up by HBO Films and will air Saturday night on HBO. Debuting as it did when the #MeToo movement was continuing to gather steam in Hollywood, Fox's movie is an intensely relevant work that examines how the dark dynamics of authority play into sexual abuse—particularly within the world of athletics, where the trust between coaches and students can be easily exploited. Just as pertinent, though, is the movie's efforts to understand how memory gets papered over, and how people can explain away their most obvious suffering, even to themselves.
The trickiness of memories—and the restorative power that can come from confronting the most difficult ones—is a crucial theme for Fox, and it feels especially significant at a time when high-profile examples of cruelty and misconduct are being dredged up and scrutinized. Beyond that, The Tale is an impressive work that seamlessly marries documentary and narrative. "The story you're about to see is true … as far as I know," reads the film's opening title card, a challenge to the viewer to grapple with the account as carefully as Fox herself has done.
Jennifer (which is how I'll refer to Fox's character in the film) is played by Dern in the present day, and by Isabelle Nélisse as a 13-year-old. The younger version of Mrs. G, the woman who taught Jennifer to ride horses, is played by Elizabeth Debicki, and she radiates the kind of magnetism that should be familiar to anyone who has ever idolized a teacher. When Jennifer was 13, Mrs. G ran the horse camp with Bill (Jason Ritter), a former star athlete who helped train her students. As The Tale begins, Jennifer's mother (Ellen Burstyn) is understandably horrified after stumbling across a short story Jennifer wrote as a teenager that reflects on her relationship with Bill. Jennifer initially dismisses her mother's complaints, essentially arguing that, though she was young, she had a real romantic bond with the man.
But it becomes harder and harder for Jennifer to justify that argument as she starts to work through her memories, using her skills as a researcher and filmmaker to dig into her own life. Jennifer talks to other students, and to the now-aged Mrs. G, to get a new perspective on what her mentor did and didn't know about Bill. Throughout the movie, Jennifer literally interrogates the past, interviewing her younger self (in a set of dreamlike sequences) to try and understand how the 13-year-old girl could think that what's happening to her is remotely acceptable.
The answers given are often both depressing and believable. As a child who was regularly ignored by her parents, Jennifer appreciated the attention and interest she got from this much older man, an authority figure whom she adored. To echo Mrs. G's sentiment about horse-riding, Jennifer's body has remembered things, but it has remembered them wrong—and The Tale delves into the metaphysical horror of that realization, the betrayal of things you've held to be true.
Though it's an undeniably tough film to watch, The Tale isn't exploitative or lurid. Fox's skill as a storyteller has long rested on her sensitivity and her gift for drawing out other people's personal narratives. The idea of her questioning herself, then, doesn't feel like a gimmick, though Dern's cool-headed presence onscreen helps, too. The rare moments when Jennifer erupts into anger or fear are all the more visceral as a result; Fox is intent on portraying herself as a whole person, unmistakably scarred, still working toward healing.
Handed the tough roles of mentors who shift into monsters, Ritter and Debicki subtly calibrate their performances as necessary, projecting a protective edge in one moment and a predatory one in the next. Their transformations are extraordinary to watch, and necessary to reckon with. The Tale is above all a work of profound empathy, as a look inside someone's psyche would have to be. Fox isn't just excavating the abuse she suffered as a girl; she's also engaging with and forgiving herself, reconciling with the damage that she had convinced herself to ignore for years.