The Long Shadow of MLB's Next Free-Agent Class
An impending influx of talent hitting the market in the winter is the single biggest factor informing roster construction across baseball.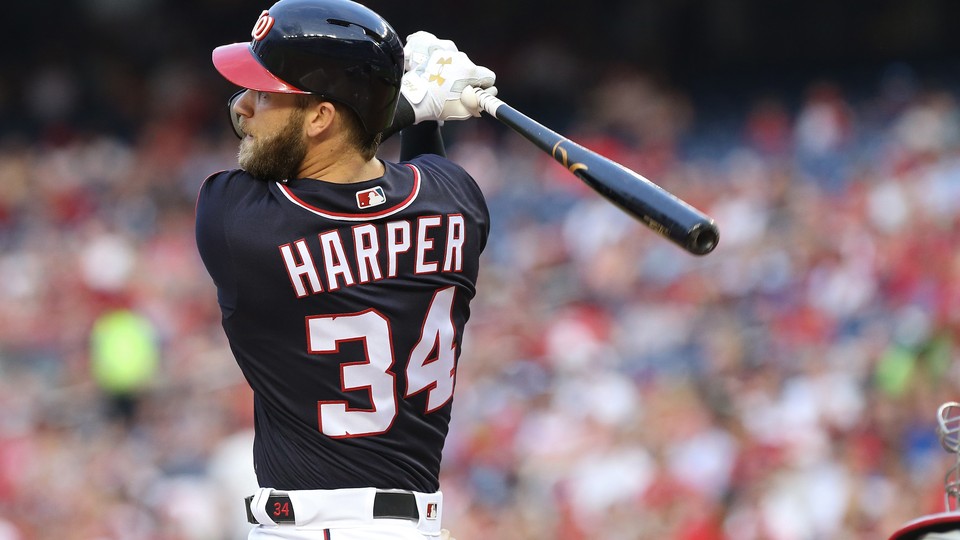 When the Los Angeles Dodgers announced in late April that the All-Star shortstop Corey Seager would undergo elbow surgery and miss the rest of the season, it seemed to be a critical blow to the team's World Series hopes. Losing Seager meant losing a five-tool player who excelled consistently at the game's most important position. He'd be difficult, if not impossible, to replace.
But almost immediately, fans and media members came up with a near perfect solution: The Dodgers should trade for Manny Machado. The shortstop for the Baltimore Orioles, Machado is also one of the game's top players, with the same type of well-rounded skillset that makes Seager invaluable. And he'd surely be available at the right price, given that he stands to hit free agency next winter and the Orioles have scant chance of contention this season. On the other hand, came the counterargument, adding Machado might push the Dodgers over the luxury-tax threshold, which could hinder their ability to chase other big-money stars this offseason.
The entire discussion around Seager's injury and Machado's trade status underscored a reality that has become increasingly stark in recent months: Next winter's free-agent class is both the dominant story line hanging over this Major League Baseball season and also the single biggest factor informing roster construction across the league.
Everyone agrees that this group of impending free agents is special. Two recent MVPs (Bryce Harper and Josh Donaldson) will hit the market, with a third (Clayton Kershaw) one opt-out away from joining them. Machado, a three-time All Star in his mid-20s, will be available. So will 2015 Cy Young winner Dallas Keuchel; stud closer Craig Kimbrel; do-it-all outfielder A.J. Pollock; relief ace Andrew Miller; breakout hurler Patrick Corbin; and a long list of other accomplished players, including Andrew McCutchen, Daniel Murphy, Gio Gonzalez, Cody Allen, and Garrett Richards. This is the type of once-in-a-generation group a franchise builds its future around. "Every team has three- and five-year outlooks that involve upcoming free agent classes," the Cubs general manager Jed Hoyer said in 2017. "But it's been a while since a class like that one has come along."
The gravitational force of the 2018–19 class has been evident for years, but it truly revealed itself last winter, when seemingly every conversation among fans and analysts about the offseason at hand quickly drifted toward the one that lurked a year in the future. Should the Phillies try to sign the slugging outfielder J.D. Martinez? Not when they can wait a year for a shot at Harper. Might the Cardinals go after Mike Moustakas to play third base? Not when they can stall until Machado and Donaldson are available. Should the Orioles trade Machado? Well, considering he'll leave in a year anyway … What should the Blue Jays do? Depends if they think they can resign Donaldson, of course.
The bounty of talent waiting in the 2018–19 winter was almost certainly one reason (of many) for an offseason in which teams were reluctant to dole out large contracts. Not only did front offices seek to save room on their depth charts for Harper, Machado, and company last offseason, but they also did their best to save money for them as well. Some of baseball's richest franchises, including the Dodgers and Yankees, spent carefully, hyperconscious of the luxury-tax threshold they had happily exceeded in previous years. Because teams must pay harsher fees the more consecutive years they eclipse the threshold, New York and L.A. had strong incentives to keep their payrolls down for the 2018 season to reset the penalties in preparation for the coming class. In other words, thriftiness one winter could lead to lavishness the next. It takes special circumstances to keep the Yankees and Dodgers from spending on free agents, but the 2018–19 free-agent class represented special circumstances.
Even with the season now underway, the specter of next winter hovers. Take the Washington Nationals, a team known for dominating from April through September before stumbling in the playoffs. For years, the franchise and its fans have had October 2018 circled as the last chance for a World Series title before Harper hits free agency, and now that the long-dreaded date is approaching, each game feels strangely urgent. As the Washington Post columnist Thomas Boswell wrote in March, "It may be years, or decades, before the Nats have the potential to be this good again." That pressure will follow the Nationals until the final out of the season.
Harper has deflected all free-agency talk, but it has swelled around him nonetheless: Will the 25-year-old star sign the largest contract in baseball history? Can he surpass $400 million? What city does he favor? Did he really imply on Instagram that he wants to join the Cubs? The narrative can be overwhelming. When Harper began the season with five hits and three home runs in his first four games, it wasn't just a hot streak. It was, as ESPN put it, "a $400 million start."
Just up I–95, the Orioles confront next winter's shadow from a slightly different vantage point. Like the Nationals, they have a star set to hit free agency after this season. Unlike the Nationals, they have next to no hope of winning a World Series before he leaves. Thus, the biggest story of Baltimore's season, maybe the only story worth following for non-Orioles fans, will be the team's attempt to trade Machado, to get something in return for the All Star before he bolts.
As baseball's July 31 trade deadline approaches, the upcoming free-agent class will take on even greater relevance. Soon, the trade market will fill with players whose teams would rather deal them than lose them for nothing when their contracts expire in November, leaving numerous playoff hopefuls weighing the relative value of essentially renting a player for a few months. Some teams might decide there's no reason to give up valuable pieces for players they can simply sign in November, while others might conclude that acquiring a star during the season and letting him find comfort with their organization will increase their odds of inking him to a long-term deal. These tradeoffs exist every season, but they'll be extra pertinent this summer.
In addition to shaping the present and future of baseball on the field, the impending offseason could have a seismic effect on the economics of the game. Last winter's paucity of big-money signings led some observers to wonder whether baseball's financial system was broken, as others argued that the lack of nine-figure offers was a blip that would be quickly reversed with the coming cast of All-Star free agents. Which side proves correct could go a long way toward deciding just how contentious the 2021 collective bargaining negotiations wind up being, and whether the business of baseball ultimately gets an overhaul.
In that way and in others, the impact of the coming free-agent class will last long after the ink dries on Harper and Machado's contracts. Some organizations will land franchise-changing players next winter. Others will overpay for talent and regret it for years. Still others will fail to land a marquee name and wonder why they wasted so much time looking forward to this offseason in the first place. General managers' jobs and reputations will depend on their ability to navigate the loaded free-agent market. A decade's worth of World Series could be determined by who signs where.
But before all that, the Dodgers must decide whether to replace Seager with Machado. Their choice will depend on a number of factors, including the team's performance, the performance of their fill-ins, and the Orioles' asking price. It will also depend, quite crucially, on the question executives across the league have been asking themselves for months, each time they ponder a major move: How will this affect our strategy next winter?