The Facts and Fictions of Harvey Weinstein's Arrest
On Friday, hazy questions—about celebrity, about impunity, about American culture's messy tangling of that which is immoral with that which is illegal—collided with stark criminal charges.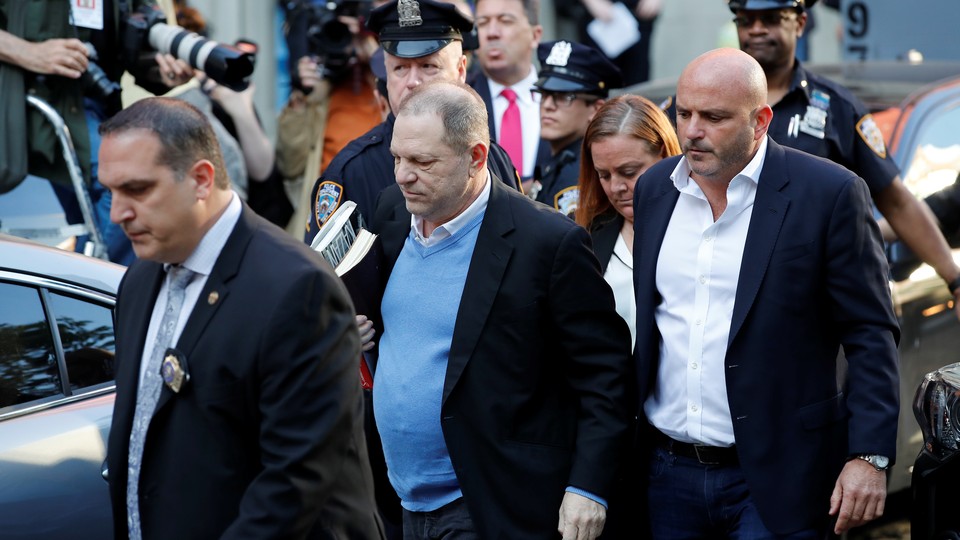 "This moves from the court of public opinion into an actual courtroom. That is super cathartic for a bunch of the survivors, or even survivors who are not necessarily victimized by him."
That was Tarana Burke, the founder of the #MeToo movement, commenting on an event that has, over the past several months, seemed to toggle in its potential between the inevitable and the impossible: the arrest of Harvey Weinstein. On Friday, both against all odds and in fulfillment of them, the long-imagined event came to pass. The "disgraced mogul," as Weinstein is so often euphemized, turned himself in to authorities in New York City—one of several jurisdictions investigating him for sexual misconduct.
The arrest of Harvey Weinstein was a seizure that seized in every sense: It shook. It disturbed the status quo. "More than seven months after sexual misconduct allegations involving Harvey Weinstein first surfaced publicly, the disgraced mogul has finally been charged with rape," The Hollywood Reporter summed things up, in its initial announcement of the news, and the finally was telling. It was an arrest in which hazy questions—about justice, about accountability, about celebrity, about impunity, about American culture's messy tangling of that which is immoral with that which is illegal—collided with stark facts: two charges of rape, one in the first degree and one in the third, against Weinstein. A charge, too, of a first-degree criminal sex act. Bond set, by prior negotiation, at $10 million, with Weinstein paying $1 million in cash to post bail. A GPS monitoring system meant to ensure that a post-arraignment Weinstein will be able to travel only between New York and Connecticut. Containment. Finally.
Before last year, Harvey Weinstein, the not-yet-disgraced mogul, was known to move with an entourage, a group of humans who embodied the gravitational forces of fame; on Friday, Weinstein was once again surrounded—this time, though, by lawyers and police detectives. He wore gray jeans and a sweater of robin's-egg blue. He was pale. He smiled at times, and at others gazed blankly toward the ground. The producer, at one point during the slow-moving arrest, carried an armful of books, entertainment that doubled as teasing props in a set that was not of his own design—among the reading, a biography of Elia Kazan, the Oscar-winning director and the Hollywood blacklist informant, and Todd Purdum's Something Wonderful: Rodgers and Hammerstein's Broadway Revolution. (Richard Rodgers, in perhaps another Weinsteinian tease, was a notorious womanizer.)
Which is to say that the optics of the arrest mirrored the meaning of the arrest: Weinstein's detainment is at once big news and small. It is at once a validation of the more than 80 women who have publicly accused Weinstein of misconduct that ranges from verbal abuse to rape—and, at the same time, an insult to them. It is late. (Finally.) It is in some ways anticlimactic. It is the result, as many such high-profile arrests will be, of a series of behind-the-scenes deals. It is a direct legal answer to a tiny percentage of the women who have made accusations against him: in this case, Lucia Evans, who is accusing Weinstein of forcing her to engage in oral sex during a meeting in 2004, and a woman who remains anonymous. The arrest, too, is the result of the Manhattan district attorney's office deciding that they have enough evidence in the case to go forward with the prosecution. It is the result of law enforcement officials' calculation that Evans is "credible" enough to withstand a system in which the accusers as well as the accused will be, almost inevitably, put to trial.
And so: The arrest is the result of both progress and regression. It is the result of compromise. It is coming so late. But it has come.
And something else has come with it—a smaller shift, and a broader one. Weinstein, after the initial reporting about him was published in October, has operated in a kind of haze. (Not physically, to be clear, since, as all this played out, he has been living at a luxury resort in Arizona, clearing his head in the dry desert heat.) In the stories—in American culture's attempts to understand what Weinstein had wrought—a fog set in. The monstrosity of Harvey Weinstein has been merely "alleged." And of course it has been: Journalistically, and legally, and as a matter of fealty to America's established systems of fairness, it has to be, can only be, alleged. As a result, though—in the media, and in the powerful court of public opinion—the testimonies of those scores of women have been hedged and hazed in the standardized manner: Big if true. She claims. He has a different memory of events. (He is denying the allegations.)
And so, with those necessary caveats—he said and she said and she said and she said and so very many other shes coming forward with so very many other saids—the story of Harvey Weinstein has been told in strange tenses. It has lived, for the most part, not in the past (This happened, with all its epistemic clarity), but in the conditional, with its haze of uncertainty: If this happened. This might have happened. Could this have happened? And the story, too, has been told not only in declarations, but in questions. Weinstein Company lifts NDAs—will more victims come forward? Should fans stop loving Shakespeare in Love? Should she keep fighting, under the circumstances?
As the stories played out, the individual testimonies of the women dissolved, partially, into the haze: The women were believed, finally, tenuously, but their stories were not considered, fully, the truth. They were merely one element of the broader narrative. (He is denying the allegations.) The impediments to justice, for women who have been sexually abused—legal impediments, cultural impediments, the bigotry of biases both human and systemic—were subsumed into the language. There was so much uncertainty. There were so many allegeds. Eighty women—more. And yet: The courts hadn't gotten involved, fully. The truth hadn't been litigated, completely. The fog of "or."
These collisions—fact and allegation, truth and lie, the past tense and the conditional—are what make the arrest of Harvey Weinstein so meaningful. Yes, it represents only a tiny sliver of accountability. Yes, it is small in proportion to the actions in question. But, to the extent that Weinstein's horrors have, for so long, been allowed to be hazy, his arrest brings a measure of solidity. It suggests that the fog is lifting. So does the conviction of Bill Cosby. So does the fact that so many abusers, at the moment, are facing real-world accountability for their abuses. The arc of #MeToo is long, but it bends toward justice.
A first-degree criminal sex act carries a sentence of five to 25 years in prison. First-degree rape carries a sentence of five to 25 years in prison. Third-degree rape carries a sentence of up to four years in prison. And there are nearly a dozen lawsuits against Weinstein that are currently making their way through a justice system that, while it is itself so often unjust, still claims to determine what is true. As Tarana Burke put it, of Weinstein's arrest: "For those people for whom criminal justice is [how] they want to seek justice, to see it actually happen, I think is a big deal. We might be looking at a shift in the way cases of sexual violence are actually dealt with."
Yes. But also: We might be. We are conditioned to live in the conditional. Fog, for all its airiness, is a stubborn substance. The Hollywood Reporter, which initially announced that Weinstein had "finally been charged with rape," later changed its wording. It excised the finally. Too human. Too revealing. And there are still allegeds, today. Arrest is not conviction. Trial is not justice. On Friday, Benjamin Brafman, Weinstein's attorney, made a statement to the reporters who had gathered outside the courthouse in New York to witness a moment of cultural shift in action: "Mr. Weinstein has always maintained that he has never engaged in nonconsensual sexual behavior with anyone," Brafman said. "Nothing about today's proceedings changes Mr. Weinstein's position. He has entered a plea of not guilty and fully expects to be exonerated."