The Curious History of Mommy-and-Me Fashion
This matching-outfit trend has cycled in and out of popularity for more than a century, reflecting changing views about motherhood and femininity.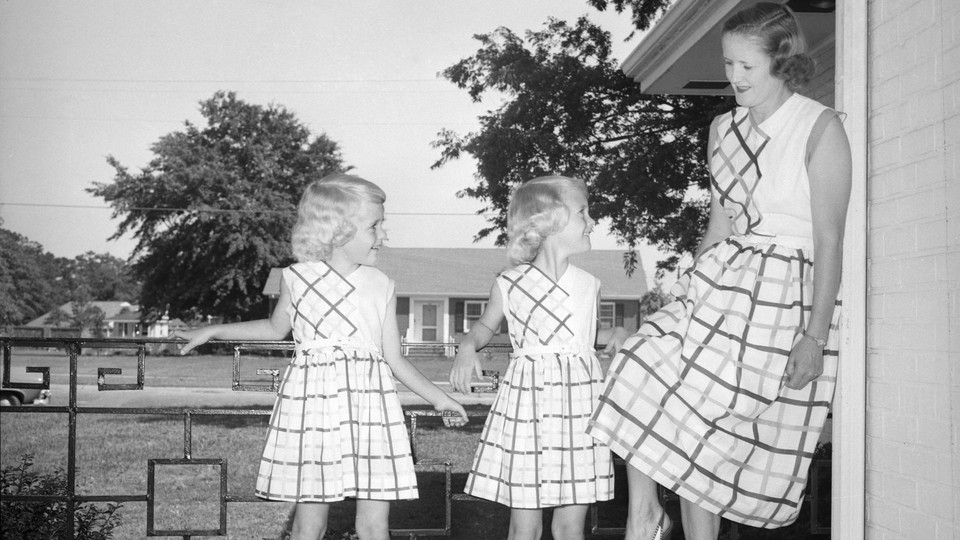 "Every woman becomes like their mother," Oscar Wilde once quipped. "That's their tragedy." For some women, "tragedy" strikes early in the form of mommy-and-me outfits, those often creepy-cute clothing clones that tend to leave at least one party looking age-inappropriate. In recent years, celebrity offspring like Blue Ivy Carter and North West have taken "twinning" with their famous moms to stratospheric levels of Instagram likes and paparazzi attention. But mother-daughter dressing has been cycling in and out of fashion for more than a hundred years, reflecting changing attitudes about motherhood and femininity.
The matchy-matchy look flourishes in "time periods when there is more cultural emphasis on the family and the mother-daughter relationship," said the fashion historian Jennifer Farley Gordon, who researches children's clothing. In practice, the matching style can also signal affluence: a mother with leisure time to sew—or money to shop for—mirror-image outfits, and who is more likely to be a stay-at-home mom. Part of the idea, also, is that there's not much point in being one half of a matching set if you're not spending significant amounts of time together in public.
While sisters (of all ages) have been wearing the same clothes for centuries, mother-daughter dressing didn't catch on until the early 1900s. The couturière Jeanne Lanvin launched the trend after giving birth to her only child, Marguerite, in 1897, at the then-advaced age of 30. Spotting a gap in the market, she debuted a high-end children's line in 1908, using the same luxurious textiles and avant-garde styles that characterized her womenswear, albeit simplified for younger tastes and bodies. Marguerite served as her model and mini-me; the inseparable pair were often spotted parading around Paris in coordinating couture outfits. A 1907 photo of the two of them in costume for a masquerade ball—complete with matching pointy hats—inspired the house's stylized, Paul Iribe–designed logo, which is still used on its labels. Years later, Marguerite would confess that she found the attention embarrassing, saying: "As soon as I was dressed up all I wanted to do was hide."
Lanvin's creations were too expensive to have a widespread influence, and the Great Depression soon made such conspicuous displays of wealth undesirable, even for those who could afford them. But mother-daughter fashions surged in the late 1930s, partly driven by the Hollywood publicity machine. In 1935, for example, the actress Joan Bennett and two of her daughters posed for press photos in coordinating outfits. Because fashion production and retailing was strictly divided by age group, however, it took time for the trend to reach the mainstream. In July 1938, Life magazine noted that "not until this summer did the mother-and-daughter custom really become popular."
Life nailed the appeal of mother-daughter dressing when it declared: "'Look Alike' means 'Look Young.'" Unlike Lanvin's kiddie couture, the mommy-and-me looks of the 1940s and '50s were decidedly girlish, emphasizing the mother's youthfulness rather than the daughter's maturity. In her memoir Mommie Dearest, Christina Crawford remembered posing for publicity photos with her adoptive mother, Joan, in the late 1940s, at the age of 8. "I had to get dressed in one of the many 'mother-and-daughter' outfits we were always photographed in … Mother and I would go through the whole day doing things for the camera and changing from one matching outfit to another." Often, these outfits consisted of ruffled pinafores or skirts with suspenders worn over frilly blouses with puffed sleeves, with matching ribbons in their hair—clothes more appropriate for an 8-year-old than a grown woman. Tellingly, if a woman had more than one daughter, she was advised to twin with the youngest, according to Life.
As the U.S. economy rebounded, Ladies' Home Journal—one of the leading women's magazines in America—had strong ideas about how the country could spend its new wealth. From 1939 into the early 1950s, the magazine published a series of covers illustrated by Al Parker, a contemporary of Norman Rockwell, depicting mothers and daughters in matching outfits engaging in household chores and leisure activities such as baking cookies, riding bicycles, raking leaves, knitting, skiing, and wrapping Christmas gifts. One memorable image portrayed a rosy-cheeked mother and daughter pair, ice skating hand-in-hand above the headline: "Is Society Committing Suicide Today?"
While Lanvin had thoughtfully adapted adult styles for juvenile clients, avoiding exact copies, Parker's mothers and daughters were identically dressed from head-to-toe, including their hairstyles, coloring, and accessories like aprons, gardening gloves, and roller skates. These covers "were so wildly popular that readers were writing in asking for patterns," Gordon said. Pattern companies as well as fashion magazines complied, offering mother-daughter sewing, knitting, and crochet patterns; similar garments could also be bought ready-made from department stores or the Sears catalogue.
Far from petering out during World War II, the twinning trend only intensified. "During the war, there was an emphasis on the home front and everybody doing their part for the war effort, including daughters helping their mothers at home," said Gordon. Home sewing was encouraged as a patriotic gesture, and mother-daughter outfits served as a kind of civilian uniform, projecting unity as well as efficiency.
While women entered the workforce during the war, they were put firmly back in their place once it ended; during the postwar boom, mother-daughter fashions reinforced the primacy of the domestic sphere. As the large families and multigenerational households of the Victorian era were replaced by the small nuclear family, the mother-daughter bond grew stronger and more performative. "The whole idea of dressing multiple children in matching garments was more of an economic choice," Gordon said. "But by the mid-20th century, mommy-and-me dressing was promoted as a special, fun thing rather than having a financial impetus. It was something that mothers and daughters could do together—not only wearing but making matching clothes." A 1949 dressmaking manual, The Complete Book of Sewing, asked: "Why not make 'mother-and-daughter' dresses and conduct a family contest that the men of the family can cheer?"
Not everyone cheered such dressing, however. "Ladies' Home Journal talked about it like it was the greatest thing since sliced bread," Gordon said. "But there was this undercurrent of people criticizing it. Some designers loathed it." Helen Lee, one of the leading children's wear designers of the 1950s and '60s, called it her "pet peeve," explaining: "There's a difference of 20 to 30 years between mother and daughter and in most outfits one or the other will look ridiculous." Some magazines advised women not to match their daughters exactly, but many did anyway. Even Lee bowed to popular demand and created mother-daughter patterns for McCall's, Gordon said.
The rise of the working mother in the 1970s effectively halted the mommy-and-me trend. Even women who didn't work took their fashion cues from those who did, donning sophisticated wrap dresses, trouser suits, and midi skirts; by the 1980s, "power dressing" trickled from the boardroom to the street. Lilly Pulitzer—one of the original purveyors of "mother-daughter matching"—shut down in 1984, only to be relaunched in 1993, when the retail market became more receptive to pastel printed sundresses.
Today, it's once again "cool to be a mom," Gordon said. Celebrities show off their adorably chic children to thousands of fans on Instagram and on the red carpet, while average parents can resort to Facebook and holiday cards. Fashion designers like Stella McCartney and Michelle Smith of Milly are modern-day Jeanne Lanvins, making public appearances with their children and designing children's lines alongside adult clothing. Models like Coco Rocha and Cindy Crawford have shared the runway with their daughters.
These days, however, the mommy-and-me looks are usually store-bought. Indeed, with the likes of Gucci, Dolce & Gabbana, and, fittingly, the rebooted house of Lanvin getting into the luxury children's wear market, they often come with decidedly grown-up price tags. But there are plenty of budget-friendly version, like Target's recent collaboration with Victoria Beckham, or Drew Barrymore's new line for Crocs.
Though a few halfhearted attempts to launch father-son fashions in the 1950s never really took off, family fashions have surged in recent years as many dads have become more hands-on. Often focused on holiday dressing, vacation clothes, or sleepwear, these collections—which are diversified enough to accommodate a broad range of ages and genders—offer a less literal interpretation of twinning, one intended for special occasions (or perhaps professional family portraits). Which is to say that "daddy, mommy, all my siblings, and me" might be the new mommy-and-me.