The Bleak Truths of Unbreakable Kimmy Schmidt
In its fourth and final season, the Netflix comedy continues to spin its cotton-candy humor around a world that's rotten inside.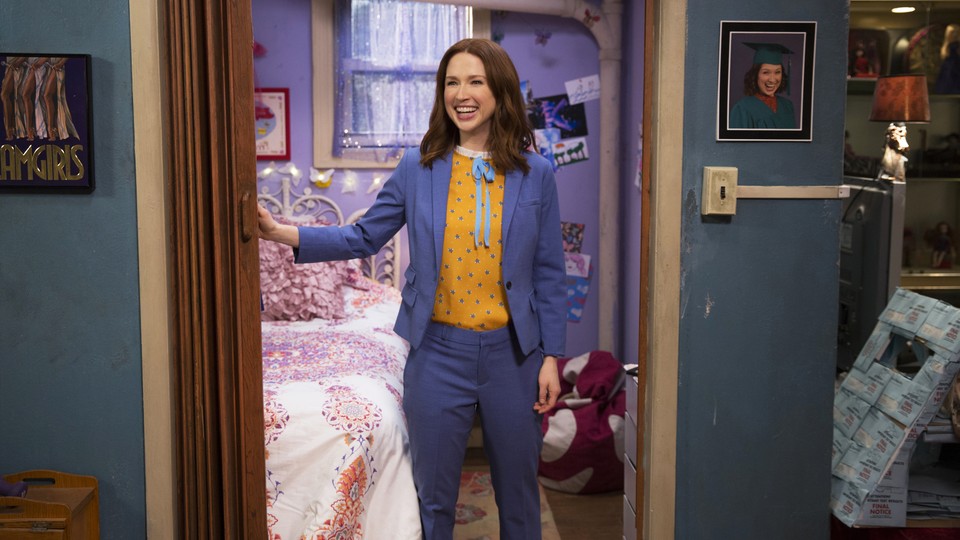 The biggest joke of Unbreakable Kimmy Schmidt, now in its fourth season on Netflix, is that Kimmy (Ellie Kemper) is still smiling. When she emerged in 2015 from her 15-year imprisonment in a bunker, dazed and bleary, Kimmy's immediate response to finding the world (mostly) the same as she left it was a broad, irrepressible grin. And her sense of joy came to define the show's aesthetic. Unbreakable Kimmy Schmidt was lilac-painted walls in a condemned East Dogmouth basement. It was a unicorn frappuccino in a sludgy Folgers universe. It was fudgin' euphoric, given what the audience saw but Kimmy didn't: that the world she was so unabashedly thrilled to be reunited with was also a dark, absurd, downright cruel place to inhabit.
The soul of Tina Fey and Robert Carlock's comedy comes from this balance between zany, Elmo-style optimism and brutal reality, never leaning too far in either direction. But its sense of humor can be jarringly dark. "Would you look at this place?" Lillian (Carol Kane) crows upon seeing a ritzy apartment for the first time. "A Wall Street fella could really kill a lady in here." A Mondrian belonging to Jacqueline (Jane Krakowski) turns out to have been looted from a Jewish family by the Nazis. "BREAKING NEWS: WHITE WOMEN FOUND," a news chyron blares, adding in smaller letters, "Hispanic woman also found."
What all this adds up to in the first half of the fourth season, released on Netflix Wednesday, is a show perfectly tuned for a cultural moment in which darkness (not to mention toxic masculinity) feels inescapable. The six new episodes of Kimmy Schmidt are funny and weird and replete with cameos (Busy Philipps! Aidy Bryant! Greg Kinnear!). But they're also studded with Harvey Weinstein jokes, men's-rights activists, #MeToo moments, and throwaway punchlines about the abuse of women. "People call me Tripp, because my babysitters keep falling off boats," a wealthy man-child (Paul Walter Hauser) says in one scene. In another, Jacqueline casually mentions that her ex-husband has cloned her, before the camera cuts to the clone (Krakowski) screaming in terror. "Whose memories are these?" she shrieks.
By the end of the last season even Kimmy had had enough, after failing in her long-cherished dream of becoming a crossing guard. The world, she concluded, was like a Vidalia onion, supposedly sweet but actually sour. "It's a lie," she said, "It stinks. And it makes you cry." The series didn't end there, because it isn't that kind of show. Instead, Kimmy found a job working in human resources for a tech startup, where her abundant enthusiasm and quirky charm made her an asset. The fourth season opens with an ode to Kimmy's new status as a career woman, as Krakowski sings the theme to a fake '90s sitcom called Little Girl, Big City. "Changing her pumps at work," Krakowski trills, while Kimmy high-fives her colleagues and slips her sneakers into a drawer. "Now you're laughing at salad."
The tone is still aggressively upbeat; Kimmy is smiling again. But Unbreakable Kimmy Schmidt knows what time it is. There are a handful of awkward Trump jokes and typical gentrification gags before the show eases into gear, skewering the reality of the workplace for women while satirizing the pop-culture fantasy of the workplace for women. Kimmy, discovering how to stream television shows, binge-watches a series called Gals on the Town about 40-something women juggling love, work, and friendship, and becomes convinced she's supposed to spend her Sundays brunching and getting her nails done. She also finds herself facing a sexual-harassment complaint, after her attempts to fire a male developer in a gentle "Kimmy" kind of way backfire disastrously.
It's easy to imagine the scene infuriating some viewers, because on its face it doesn't take sexual harassment entirely seriously. But that's the genius of it: Kimmy's loaded compliments and physical gestures are totally absurd. So much so that they underline how ridiculous it is for workplace aggressors to argue that women are just misinterpreting things. "I really like seeing you every day, but maybe work isn't the best place for that," Kimmy tells her coworker, while rubbing his back. "Maybe our friendship belongs in the night hours." Then her pants fall off, revealing her childish underwear to the office.
"It's not like I'm a Weinstein or a Spacey or the president," an aghast Kimmy tells Titus later. "That doesn't matter," Titus replies. "This is not about you, girl. This is about your coworkers and how they feel." Then Titus tears up remembering his own #MeToo moment, when he was offered a job on Sesame Street if he agreed to give sexual favors to a puppet named Mr. Frumpus. And the show, unusually, doesn't immediately treat Titus's pain as a punchline.
It's in the third episode, though, that Kimmy Schmidt really starts to delve into the ugliness that's characterized the last few months of the news cycle. The half-hour installment is modeled entirely on a Netflix true-crime documentary, complete with black-and-white opening credits and a catchy title, Party Monster. An electronica musician, DJ Fingablast (Derek Klena), who's popped up in previous episodes, tries to find his childhood music idol to play at his upcoming wedding, only to find that said idol, DJ Slizzard (a.k.a. Reverend Richard Wayne Gary Wayne, a.k.a. Jon Hamm), is in prison for kidnapping women and keeping them in a bunker.
DJ Fingablast struggles with how to comprehend that his icon, the legend who brought the air horn to the Midwest, could be capable of such brutality. And he can't wrap his head around it. So he concludes instead that the women must be at fault. He interviews Fran Dodd (Bobby Moynihan)—the leader of a men's-rights group called The Innocence Broject trying to clear the names of Bill Cosby, Weinstein, and Mr. Frumpus—to find out why men are suddenly under attack. First, DJ Fingablast argues that none of the women are realistically attractive enough to have been assaulted by the great DJ Slizzard. Later, Fran insists that the bunker was nothing more than "a return to traditional values."
Because the fourth season has been divided into two halves, with the last seven episodes to be released at an unspecified time, we don't get to find out how this particular plotline ends. But the various threads of these six new episodes form a whole that's somehow bleaker than Unbreakable Kimmy Schmidt has ever been. Not because the jokes are dark (this is a series in which Kimmy's first love was deported and Lillian inexplicably dated Robert Durst). But because this season, the show jokes, over and over again, about how injustice is ingrained within every level of society. And it does it so relentlessly that even Kimmy can't always see the sunny side. It's funny, and terrible, because it's true.