Spotify's Lonely Stance Against Alleged Abuse
The streaming service dropping R. Kelly and XXXTentacion from playlists is one of the very few signs of a #MeToo reckoning in the music industry.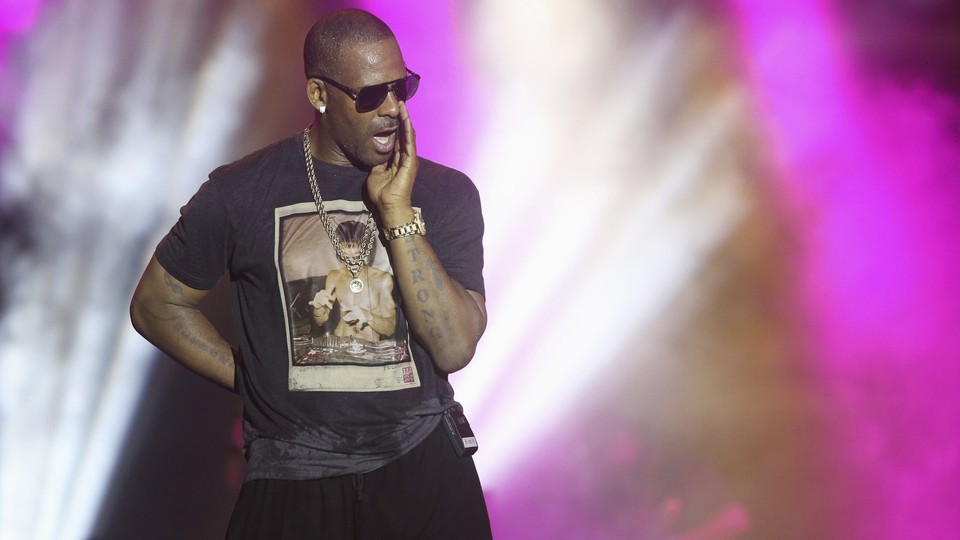 "With all artists who have challenges, I believe it's about the music," Thea Mitchem, a New York radio programmer, told Billboard recently about her station's decision to play the song "Sad!" by XXXTentacion. Artists who have challenges is a euphemism, and the challenges in his particular case are accusations that XXXTentacion had beaten his then-pregnant girlfriend. The fact that the 20-year-old rapper is awaiting trial on charges related to those allegations, and that he has often bragged of committing violence, has elicited many critics to call for listeners to shun his music. But "Sad!" nevertheless sits at No. 35 on the R&B/hip-hop airplay charts—which would not be possible if radio were boycotting him.
On Thursday, one music-industry institution finally announced that it, at least, would not promote alleged abusers. As part of Spotify's newly announced "Hate Content and Hateful Conduct" policy, XXXTentacion's songs have been removed from playlists controlled by the world's most popular streaming service. So has the music of R. Kelly, the R&B star alleged to have routinely preyed on young and underage women. Their music will remain available to call up on Spotify, but will be absent from the company's editorially or algorithmically generated playlists, whose users can rank in the millions. The move raises a number of tough questions—including why this modest step is arguably the strongest stance the music industry has taken regarding reported abuse in the era of #MeToo.
Spotify's policy follows last year's news that the service, as well as its competitors, would no longer host music by bands with white-supremacist messages. As I noted at the time, the ban seemed like it could open the door to censoring other risky kinds of music, such as violent hip-hop or metal bands who flirt with but don't openly endorse racism. Spotify now says it will make decisions on the matter in consultation with groups of experts, including the Southern Poverty Law Center, the Anti-Defamation League, Color of Change, Showing Up for Racial Justice, GLAAD, Muslim Advocates, and the International Network Against Cyber Hate.
The bigger news is that Spotify will take into consideration the conduct of artists when programming playlists and undertaking other editorial initiatives. So far, only two artists are reportedly affected, and they are each uniquely notorious. R. Kelly is perhaps the first name people think of when talking about bad behavior in pop music, owing to both the child pornography charges he was acquitted of in the 2000s, and to recent allegations that he is running a sex "cult" of captive women at his mansions. Last week, a #MuteRKelly campaign implored the industry to stop working with him. XXXTentacion, meanwhile, is the most well-known in a wave of young rappers accused of violent behavior.
What's unclear is who else might be affected. Chris Brown, who famously assaulted Rihanna and whose list of scandals just this week expanded to include new accusations of a rape at his house, remains on some Spotify playlists. So does YoungBoy Never Broke Again, a generational peer of XXXTentacion who has been accused of attempted murder and of beating his girlfriend. So does Brand New, the emo band who called off their tour after revelations of predatory conduct by their singer, Jesse Lacey. And so do—as many people on social media quickly pointed out—a whole host of historically significant stars long alleged to have acted monstrously in private, like John Lennon, Elvis, and Dr. Dre.
Drawing the line on who's in and who's out will, inevitably, prove tricky. Spotify has said it will evaluate each artist on a case-by-case basis, and its only stated criteria is to take action "when an artist or creator does something that is especially harmful or hateful (for example, violence against children and sexual violence)." Given that vagueness, complaints about double standards seem inevitable. Already, R. Kelly's representatives have responded by asserting Kelly's innocence and adding, "Meanwhile, though, Spotify promotes numerous other artists who are convicted felons, others who have been arrested on charges of domestic violence and artists who sing lyrics that are violent and anti-women in nature." The company appears ready for criticism, though. Calling the policy a "first iteration," Spotify's statement said, "These are complicated issues … We'll make some mistakes, we'll learn from them, and we'll always listen to you."
But for all the thorniness involved, what's remarkable is that Spotify stands virtually alone in tackling the subject of creator conduct at all. R. Kelly and XXXTentacion are still in playlists at Apple Music and Tidal. They still have record contracts, can still book tours, and still enjoy radio play. More broadly, the music world has remained largely free of disruption from the #MeToo movement, except for the supposedly voluntary resignations of executives Charlie Walk and Russell Simmons. When the indie band PWR BTTM's music was yanked from streaming by its label after allegations of misconduct, it was a shocking and singular development.
Compare this state of affairs with how other industries have dealt with alleged abusers. Kevin Spacey was kicked off House of Cards, and his part in All the Money in the World was recast after shooting. Networks have dropped reruns of The Cosby Show, and Bill Cosby has been stripped of many awards. Louis C.K.'s projects are on ice. Matt Lauer is off the air. Yes, there are whispers of ensuing comeback attempts for many of these men, and there are instances of accused assaulters getting a pass. But so far, the equation in film and TV has largely been that if credible accusations are made against someone, their time onscreen is up.
In music, though, the song keeps playing, no matter who made it. Perhaps that's because of some difference in the art form: Spinning "Ignition (Remix)" on the radio doesn't beam R. Kelly's face into the world. Or maybe it's because the music industry's abuse problems are so intractable, so pervasive, that to begin to unwind them would upend the status quo even more than in film and TV. Or maybe it's because in music, the desires of the listening public rule—and that public is not, despite all the publicity around #MeToo, all that discriminating. "While there is a controversial past, sometimes, you can't overthink it," the radio programmer Eric Rosado told Billboard in its story about XXXTentacion's ongoing commercial viability. "A hit is a hit, period."