Rita Ora's 'Girls': The Same-Sex Pop of the Past
A song-of-the-summer contender about women kissing women is being received as anything but progressive.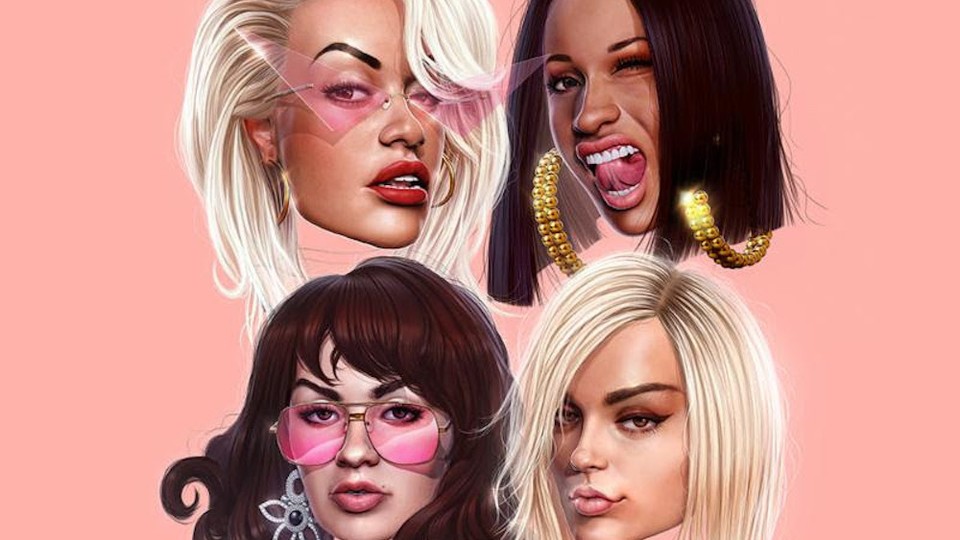 When girls kiss girls in pop music, it's for a drunken taste of chapstick. Or out of jealousy for an ex-boyfriend. Or to shock a TV-viewing audience. Whether the example is Katy Perry or Little Big Town or Madonna, music's most famous depictions of same-sex female romance typically treat it as a dare, a dalliance, a performance—rather than an expression of real desire.
It speaks to a transitional moment in pop's sexual politics that Rita Ora's new song, "Girls," has been knocked for contributing to that shallow tradition rather than, as the creators might have wanted, getting praised for subverting straightness. A clear aspirant to song-of-the-summer status, it features a quartet of buzzy names—Ora, Charli XCX, Bebe Rexha, and Cardi B—singing and rapping about hooking up with women. On the surface, the song would seem to say that the march of queer acceptance is continuing apace. Ora told People that the track is an anthem of "freedom for anyone who listens to it."
But the reception has been less-than-enthusiastic from some of the out women of pop. "A song like this just fuels the male gaze while marginalizing the idea of women loving women," the singer Hayley Kiyoko, who's openly gay, wrote on Instagram. Kehlani, another singer who identifies as queer, tweeted that the lyrics were "harmful." Wrote the DJ and producer Kittens, "We've fucking had it with this shit. Xoxo, LGBT women."
The critique is easy enough to understand. Like with Katy Perry's "I Kissed a Girl," which Ora cited as an inspiration, many of the lyrics imply same-sex spitswapping as a drunken lark. "I could be your lipstick just for one night," Cardi B raps. The chorus goes, "Sometimes, I just wanna kiss girls, girls, girls / Red wine, I just wanna kiss girls, girls, girls." At one point, Charlie XCX seems to describe hooking up with a woman so as to please her own "dude" while they were stoned. The song finishes in a round of giggling by the participants.
Still, it's not quite, unambiguously, a work of straight women playing gay for laughs. More charitably, its lyrics depict a range of behaviors ranging from nonjudgmental experimentation to expressions of actual, deep-seated fluidity. Cardi B has talked about sleeping with women in real life, and Ora has hinted that her relationship with the model Cara Delevingne is less-than-platonic. Ora's verse, too, makes the song's most pointed statement about identity. "I ain't one-sided, I'm open-minded," she sings. "I'm 50-50 and I'm never gonna hide it." Yet when People asked whether this represented her coming-out as bisexual, she said, "If people look at it like that, it's very narrow-minded," emphasizing instead that everyone should be able to relate.
There may have been a time when such a coy, halfway claiming of queerness would be taken as progress. But we're in a time of flourishing for more out-and-proud pop songs. This year, Halsey landed a single at No. 5 that featured a litany of stories about her relationships with people of both genders. Janelle Monáe's latest album arrived with the artist announcing herself as pansexual, singing about queerness, and cavorting in her music videos with rumored girlfriend Tessa Thompson. Established talents like Demi Lovato have been open about not being straight, and so have a number of new would-be superstars. For the most part, this wave of artists portray queer sexuality as not some fetish or costume, but as an actual identity. In doing so, they offer LGBT folks access to such previously hetero-specific pop delights as head-over-heels infatuation anthems and pining break-up ballads.
It's this state of affairs that makes "Girls" and its dust-up feel more like a status report about pop's political-sexual evolution than on the song itself. After all, it's other singers, rather than critics or fans, who have been driving the backlash. The very ecosystem that generated the "I Kissed a Girl" tradition is now subjecting it to new scrutiny, and if "Girls" flounders with listeners, it'll be because the song is that thing new pop never wants to be: outdated.