Remembering the Cinematic Prowess of Anne V. Coates
The legendary film editor behind projects as varied as Lawrence of Arabia, Out of Sight, and Fifty Shades of Grey died at the age of 92.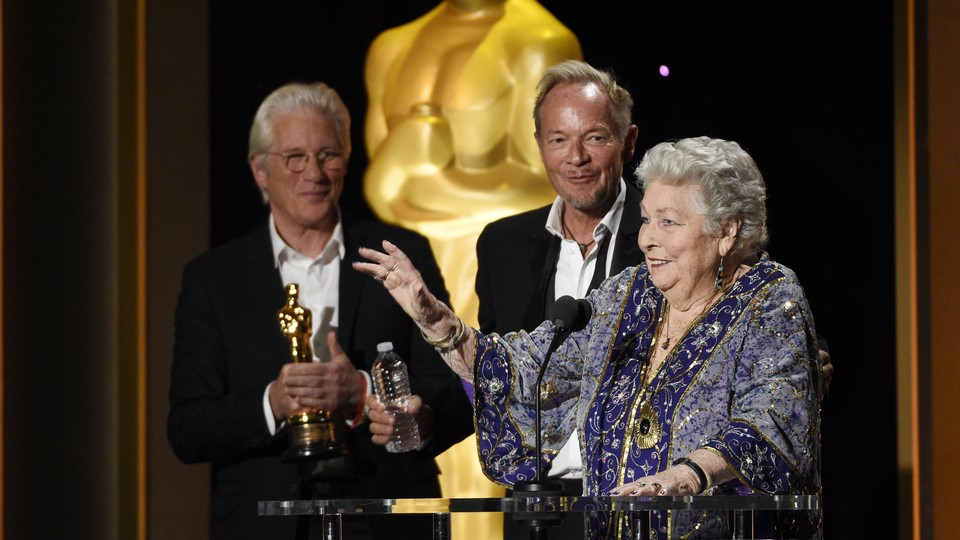 The art of film editing is arguably the most unheralded, most crucial part of filmmaking—a craft that can rescue a difficult production process, reshape a tortured performance, or hone an already great work into something perfect. It's a quiet and hermetic activity, largely performed in tiny studios for weeks and months on end, lacking in Hollywood glitz and glamor but pivotal to packaging someone's star image. Anne V. Coates, who died Tuesday at the age of 92, was a peerless master in her field. Her varied career saw her work alongside David Lean, Steven Soderbergh, David Lynch, and Sidney Lumet and become only the second editor ever given an honorary Academy Award.
A woman who stood out in a field that employed mostly men, Coates often spoke of her long career with the kind of biting wit and attention to intimate detail that also shone through in her films. Her most famous movie moment is the literal "match cut" in 1962's Lawrence of Arabia, which cuts from a shot of Lawrence (Peter O'Toole) blowing out a match to a hazy desert sunrise. It was a moment born out of necessity—she and the director, Lean, didn't have the technology on location to insert a planned dissolve, and ended up loving the simpler version that resulted.
Coates, like any of the best editors, could take that kind of serendipity and turn it into something that felt deliberate and powerful. She was someone who evolved with her art, moving from the U.K.'s post-war Pinewood Studios to the height of Hollywood, from manually pasting together pieces of celluloid to cutting on a computer. One of her first jobs was as an assistant editor on the Michael Powell and Emeric Pressburger masterpiece The Red Shoes (1948); her last was on Fifty Shades of Grey (2015), which she thought "could have been a little more raunchy." She worked in every genre and eventually sought out directors who could "stretch" her in the way that Soderbergh, with whom she collaborated on Out of Sight and Erin Brockovich, did.
Out of Sight was the first movie Coates edited on an Avid, a digital system that was becoming the film-industry standard in the 1990s. She was already one of the most legendary editors in Hollywood history, having won an Oscar in 1963 for her work on Lawrence of Arabia, but she was worried about adapting to the new technology. "I was midcareer," she recalled years later in an interview with the Los Angeles Times. One day, Coates was on set and confessing her anxieties about using Avid to Out of Sight's star, George Clooney. "But I told George I realized that they're really just the same. It was just a question of calming down and cutting just like I had before. Telling the story. Making it funny. Saving the actor's performance."
Indeed, Coates's work picking out the best scenes and moments from a mess of daily footage likely redeemed many a weak performance. But, Coates remembered, "George thought that was funny. He screamed with laughter." She continued: "Jennifer Lopez, who was the female lead, came by and George said, 'This is the editor Anne Coates, who is going to save your performance.' Jennifer did not think it was funny." Funny or not, Out of Sight may well be both actors' greatest work, a sizzling crime caper centered on the romance between Clooney's schmoozy bank robber, Jack Foley, and Lopez's steely U.S. Marshal, Karen Sisco.
The scene that best typifies what Coates could do is Jack and Karen's first love scene together, which comes more than halfway through Out of Sight. The whole sequence is a masterclass in editing that walks the fine line between subtlety and gimmickry—every choice feels notable without dominating the storytelling. The scene begins with a surprise meeting between Jack and Karen (who have been at odds for the whole film) at a hotel bar. As they talk and flirt in typical shot/reverse shot format, Coates cuts to a new angle of Jack touching Karen's face and the film freezes for a second, highlighting the magic of the moment.
As the tension builds, there are more jarring cuts—from Karen finishing her drink at the bar to her drinking in a hotel room, from Jack explaining how he found Karen to the pair silently undressing in front of each other, their dialogue from earlier still playing. Coates combines the couple's flirtation at the bar, their foreplay in the hotel room, and their lovemaking into one big, symphonic sequence, while never fading out on their initial conversation. She's underlining the intensity of their repartee, making it just as central as their physical chemistry, without losing grip on the steaminess of the eventual love scene itself.
"We did a lot of very tricky cutting," Coates said of Out of Sight in an interview years later. "I said to Steven one day, 'I think we may have overdone it. It's so jerky and I don't think the audience will be able to follow it.'" Some of the experiments they tried together got pulled out of the final product, but the resulting scene is an absolutely flooring achievement, one that helped get Coates her final Oscar nomination (she was also nominated for her work on Becket, The Elephant Man, and In the Line of Fire).
Coates got into the industry because she wanted to be a director, but in the middle of the 20th century, editing was one of the few fields in filmmaking that actually employed women on a regular basis—including Thelma Schoonmaker, Dede Allen, Verna Fields, Sally Menke, and Margaret Booth. "While it was just a background job, they let the women do it," Coates said in an interview with fellow editor Walter Murch. "But when people realized how interesting and creative editing could be, then the men elbowed the women out of the way and kind of took over." Coates's career proves she was a pioneer, not only as a woman, but also as an artist—someone unafraid to take risks, to challenge her directors, and to coax the elemental story out of each one of her projects, frame by frame.