Pusha T, Drake, and the Limits of Rap Beef
Four Atlantic staffers discuss hip-hop's vicious and messy brawl of the moment and how the art of the diss track has evolved.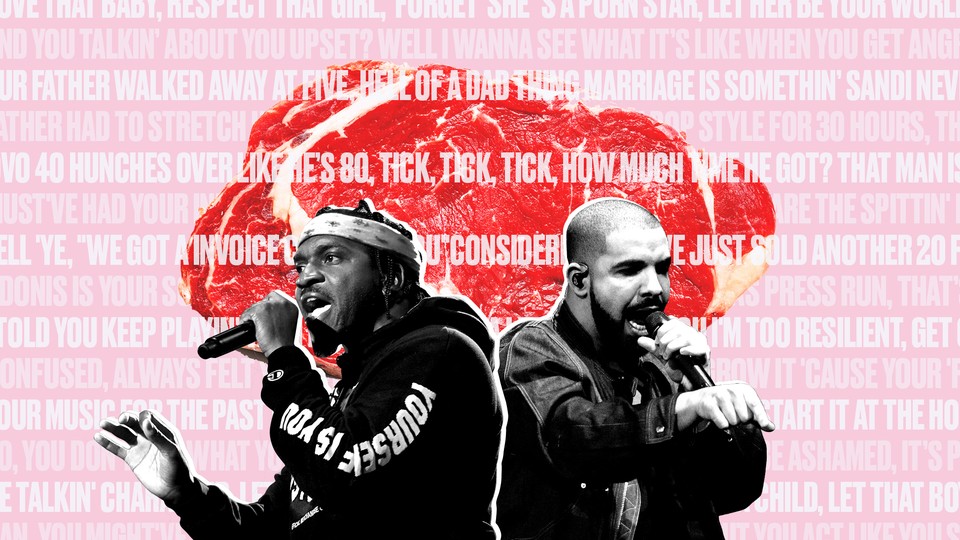 Last Friday, Pusha T dropped Daytona, a sharp, sinister 21-minute missive largely finding the rapper in familiar territory: boasting, most often about his cocaine-dealing exploits. Closing out the album's seven-track run was "Infrared," a lyrical dig addressing the dubious artistry of Drake, a longtime thorn in Push's side.
Push came out swinging in the first verse with a direct attack on Drake's authenticity, comparing the Toronto rapper to Trump and mentioning his alleged (and beleaguered) ghostwriter by name.
Ever the Scorpio, Drake fired back. His "Duppy Freestyle"—released later the same day—dispensed with grievances about his history with ghostwriting in the title (duppy being a Jamaican Patois word for "ghost"). Drake opened with a long, auntie-like sigh, before immediately skewering Kanye West, who produced Daytona: "So if you rebuke me for workin' with someone else on a couple of Vs / What do you really think of the nigga that's makin' your beats? / I've done things for him I thought that he never would need / Father had to stretch his hands out and get it from me." As the track circulated, Drake took to Instagram to share an image of an invoice billing G.O.O.D. Music, Pusha and West's label, for "promotional assistance and career reviving." Then came "I'm Upset," a mealymouthed diss that Drake probably should've left in his drafts.
Pusha struck back Tuesday night with a merciless tongue-lashing titled "The Story of Adidon," a three-minute verbal assault most notably accusing Drake of being a deadbeat father—and accompanied by a photo of Drake in blackface (from a late-aughts shoot) as its album art. Of all the releases, "The Story of Adidon" in particular has ignited conversations about what should be left on the cutting-room floor when rappers take aim at one another. Push spares no detail in his anti-Aubrey tirade. In the process, a number of people in Drake's life catch strays, especially his longtime producer Noah "40" Shebib (who has multiple sclerosis), and the woman whom Push alleges Drake impregnated and then abandoned.
Did Pusha go too far? Or did Drake invite the ire when he mentioned Pusha's fiancée first? The Atlantic's Hannah Giorgis, Taylor Hosking, Spencer Kornhaber, and Vann R. Newkirk II discuss the rappers' barbed exchanges and the state of the diss track as an art form.
---
Hannah Giorgis: I'll be honest, I don't live for rap beef. But I was unreasonably excited about this. It's summer! What's more fun than watching two highly paid professionals completely unrelated to me be petty with one another? It's got all the intrigue of the Mean Girls burn book, but with gritty production.
Taylor Hosking: I was also excited about this, mostly because I think Drake's last high-profile beef—with Meek Mill—was a disappointment. When Drake released his diss track "Back to Back" in 2015, Meek's response, "Wanna Know," didn't even try to bring the same energy or catchiness his discography would suggest he's capable of. (I was living in Philly at the time so I had to hear "Back to Back" blaring from car radios all summer in Meek's home city—it was sad stuff.) In his newest beef, Drake came in with too much confidence. And I was glad to see Pusha respond to him in a serious way—although I'm sure we'll get into whether it got too serious.
Spencer Kornhaber: I'm loving the carnage, and hating myself for it. You've got to be amped up by the timing, at least: The cruelest rap fight in years coincides with the climax of a long-running debate over whether art needs to be ethical. Can we still enjoy Kanye if he's a MAGA troll? Does Roseanne need to be erased because of the racism of its star? And now: Am I going to hell because "The Story of Adidon" left me with the same endorphins buzz as a three-mile sprint?
Pusha's song is vile, for sure. But transgression is a kind of innovation, and hip-hop's annals of beef include a lot of vital music precisely because evil can be fun. There are rules to a duel, but is this a duel or a brawl? Drake, ever the A-student, showed the right way to fight in public, with "Duppy Freestyle" systematically and stylishly addressing the charges against him and returning shots on the subject of his rival's prowess as a rapper. I was impressed. By the book, Drake seemed like he'd won. But Pusha wanted to play a different game, and in "The Story of Adidon," he announced a rule change at the top: "Drug dealin' aside / ghostwritin' aside." Ghostwritin' aside? Wasn't that the whole point? No—Drake's worth as a human being was now to be in the crosshairs, with a woman, a kid, and a music producer with multiple sclerosis as collateral damage.
Giorgis: I love Drake just as much as the next mimosa-drinking, Fenty Beauty–obsessed girl he knows to pander to, and yet it was immensely satisfying to watch Champagne Papi be taken down a peg. He's been overdue for a proper admonishment, and Pusha definitely gave it to him. But you're right, Spencer, the ethics of this feel murky at best.
I've been having a particularly difficult time reconciling how this beef has played out across generational lines: Pusha clearly comes from a different school of rap; his loyalty isn't to glitzy social circles or meme-driven discourse, it's to the game. Clipse dropped Exclusive Audio Footage two years before a young Aubrey Graham even appeared on Degrassi. It's understandable that Pusha—who's 10 years older than Drake—would be vexed by this youngblood coming after his forerunners. That frustration is painfully clear in "The Story of Adidon." It's not a stretch to compare Pusha's escalation of the beef to the legendary face-off between Nas and Jay-Z. The stakes were different, with Nas and Jay vying for the New York crown and not viral acclaim, but the early-aughts showdown is still the de facto benchmark for all rap tensions. Both tracks—Jay-Z's "Takeover" and Nas's "Ether"—were vicious, with the latter taking disrespect to such new heights that it's now synonymous with dissing.
Hosking: True, I think that Drake almost dared Pusha to swing lower because of the stark contrast between the rap culture of Pusha's era and the culture Drake represents. Drake's diss track, while mostly clean (with lines like "Your demise will be televised"), also had some lyrics that challenged Pusha's manhood, particularly by using his age against him. The line that really hit me was, "You older than the nigga you running behind." It sounds kind of basic on its own, but it's striking in the context of the real anxiety in rap right now about whether wealthy, newer game changers like Drake (and those even younger than him) will respect their less-wealthy forebears. Paying homage to elders and constantly referencing those who inspired you is built into the DNA of rap, just as much as beefing is. So Pusha's response was a chance for him to step back and reinvigorate rap beefs with the kind of vitriol and lawlessness associated with an earlier era.
Kornhaber: It's fascinating how disputes about realness and toughness almost inevitably come with questions about—and metaphors involving—heredity and generational rivalry. Which fits with even the sound of these songs: Tonally, they're not characterized by spiteful screaming, but rather by backhanded expressions of disappointment like you'd hear from your parents. Drake opens his track with a sigh, and his best moments are the condescendingly nice ones, like when he calls Pusha an "approachable dude." Pusha, meanwhile, takes on a caring, pastoral persona as he uses an investigation of Drake's "pride" as a front for a highly malicious filleting. When he says, "Love that baby, respect that girl / Forget she's a porn star, let her be your world," it's a form of not that there's anything wrong with that–ism. When the entire point is that Pusha thinks something is wrong with that.
Portraying sex work as something shameful is, to say the obvious, not politically correct. Nor is openly wondering when Drake's producer 40 is going to die from his disease. Hip-hop flouts rules about what's allowable, polite, nonsexist, etc., all the time, but popular culture has of late begun to police its morality and politics with new fervor. Nas and Jay-Z called each other fags and joked about AIDS—would that fly today? Well, I think of Remy Ma's "Shether," a graphic and very personal slut-shaming of Nicki Minaj that came out just last year. It generated plenty of gleeful reaction GIFs, and if Ma didn't "win" by destroying Minaj's career, it's not because Ma violated taboos. The media discourse may be "woke," but just as many rank-and-file listeners keep propelling alleged abusers up the charts, they also still don't seem to mind some well-crafted hatefulness.
Vann R. Newkirk II: I think "The Story of Adidon" also fits pretty neatly in the tradition of hip-hop beef as a sort of investigative journalism. How much of what we know about Biggie, Tupac, Jay-Z, and Nas was actually revealed by their adversaries in beefs? Even on Daytona, Pusha brings up allegations from Rick Ross against Cash Money executive Birdman being a bad boss that have since deeply colored public opinion of the ex–Big Tymers legend. I think of hip-hop as an inherently journalistic art, and of the beef as a kind of muckraking. But all that said, it's hard to take when holding powerful artists to account also means many women—and now an alleged child—are dragged under.
Giorgis: Whew, yes. It's tough to listen to Pusha call out Sophie Brussaux, the alleged mother of Drake's supposed secret baby, for her past as a porn star without again being exhausted by all the ways in which women suffer when men—in hip-hop and elsewhere—are dueling. Yes, Drake threw a jab when he referenced past rumors about Pusha's fiancée spending time with the younger rapper (and ignoring Pusha's calls in the process). In light of that, and the larger ecosystem of rap tensions, nothing Pusha said is mind-blowingly below-the-belt for a diss track. The diss record is a medium that has long resulted in cringe-worthy lines: Gucci Mane once told Jeezy to dig up his dead homie. Cam'ron threatened to "R. Kelly" Nas's daughter. After "Ether," Jay-Z rapped that he'd left a used condom in Nas's daughter's car seat after sleeping with Nas's baby mama, Carmen Bryan (who released her own diss track).
But do we have a responsibility to do better now, as listeners at least? To demand more ethical sparring from artists, even as we love the thrill of them digging into the most spiteful parts of their repertoire? I don't think that's an unfair request, just as I'd note that even when the aforementioned disses dropped, not everyone was immediately on board with the nature of the insults. People have been critiquing the uneven blows of hip-hop beef for years; the black feminist scholar Joan Morgan wrote an entire book on "hip-hop feminism" back in 1999. The conversations have been happening. Rap beef is its own arena, yes, but that arena doesn't exist in a void. Pusha T's backhanded lines about Brussaux—the person who is, as far as listeners know, not a deadbeat parent—come weeks after the passage of laws that have endangered people in the sex trades and beyond. Rap doesn't need to be a moral compass, but it feels reasonable to ask that diss tracks at least stay focused on the person who is actually involved in the beef.
Hosking: I agree that it's common for brawls in rap to dredge up really personal details about people's lives, which would make Pusha's track seem like a natural outgrowth of this tradition. But we're also in a moment where listeners are more aware of what their favorite artists do offstage—including how they treat women (even if that knowledge doesn't always translate to reduced support). I suspect that's why Pusha's response, while problematic in its own right, cracked Drake's façade more than anyone else's has been able to so far. The idea that Drake might have disowned someone he had a child with because of her background really doesn't sit well. Fans cringed at Drake's savior complex in his song "Child's Play" when he said, "Don't make me give you back to the hood," but this feels even more noteworthy in today's climate.
Newkirk: I think you've pointed out an interesting tension here. Pusha's response to Drake only really lands because there's more of a social penalty on being an alleged absentee father and bad partner today, especially for somebody like Drake, considering so many of his songs are quasi-empowering jams, where he talks to women instead of about them. Just as a Drake couldn't really exist in the '90s, neither could a "The Story of Adidon." But then again, Pusha is a coke rapper using the same old '90s vile misogyny to package his diss, which is a dizzying study in contradictions.
Giorgis: Can Drake recover? Or is his specious Nice Guy(™) persona tarnished forever? I'm not sure how the repercussions from this will play out. Maybe Drake has a litany of disses waiting to be released. Maybe Pusha will get bored and not deliver on his promise of "a surgical summer." All I know now is that the first thing I saw when I opened Twitter after a lovely, internet-free dinner Tuesday night was Drake in blackface, and it'll take me a long time to get that image out of my head. So at least for the time being, Pusha's sonned The Boy.