The Mysterious Girls of Picnic at Hanging Rock
A new Amazon miniseries adapts the classic novel by Joan Lindsay about the disappearance of four women in 1900 Australia.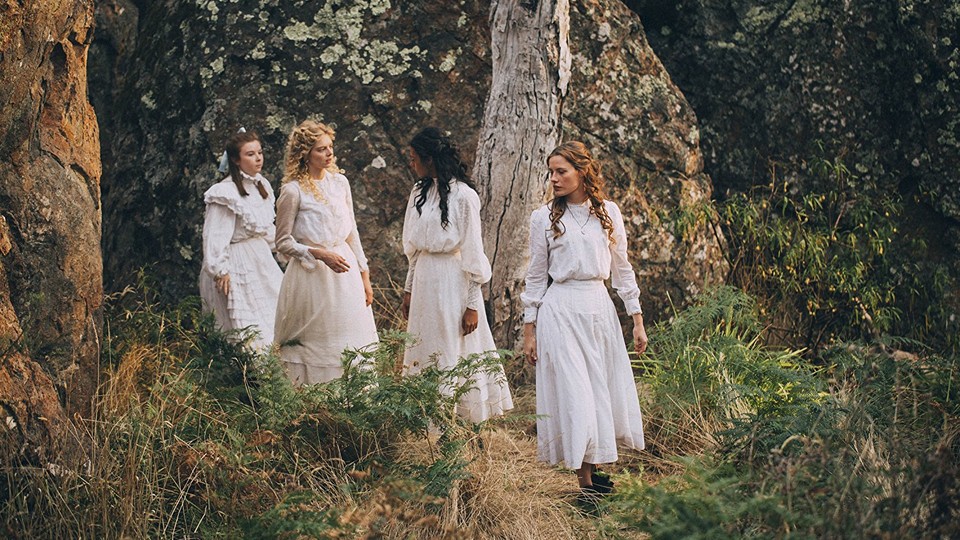 For his 1975 film Picnic at Hanging Rock, the Australian director Peter Weir wanted an Impressionistic look and feel, a gauzy, painterly aesthetic. He and his cinematographer, Russell Boyd, finally landed on a solution: They bought a variety of wedding veils from a bridal store, using the different fabrics and textures to create scenes in which the characters seemed to glow from within.
The detail is almost too perfect. Picnic at Hanging Rock is a film that studies girlhood from a distance, gazing at the young female students at Mrs. Appleyard's remote Australian boarding school, and rendering their luminous beauty like flowers in a still life—lovely but unknowable. The bridal veils (the perfect symbol for how the girls are poised on the precipice of adulthood) create a layer between the viewer and the scene. Weir turns his audience into voyeurs, watching the girls and intruding on their private games, but having minimal awareness of what they might be thinking or feeling.
Amazon's new six-part adaptation of Picnic at Hanging Rock is different. Like Weir's film, it's based on the 1967 novel by Joan Lindsay about three girls and a teacher who disappear one afternoon after climbing Hanging Rock, a former volcano 70 kilometers outside Melbourne. The mystery of Lindsay's book is its most infamous feature: She declines to reveal what happened to the missing women, although a final chapter cut from her original draft and published after her death offers answers. Lindsay's narrative, like Weir's film, focuses on the aesthetics. Irma, a "radiantly lovely" 17-year-old heiress, likes "people and things to be beautiful," and is regularly thrilled by her friend Miranda's "calm oval face and straight corn-yellow hair." Lindsay paints detailed portraits of the striking girls amid the stark Australian landscape, but she offers little sense of their interiority at all.
In directing Picnic at Hanging Rock as a miniseries, its showrunner Larysa Kondracki relished the opportunity to really examine the characters. "We wanted to explore this hothouse of girls, and what happens when you lock them up, restrain them, force them to be what society thinks they should be," she told me. In the hands of Kondracki and the writers Beatrix Christian and Alice Addison (who adapted the book for television), the story changes shape, detailing how the girls of Appleyard College chafe at the restriction and repression of their Victorian education. The intensity of their relationships is given an extra dimension by their shared desire to escape, and by the power they find in collaboration.
Throwing their rebellion into sharper relief is their headmistress, Hester Appleyard. A matronly authoritarian with a formidable beehive in Weir's film, here she becomes a more enigmatic figure. Played by Game of Thrones' Natalie Dormer, she's closer in age to the girls, reflecting—and occasionally empathizing with—how confined they feel. But she's also more menacing, given an expanded backstory that turns her into an additional piece of the puzzle. The mystical elements of Lindsay's book remain, but Mrs. Appleyard's more detailed biography adds more tangible, flesh-and-blood danger to the mix.
Lily Sullivan plays Miranda, the de facto leader of the three girls who disappear. In the miniseries, she's portrayed as a tomboy who grew up on a cattle station, and who fiercely resents the school's efforts to refine her. Irma (Samara Weaving), a Rothschild heiress shipped away to Australia by her neglectful parents, is more in thrall to the idea of elegance, but has flashes of cruelty. Marion (Madeleine Madden), the illegitimate daughter of a judge, is played by an indigenous actress, a casting choice that subtly nods to the fraught history of Australia's white colonizers. The three girls form a friendship that's fierce, tender, and encompassing in the way only friendships between teenage girls can be. Kondracki films them lying together, their limbs entangled, so it's hard to tell where one girl ends and another begins.
If Weir's film was a romantic, surreal, shimmering mystery—Twin Peaks by way of John Keats—the new Hanging Rock is a more Gothic work of horror, revealing the rot that permeates the blooms of the Victorian bouquet. It's also much more modern in style, incorporating faster drumbeats and a score that's more synthesized than Weir's otherworldly panpipes. But there are still scenes that are achingly beautiful. In one, the girls climb Hanging Rock in dresses so white that they glow against the green leaves and the gray stone. In a later episode, they seal a promise to each other by tearing their hands on rose thorns, so that their blood commingles with the petals, earthy and ethereal.
Kondracki's desire to tell the story more from the girls' point of view reorients the central mystery of what exactly happened to them. While everyone involved in the production argued about exactly that question, she said, "the mystery for us really wasn't what happened to the girls but who they were in the first place." Lindsay's book ends ambiguously, although the posthumously published chapter gave a fantastical explanation involving time warps and transmogrification. Other theories over the years have involved falling rocks, kidnapping, even a kind of rapture (the second season of The Leftovers, which also deals with missing teenage girls, is in part an homage to the film).
Picnic at Hanging Rock retains the ambiguous ending, but by fleshing out the girls as characters, it gives their disappearance a kind of power that shifts the dynamics of the story. "When you ask people to spend six hours with something, you have to give them an emotional conclusion," Kondracki says, "so we were able to do that, I think, but still leave enough room for some interesting arguments." The question in the series becomes less about how the girls disappeared than why. Whether they're vaporized by a shift in the magnetic field, transformed into animals, or something more mundane, their vanishing feels deliberate—a way to reject their prescribed futures for a different, freer path.