LeBron James and the Championship Question
Having led the Cavaliers to a fourth consecutive Finals showdown with the Warriors, the game's best player doesn't need another ring to prove himself.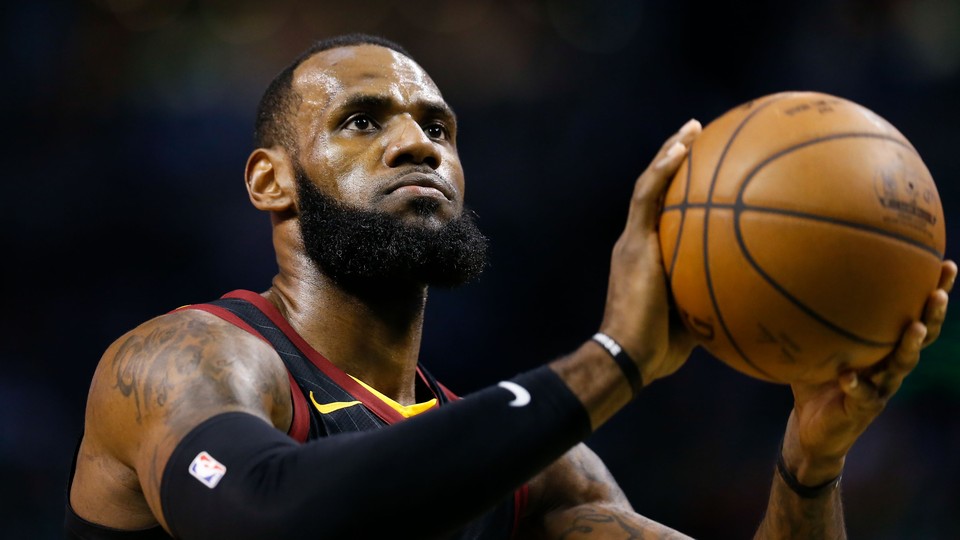 Earlier this month, when the Cleveland Cavaliers trailed the Boston Celtics two games to none in the Eastern Conference Finals, the ESPN provocateur Stephen A. Smith offered a theory about the inner workings and motivations of LeBron James. "I would never accuse him or insult him by saying that he's losing on purpose," Smith said in a tone suggesting he was getting ready to do just that. "I just believe that, if he is going to lose, he would rather lose before the NBA Finals than lose once he got to the NBA Finals."
James showed just how badly he wanted to reach the Finals when he played 94 of a possible 96 minutes over the final two games against Boston, tallying 81 points, 18 assists, and 26 rebounds and leading (read: carrying) Cleveland to a come-from-behind series victory. However misguided, Smith's armchair psychology nevertheless summed up some section of the broader conversation around this generation's best player. Thursday night's opener against the heavily favored Golden State Warriors will mark James's ninth appearance in the Finals, and his eighth consecutive. But to this point, he has only three titles to his credit, producing a sub-.500 mark that seems unlikely to improve this year, given the Cavaliers' catalog of weaknesses and the Warriors' celestial lineup. "Fairly or unfairly," wrote FiveThirtyEight's Sharon B. Katz two years ago, before James added a win and another loss to his ledger, "his 2–4 record in the Finals will be held up next to Michael Jordan's 6–0 record and the marks set by other MVPs as evidence of some failing on his part."
James, though, may yet prove capable of introducing nuance to the historical conversation. If the phrase count the rings has long served as an argumentative cudgel—Jordan's six beat Kobe Bryant's five; Bryant's five beat Shaquille O'Neal's four; Bill Russell's 11 mostly stay at the margins of the conversation due to sheer antiquity—James's greatness is so plainly evident that it throws the usual criteria into question. This postseason, he has done almost everything one basketball player can do (34 points per game, 9.2 rebounds, 8.8 assists), all to prop up a probably doomed team a little while longer. Whenever James finally leaves the sport, any honest accounting of his legacy will put these nominal "failures" right alongside his triumphs.
Asked in the moments following Sunday's Game 7 win over the Celtics where James's output ranked in the annals of the player's career, the Cleveland coach Tyronn Lue said, "The best." That may have been the adrenaline talking (James's closing run in the 2016 Finals remains one of the iconic stretches in NBA history), but the implication was clear: Premier performances aren't always reserved for the ultimate stage. That game capped a month-and-a-half stretch in which James led the Cavaliers to three elimination-surviving victories, dispatched the Eastern Conference's top-seeded Toronto Raptors with ease, and survived the loss of his only All-Star teammate, Kevin Love, at the crucial juncture. The Cavaliers' roster was so dysfunctional, during the season, that it was essentially rebooted at the trade deadline; James turned the resulting mishmash into one of the last two teams standing. "I'm trying to squeeze this orange until there's no more juice left," he said after beating Boston.
Over the course of these playoffs, James has had his usual every-play involvement, orchestrating pick-and-rolls on one end and shouting out defensive orders on the other. But even so, certain sequences stand out. With eight seconds left and the score tied in the third game of the Toronto series, he dribbled the length of the floor, drove left, twisted his torso, and arced a running right-handed shot high off the backboard from a distance of some 10 feet to beat the buzzer. Late in a back-and-forth sixth game against Boston, he canned a pair of contested three-pointers to seal the win. For symbolic value, though, it was another sequence from that evening that stuck in the mind. Early in the second half, James broke free for layup; sensing that the Celtics would retaliate with a quick attack of their own, he warped back down the court and arrived just in time to swat a Boston layup attempt into the stands. In the span of seconds, he had made plays at opposite rims 94 feet apart, as if to sum up the scope of his importance.
It's hard to think of a player who has accomplished as much with as little help. When Jordan retired from the Chicago Bulls in 1993 to pursue baseball, the team he left behind reached the conference semifinals without him. Bryant, in the years immediately following O'Neal's departure from Los Angeles, put up gaudy but largely meaningless stats as the Lakers missed the playoffs or limped to first-round losses. The five-time champion Tim Duncan spent his career in the basketball idyll of San Antonio, surrounded by egoless All-Stars. James, on the other hand, has amounted to a one-man guarantee of top-level relevance for more than a decade. When he left Cleveland in 2010 to join Dwyane Wade and the Miami Heat, the team he had led to 61 wins suddenly found itself with the second-worst record in the league; when James returned four years later, he lifted them from a .402 winning percentage to the Finals.
James is not faultless in Cleveland's current predicament. He's widely thought to have a substantial say in the team's personnel decisions—his endorsement, for example, helped the center Tristan Thompson win an $82 million contract that would prove a wild overpay—and his sometimes domineering tendencies number among the reasons the star point guard Kyrie Irving requested a trade from the team last summer. James's late-career preference for a series of short-term contracts has kept the Cavaliers from building patiently around him, instead forcing them into a series of win-now moves destined to result in an aging roster.
The talk of the NBA, besides the chatter about the upcoming Finals, once again concerns where James will end up next. He is a free agent this summer, and prognosticators have imagined him in Houston with the probable MVP James Harden, in Philadelphia with the wunderkinds Joel Embiid and Ben Simmons, and in Los Angeles with a Lakers team assembled as quickly and flashily as a Hollywood cast. Any relocation would be designed to give James one last chance at boosting championship totals before his prolonged prime comes to an end.
If he leads the Cavaliers to a title in the coming weeks, it'll number among the most improbable championships in sports history. If they play out as many expect, though—ESPN's team of experts unanimously forecasts a Warriors win—this year's Finals will not be just a prelude to whatever chapter of his career comes next. James's track record all but guarantees that he will amaze for however long the series lasts, playing heavy minutes, taking and making daunting shots, turning a talent-poor team into something that can at least make the Warriors sweat. Even players of his caliber need the right help to win titles: Jordan needed Pippen; James, Irving or Wade. But James distinguishes himself by how he plays—how hard, how expertly, how optimistically—without that support. Another Finals loss might fuel his detractors in the short term, giving talking heads easy numbers to recite. In the long view, though, James getting Cleveland that far to begin with, yet again, is an accomplishment all on its own.