Kanye West's Hypocrisy on Empathy and Celebrity
The rapper insisting that a photo of Whitney Houston's bathroom be the cover art for Pusha T's Daytona is a clear betrayal of his rhetoric about compassion.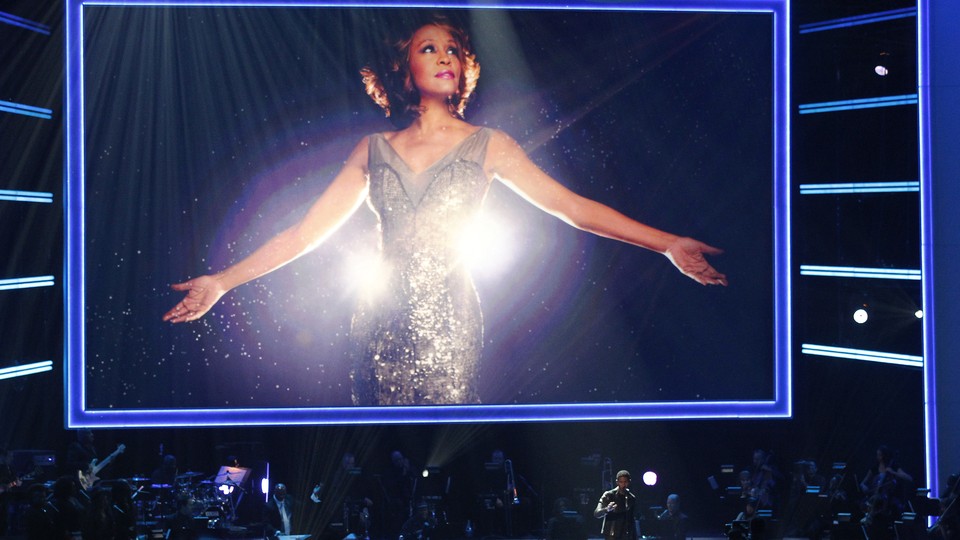 At 1 a.m. on the Wednesday before the release of Pusha T's Daytona, Kanye West called Pusha T and said he had a new album cover for him. Pusha and West, the record's producer, had already settled on an image, but last-minute inspiration had struck, and West was insisting on an overhaul. Securing rights to the new art would cost $85,000, which West would pay. Pusha agreed.
The image is of Whitney Houston's bathroom. The countertop in the photo is a mess, and in that mess is what's understood to be signs of cocaine use. In the mirror is the lurid flash of someone's camera, obscured by clouds of pinkish-gray film, like oxidation or grime, that were absent from the original picture when it was published in a 2006 tabloid under a headline about Houston's "drug den." Houston would die of accidental drowning in a bathtub six years later.
The 41-year-old Pusha T is famous for the creative ways and ruthless manner in which he raps about cocaine. His early years of dealing drugs have loomed huge in his lyrics, whether in the duo Clipse, in his solo career, or in his many excellent collaborations with West. Discerning one possible meaning of the cover is, thus, easy. Look at the other side of cocaine rap, it says. Look at the cost. West has recently talked about his opioid addiction, too, and perhaps he conceives of Houston as a warning to celebrities like himself of how mortal they really are—and how readily appropriated their lives and deaths always are.
But in any interpretation—and especially given West's recent public behavior—it's a disrespectful statement. The image is so, so evocative, not only of Houston's death but also of the death of her daughter, Bobbi Kristina, who was on life support for months after being found face-down in a bathtub and whose 2016 autopsy report spoke of "immersion associated with drug intoxication." Houston had a sterling career as a pop artist, but to glaringly emphasize her addictions and tragedies helps supplant the achievements of her life with something much grimmer. The image, viscerally, will cause pain to her fans and loved ones, too.
Were West and Pusha T truly outside of the celebrity-media discourse, they might have a stronger case for using the image as a piece of cultural criticism. But because of who they are and what they have said, it's clear hypocrisy. West has long complained about the public's dehumanization of celebrities, who, he has said, are "treated like blacks were in the '60s, having no rights." Yet it's hard to imagine a crasser mistreatment of a celebrity than him using Houston's death to sell music about cocaine.
It's not as though the cover announces a course correction for Pusha T's portrayal of the drug trade, either. He's long noted the psychic toll of pushing kilos, and the musically rich but terse Daytona thrums with a dark mixture of swagger and regret. But more than anything he is, as always, gloating. "The only rapper sold more dope than me was Eazy-E," he brags on "Infrared." "How could you ever right these wrongs / When you don't even write your songs?" That line's been interpreted as a shot at Drake, and it willfully, typically, and effectively links toughness and power with drug dealing. As for the meaning of the album art, he's explained it in purely aesthetic terms: "I feel like the cover represents an organized chaos. The energy of the album is a bit chaotic, but it's all in place."
Chaotic describes West too, of course. Recently, the rapper and producer has been in the news for controversial public tirades about politics. But his MAGA rhetoric has been swathed, unfailingly, in calls for compassion. West's buzzword of late is love, seen in tweeted quotations of Corinthians 13:4-7 ("Love is patient, love is kind.") and shout-outs to the president: "We are both dragon energy. He is my brother. I love everyone." A month ago, he posted this: "We're starting WORLD LOVE 1 right now the opposite of a WORLD WAR."
But whatever love might be said to motivate using the image of Houston's bathroom, it isn't the kind love spoken about in Corinthians. It is the love of controversy, and the love of self, even at the expense of others.