The Secret Star of John Mulaney's Kid Gorgeous
In his terrific new Netflix special, the comedian channels the spirit of one of his favorite subjects: his bizarrely boring dad.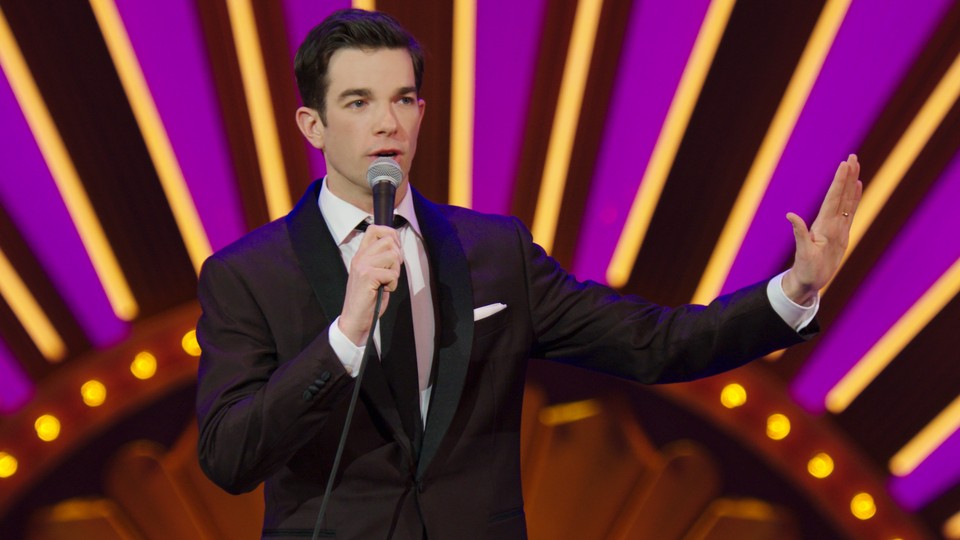 "I love to play venues where if the guy who built the venue could see me on stage, he would be a little bit bummed about it," says John Mulaney as he walks into the hallowed spotlight of Radio City Music Hall for his new Netflix special Kid Gorgeous, out Tuesday. That's how Mulaney has always slyly presented himself—as a bit of a bland disappointment, like a Saltine cracker topped with American cheese, or a wide-eyed doormat experiencing life with a mix of confusion and exhaustion. The comedian is a typical, upper-middle-class white kid from Chicago who's happy to muddle through discussing the plot intricacies of Law & Order spinoffs, but figures he'll get yanked offstage any moment.
That attitude, of course, belies the fact that Mulaney is one of the biggest powerhouses in stand-up today, and Kid Gorgeous is another tremendous notch in his belt. It's a supremely confident hour that touches on many of his usual favorite topics—his conservative Catholic upbringing, his happy life raising an imperious French bulldog with his wife, and various other observational musings. Humming underneath it all is Mulaney's growing awareness that, as he's maturing, he's becoming a skewed version of the man he enjoys discussing most of all: his supreme square of a father.
Charles Mulaney is the best and most endlessly fascinating character in all of his son's specials (including New in Town and The Comeback Kid, both of which are available on Netflix). The younger Mulaney presents him as the embodiment of order, a rigid rule-follower who was baffled by his son's stranger tendencies as a youth. 2015's The Comeback Kid ended with Mulaney telling one of his best-ever stories, recalling his father's hatred of a young, freewheeling Bill Clinton (whom Charles Mulaney attended law school with).
In Kid Gorgeous, John Mulaney remembers his father trying to give him a sex talk and beginning it with, "Hello, I'm Chip Mulaney, I'm your father," before launching into an extended anecdote about the conductor Leonard Bernstein. His dad's near-Lynchian brand of surreal ordinariness is the core of what the comedian loves to mock about himself—the essential weirdness of being boring. As a younger man, John Mulaney was a heavy drinker and drug user, something he often discusses in his specials, and was a recovering alcoholic before he was 30. When he talks about that experience now, it clearly feels half a world away for him—and he's half a world closer to the life of his good Catholic dad.
"I can't listen to any new songs, cause every new song is about how 'tonight is the night' and how 'we only have tonight,'" Mulaney says of the world of pop culture leaving him behind. "That is such 19-year-old horseshit. I want to write songs for people in their 30s called, 'Tonight's No Good, How About Wednesday?'" Reflecting on how he and his wife have decided to never have kids, he admits that their outlook could shift. "Look, I don't know never! Fourteen years ago I smoked cocaine the night before my college graduation; now I'm afraid to get a flu shot! People change!"
People do change, and Mulaney has slowly shifted some of his targets over the years. His most absurd recent material came in the form of Oh, Hello, the Broadway double act he performed with Nick Kroll from 2016 to 2017 (and in which Mulaney plays the phlegmatic elderly New Yorker George St. Geegland). Kid Gorgeous, on the other hand, contains a particularly rare digression on current events, something the more observational Mulaney has usually avoided in the past. He gets into the subject by recalling a visit to a small town that had built a gazebo during the Civil War, a quaint discrepancy he couldn't forget.
"Building a gazebo during the Civil War would be like doing stand-up comedy now," Mulaney jokes. He acknowledges the Trump administration with a sort of faux-grumpiness, noting that the political turmoil of late has grown to such cataclysmic proportions that even someone as disinterested as he is has to talk about it. But this pivot in Kid Gorgeous is yet another sign of Mulaney's interests (unsurprisingly) evolving as he gets older, and he goes on to satirize the White House inimitably—no easy task for any comedian today. (I won't spoil his take, but it's wonderfully unique.)
With Kid Gorgeous, Mulaney is proving he can endure in a field that even the most successful and talented comics can struggle to stay afloat in. The more famous you get, the harder it should become to be observational, to dissect the simple foibles of life through repetition and attention to bizarre details. But Mulaney still excels at doing exactly that, perhaps because there's always the avatar of his straightforward dad to channel. "Ah, none of us really know our fathers," Mulaney jokes early on in the special. "My dad is so weird—I'd love to meet him someday." Judging by how acutely Mulaney looks in the mirror in Kid Gorgeous, it seems he already has.