Netflix's Jeffrey Tambor Conundrum
After being fired from Transparent over allegations of sexual harassment on set, the actor is preparing to promote the new season of Arrested Development. What happens next?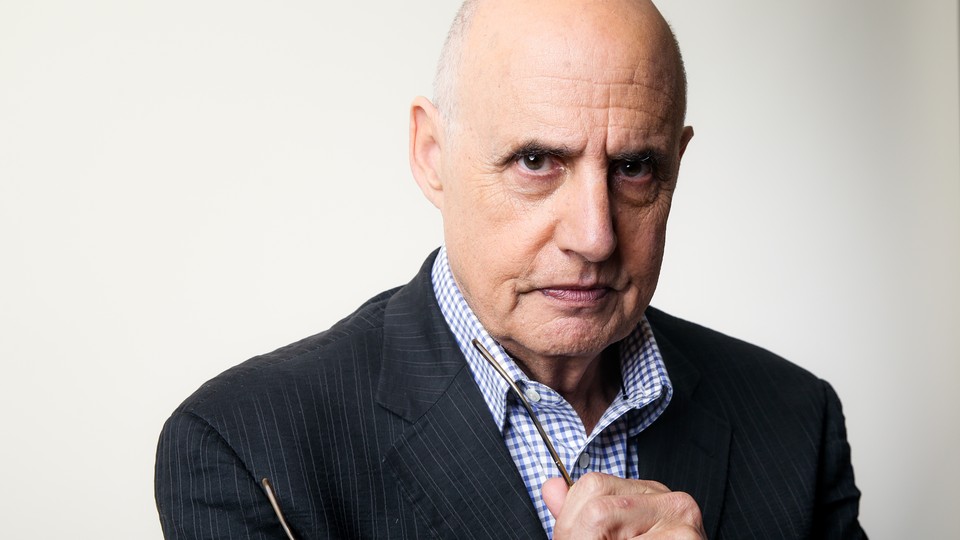 Jeffrey Tambor was officially fired from Amazon's critically acclaimed, award-winning show Transparent in February, after the company's investigation into accusations of sexual misconduct made against him by his former assistant and a recurring cast member. When the allegations first arose months earlier in November 2017, Tambor called them "baseless." But Transparent's creator, Jill Soloway, was clear in their statement on the matter, saying, "We are taking definitive action to ensure our workplace respects the safety and dignity of every individual, and are taking steps to heal as a family."
But even as one door in Hollywood closed for Tambor, one has remained open to him. Later this month, Netflix will premiere the fifth season of Arrested Development, the latest revival of the cult comedy series; Tambor, who plays the patriarch of the dysfunctional family at the show's center, will be part of the upcoming press tour. "In making and promoting seasons four and five of Arrested Development, Jeffrey has always been totally professional," Netflix's chief content officer, Ted Sarandos, has said of Tambor's involvement. It's worth noting the show's newest season filmed from August to December of 2017, largely before the allegations against Tambor came to light. But after the actor's firing from Transparent, Netflix's statements of support for Tambor are beginning to stand out in pointed contrast to Amazon's decision to let him go.
Because Netflix opted not to cut ties with Tambor, the studio is now left to negotiate the extent of its public endorsement of the actor. It's a scenario likely to be seen again as companies respond in different (and sometimes opposing) ways to the allegations of the #MeToo movement. What's tricky about Netflix's move is that it risks seeming dismissive of the reasons that Amazon fired Tambor. For his part, Tambor is insisting the allegations stemmed from tensions unique to the Transparent workplace. A new Hollywood Reporter profile sees the actor admitting to being "difficult" and "mean" on set. But in the story, he attributes the harassment claims to the politicized atmosphere created by his status as a cisgender actor playing a trans character (both of his accusers are trans women).
According to Netflix, Tambor has always been "totally professional" on the Arrested Development set; the implication seems to be that there was thus no compelling or urgent reason to sanction him. Removing Tambor from the show, in which he plays multiple crucial roles, once filming was well underway would've been a real challenge. (Transparent will simply write his character out of the story between seasons.) Of course, if Netflix wanted to take serious action, it could have. After all, the company removed Kevin Spacey from his starring role on House of Cards and halted production two episodes into its sixth season; the series later resumed filming with new cast members, and with Spacey's character written off the show.
One could certainly argue that the allegations against Spacey—which include claims of pedophilia and have led to multiple police inquiries—were more severe than those against Tambor, and thus warranted a more dramatic response. But even without getting into the thorny territory of ranking charges of abuse and workplace harassment, Netflix could have chosen a path that didn't come off as implicitly suggesting the charges against Tambor were overblown. Focusing narrowly on Arrested Development is in some ways a convenient move by Netflix, because it allows the company to set aside the Transparent allegations—even though those were apparently credible enough to convince Amazon to terminate Tambor.
The accusations against the actor range from inappropriate comments to physical intimidation. Van Barnes, Tambor's former assistant, said he once watched her sleeping in the nude and made sexually suggestive comments, including telling her that she "should be sleeping with him if [she wants] a Hollywood-industry-appropriate pay grade." Trace Lysette, who had a recurring part on Transparent, said Tambor made unsolicited advances, first kissing her inappropriately and then, while filming a scene, said, "I want to attack you sexually," and rubbed himself on her hip while he was in pajamas. Tambor denies all of these allegations. Of Barnes, he told The Hollywood Reporter, "I dispute her account. I did raise my voice at times, I was moody at times, there were times when I was tactless. But as for the other stuff, absolutely not."
In discussing his departure from Transparent with The Hollywood Reporter, Tambor swerves between expressing regret and anger. He had expected a "slap on the wrist" and was shocked to be fired, he said. He argued that he was being ousted because he was a cisgender man playing a transgender character, and claimed that when the allegations surfaced, he had received messages of support from both Jill Soloway and their sister Faith. Both siblings confirmed the communication to THR, but Jill added, "It was a text I wrote in frustration after pouring my heart into this show for years … I never told him I was going to accuse Van or Trace of being liars. He knew that nobody could do that."
Amazon's inquiry reportedly included 10 hours of interviews with Tambor, as well as sessions with his accusers and many other staffers. "Lines got blurred. I was difficult. I was mean. I yelled at Jill—she told me recently she was afraid of me," Tambor told THR. "I was rude to my assistant. I was moody." But it's unlikely that Tambor lost his job for being moody.
There are hints that Tambor's mercurial behavior wasn't confined to the set of Transparent, a possibility that would have implications for Netflix. A detail in the THR story referenced a past "blowup" at the actress Jessica Walter, who plays Tambor's wife on Arrested Development, although Walter's representative replied with the icy statement, "Jessica does not wish to talk about Jeffrey Tambor." At least one Arrested Development actor has been happy to talk: Tambor has received public support from his co-star David Cross, who said in a separate interview in February, "I can't speak for everybody … but I know there are a number of us [on the show's cast] who stand behind him—from the limited amount we know, we stand behind Jeffrey—and I am one of them."
But another co-star took pains to note the elephant in the room when asked about Tambor later in April. Alia Shawkat called the accusations "sad" and "surprising" and added, "What those victims said needs to be heard just as much. And that's the facts, that's just the truth of it. And they can't be squashed down because of something else." Indeed, the accusations against Tambor will be hard to ignore as Arrested Development's fifth season rolls out, and especially as the fallout from Transparent continues: Amazon confirmed Wednesday that it would not be submitting the actor for contention at this year's Emmys (Tambor has collected two awards for Best Lead Actor for his work on the show).
Tambor's current situation is somewhat unique in that he had largely filmed the new Arrested Development season before the allegations against him came out. So the need for him to offer a public accounting of his reported actions has come more quickly than it will for some other entertainers accused of sexual harassment. Louis C.K., for example, didn't have an entire TV season almost wrapping production when claims surfaced against him. Firing or somehow replacing Tambor would've been a major statement for Netflix; keeping him on board is the simpler choice, but not one that really allows the studio to appear neutral on, or detached from, the issue of Barnes's and Lysette's allegations.
Tambor himself is in the midst of a familiar cycle many artists are now undergoing—one of recrimination and attempted rehabilitation. He has already gotten a big magazine profile, in which he was able to share more personal details and tales of frustration. Next there will likely be more blowback, particularly online, some of which has already arrived in reaction to the Hollywood Reporter piece. Can someone like Tambor keep doing high-profile work in Hollywood, and is it worth the publicity storm for his employers? He clearly thinks so, as does Netflix. But the coming months should offer a serious test of that theory.