The Bracing, Grim Power of First Reformed
Paul Schrader's impressive new film stars Ethan Hawke as a pastor who becomes increasingly disillusioned by the world around him.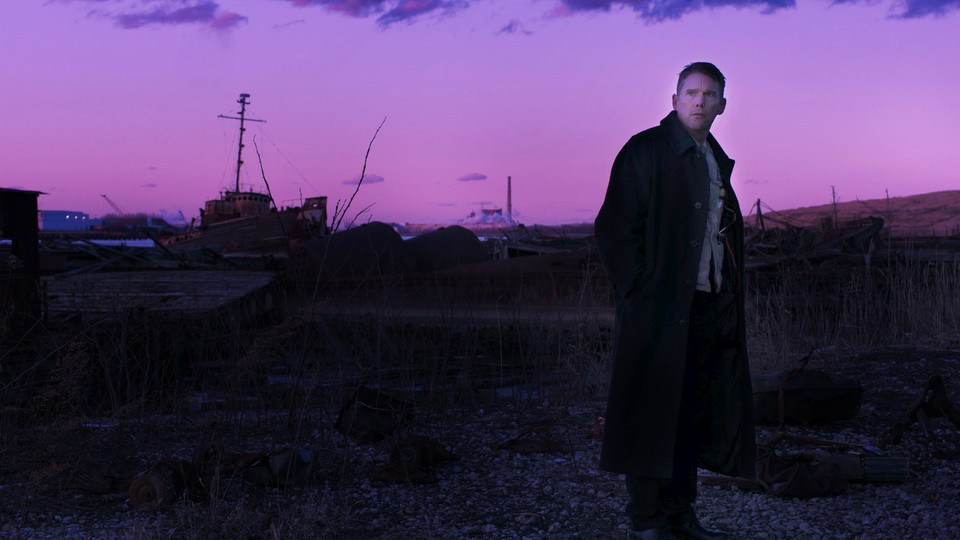 The First Reformed of Paul Schrader's new film is a church, a small edifice in upstate New York with a rich history in the abolitionist movement, a landmark of a bygone age of activism and justice. Now, it's little more than a museum piece that exists in the shadow of the more popular mega-church that owns it, and its depleted parish is presided over by the taciturn Reverend Toller (Ethan Hawke). Though Toller still gives sermons to mostly empty pews, his main duty seems to be leading guided tours and identifying various period details; in one scene, he dramatically reveals the basement trapdoor that was once used by the Underground Railroad.
This pointed moment helps set up the central conflict in what's easily Schrader's best and most fascinating film in many years. First Reformed is an intentional, focused work that asks the same question of its lead character and its audience: How can God forgive what humans have done to his creation? The story follows Toller as he grapples with what he sees as the church's abandonment of its moral mission, not just in the realm of social justice but also in preserving the health of our planet. While First Reformed is a wrenching movie, it's never gratuitous, and it marks an incredible return to form for an artist still best known for his screenplays for Taxi Driver and Raging Bull.
Of course, Schrader has had a storied career as a director, too—his most remembered work is probably American Gigolo, but he's produced many challenging dramas that follow people at the intersection of some powerful, individual crisis. For Toller, that crisis has been brewing for more than a decade, since his son died serving in the Iraq War (after being encouraged to enlist by Toller). After that loss, Toller's wife left him; his assignment at the small First Reformed church upstate was given to him out of pity by Pastor Jeffers (Cedric the Entertainer, credited with his real last name of Kyles), who heads up the larger congregation nearby.
At first, Toller's spiritual malaise manifests as apathy. He's stopped taking care of himself, is drinking too much, and is ignoring a mounting health crisis that's causing him to spit up blood in the middle of the night. But then he meets Mary (Amanda Seyfried), who begs him to counsel her husband, Michael (Philip Ettinger), a radical environmentalist so consumed with his fears of the Earth's impending doom that he wants Mary to abort their unborn child. In arguing with Michael, Toller comes alive again, defending humanity's purpose and advising against hopelessness. But doing so eventually awakens much darker concerns for Toller.
A largely quiet movie about solitude and isolation, First Reformed is energized by these bursts of debate. Michael's doomsday personality slowly but surely begins to infect Toller's brain, just as various mysterious ailments lay waste to the reverend's body. Toller starts asking questions of his superior, Pastor Jeffers, about the church's ultimate aim, and the ways he can help the younger generation's growing disaffection. This morphs into a more personal, if futile, mission against a local energy magnate (Michael Gaston), whom Toller publicly blames for the poisoning of nearby waterways.
The film is interspersed with Toller's diary entries, which start out thoughtful and rigorous and slowly begin to sound more haunted. There are shades of Taxi Driver in his voice-over narration, but First Reformed is much more understated, even as Toller starts to drift into extreme conspiracy-theory territory. As he edges further and further from the church he'd once cocooned himself in, Toller sees his body degrade more rapidly, an obvious but effective metaphor for the miserable state of the world.
Meanwhile, the church building itself, a beautiful old Dutch Colonial edifice dating back hundreds of years, remains a hermetically preserved, perfectly manicured monument to the past—a hypocrisy that Toller begins to despise. As First Reformed goes on, he takes a truly dark turn toward radicalism, the seeds of which Schrader plants in the film's opening act. There are twists that might be harder to believe were it not for Hawke's astonishing performance, a seismic, internal portrayal of resolute belief collapsing in on itself.
There are some issues—Seyfried's character is particularly underserved by the script, and exists largely as a lone vision of purity for Toller as he begins to distrust everything around him. But First Reformed's overall candor and clarity make it easier to forgive the movie's somewhat blinkered storytelling format. After all, this is a tale of existential woe told right from Toller's perspective; Schrader wants the viewer stuck in his protagonist's head with no chance of escape. The result is an embittered look at our world through the eyes of someone who's increasingly horrified to be a part of it, and a film that's one of the most searing cinema experiences of the year.