The Gutting of The Denver Post Is a Death Knell for Local News
After protesting the metro daily's owners this week, one of the paper's last remaining reporters contemplates what went wrong.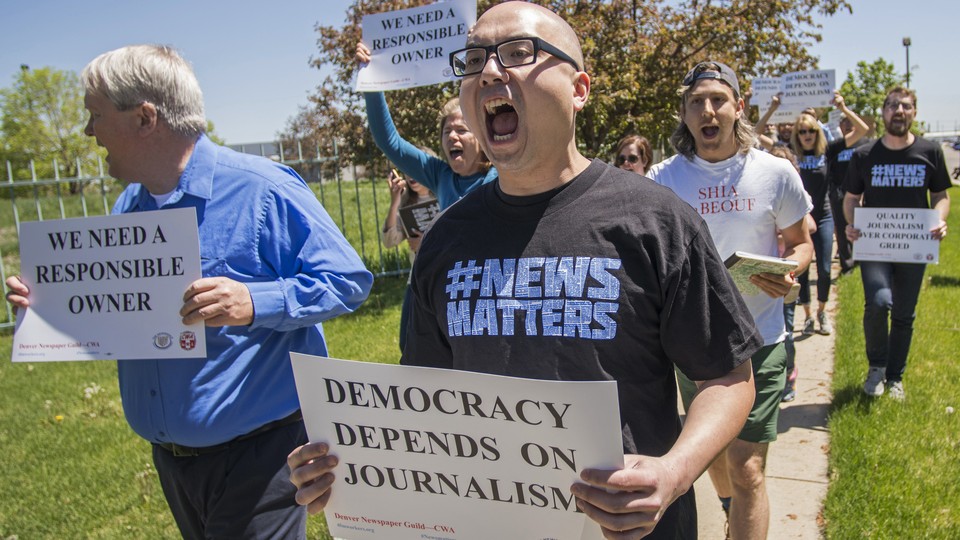 On Tuesday, I met my wife and 1-year-old daughter at the plant where my office is located, a hangar of a building in Adams County, Colorado, that prints The Denver Post. I wore a black T-shirt with #NewsMatters printed across the front (my daughter was in a onesie bearing the same message, in purple Sharpie) and joined dozens of my co-workers—fellow reporters, editors, page designers, pressmen—outside our building.
We had gathered to rally against the New York–based hedge fund that owns our paper, Alden Global Capital, for laying off or forcing out most of my colleagues for the sake of cost-cutting, a process that has only accelerated in recent months. In New York, a dozen of our colleagues from The Denver Post and other Digital First Media publications held a parallel protest in front of Alden's headquarters in the Lipstick Building. They attempted to deliver 11,000 signatures demanding that Alden invest in its newspapers or sell them to an owner who would. Building security guards refused the package and escorted them out.
Reporters typically cover protests. They don't participate in them. But when their owners are "hell-bent on destroying" their publication, as the Denver Post reporter Kieran Nicholson said Tuesday in New York, reporters come to feel that they don't have much choice. Alden's newspaper chain, Digital First Media, is the country's second-largest after Gannett; along with The Denver Post, Alden owns the Orange County Register, the St. Paul Pioneer Press, and the San Jose Mercury News.
Cuts at newspapers are common these days. The owner and publisher of the Salt Lake Tribune, a former Digital First property, this week announced that it is laying off staff and considering shrinking its print edition, to address a 40 percent decline in ad revenue. But Alden's cuts are happening at twice the industry rate. Furthermore, leaked financial information last week confirmed what had been rumored of the privately held company for years: Digital First Media reported a 17 percent operating margin, the highest in the industry, in its 2017 fiscal year. Its profit totaled nearly $160 million, $28 million of which came from The Denver Post. As the Nieman Lab analyst Ken Doctor wrote, "Alden Global Capital is making so much money wrecking local journalism it might not want to stop anytime soon."
My colleagues and I have risked our jobs to rebel against Digital First's bleeding of its papers at Alden's behest. The insurrection started a couple years ago with sporadic protests outside our building near the state capitol, some of us speaking out in articles in local media. It ramped up in March, when, weeks after moving our newsroom out of downtown and into our printing press in Adams County (which is, quite literally, in the most polluted ZIP code in the U.S.), we learned that 30 more staffers would be laid off. That represented one-third of our remaining newsroom.
The Denver Newspaper Guild, which had been negotiating with owners for years for raises, to little avail, again mobilized. Reporters spoke out on social media, sharing the #NewsMatters and #AldenExposed hashtags, and signed petitions. On April 8, a six-page editorial section in The Denver Post protested Alden's irresponsible ownership, garnering national coverage.
In late April, the Boulder Daily Camera fired its editorial-page editor, Dave Krieger, after he published a critical piece about the paper's owners. Then, last week, The Denver Post's editorial-page editor, Chuck Plunkett, resigned in protest. He said management had told him not to run editorials criticizing Alden or Digital First, and had kept him from publishing an editorial blasting Alden for the size of its profits. Plunkett spoke at our rally on Tuesday, his voice shaking with emotion. "Don't let the vultures get you down!" he shouted. I called him a hero, loudly, for the cameras.
These weeks have been surreal, spent watching people I've worked with for my entire adult life get laid off or resign in disgust and sadness. Many more staffers have left on similarly bad terms, poached by competing publications or repelled by the cognitive dissonance of doing good work for bad owners. Over the last week, I've found myself spending nearly as much time planning protests as writing articles.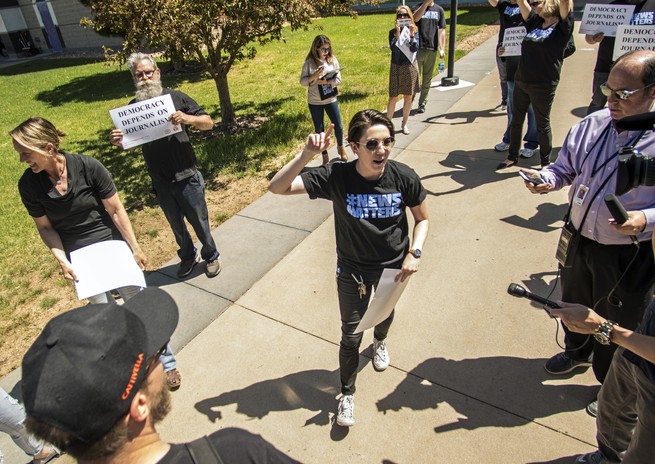 This is not why I got into journalism. I moved to Denver from Dayton, Ohio, in the summer of 2000 with a vague dream of working at The Denver Post. I didn't know anyone in Colorado, except an aunt and uncle in the suburbs, and I didn't even have a job waiting for me; my only "in" was that I had toured the Post's offices and gotten a brief audience with its features editor. I had been writing for newspapers since high school, and as a graduate of Bowling Green State University's journalism program, I harbored romantic notions of hacking it at a major metro paper.
The Denver Post was a beast then, with a Sunday print circulation of more than half a million and a newsroom of more than 300. When I started temping for the paper, in the real-estate classifieds department (the best way I could find to break in), members of its staff had just won a Pulitzer Prize for their coverage of the Columbine High School shooting.
The Post offered me a comfortable place to climb the ladder, situated as it was in a young and growing city that had yet to experience the gentrification and cost-of-living escalations with which it's now struggling. I became an editorial assistant, then, in 2006, landed the career I've always wanted, getting paid to report on and critique music, comedy, film, video games, and, because this is Colorado, recreationally legal cannabis.
I met my wife at The Denver Post in 2004 while we were both editorial assistants. Denver was gaining a national profile as a progressive, vibrant city and the Post—despite the looming internet disruption of traditional print media—was preparing to do some of its best work. From 2010 to 2013, the paper won four consecutive Pulitzer Prizes under the leadership of the Boston Globe veteran Gregory Moore. The competing Rocky Mountain News had closed in 2009, and there had been cuts and buyouts even before that at both papers, but the camaraderie was still palpable. In 2010, when Alden snatched MediaNews Group, which owned The Denver Post, out of bankruptcy, no one expected the deep cuts that would soon follow. Moore eventually resigned in 2016, as Alden prepared to feed more staff into the wood chipper, unwilling to watch the morselization of his carefully cultivated team.
My own panic has risen in inverse proportion to our staffing. From a high of 310 newsroom employees when I started, we now have around 70 people covering a metro area of about three million people. I used to be the only general-assignment reporter in a department of more than two dozens critics and editors ("Everyone's a critic!" I'd joke, to justified groans). I am now the sole remaining features or arts and entertainment reporter at the paper—saved, perhaps, because of my lack of specialty.
Even after our owners forced us to move out of downtown Denver after 125 years and into our windowless printing plant, there are more than a dozen empty desks in the newsroom. Truth be told, it's less a newsroom than a co-working space with flat-screen TVs and a constantly reorganized layout of shrinking departments. There is literally no wall between the advertising and editorial departments, given the high-ceilinged building, and conversations about how long we'll last here end quickly and with nervous laughs.
We cover far less than we used to, from legislative sessions and court cases to breaking news, concerts, and enterprise stories. As a features and arts writer, I get frustrated seeing myself get beaten on scoops by smaller publications with more supportive owners and resources, and I can only imagine how Denver's creative community feels being largely ignored by the region's (still) best-read media outlet.
But the layoffs and cuts enacted by Alden, and passed down through Digital First, are not just decimating a once-great Denver Post. They're hobbling dozens of Digital First papers, and they echo troubling news at all levels of the trade. The newspaper industry is partly a victim of outmoded business models, wherein Google and Facebook have in recent years replaced Craigslist as the big baddie stealing all of our ad revenue.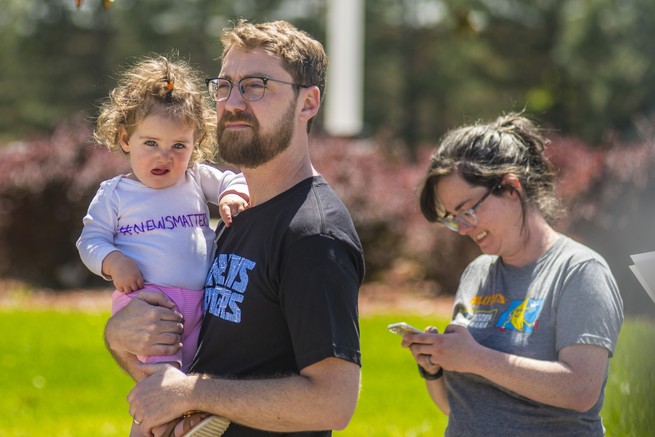 But the rapid cutting at The Denver Post is neither inevitable nor defensible, at least not by anyone with coherent ethics. I've had conversations with the now-departed editors of our pioneering marijuana-news website, The Cannabist, about how much weed-advertising money Digital First execs have left on the table, even as the industry becomes a multibillion-dollar pillar of the Colorado economy. As of this summer, The Cannabist will become an automated website with no staff or editor.
A different kind of owner might tolerate smaller profits in exchange for the civic good, but we must be available for sale for that to happen. There are rumors of potential buyers for The Denver Post, or for Digital First Media at large, but Alden has given no indication that it will sell. In any case, it's foolish to think that a Jeff Bezos–like billionaire could be the answer to our problems (or, in Colorado's case, a Philip Anschutz). Talks to sell the Los Angeles Times and the San Diego Union-Tribune to L.A. billionaire Patrick Soon-Shiong are facing continued delays, the New York Post reported this week, with sources speculating that Soon-Shiong is looking for a way to back out of the $500 million deal.
Notwithstanding the question of whether individual billionaires are any more invested in the civic value of journalism than hedge funds, there aren't enough of them to rescue all the ailing newspapers in the United States. What seems likelier is that more publications will face fates similar to The Denver Post's. On Tuesday afternoon, just after our protest ended, news broke of the sale of The Pueblo Chieftain, Colorado's oldest daily newspaper, to GateHouse Media. Like Alden, GateHouse is a New York–based hedge fund known for slashing costs and employees. It is also one of the largest owners of local newspapers in the U.S.
Along with 55 others, I signed a petition to Alden that was this week published on the Denver Newspaper Guild website. We wrote that we "are outraged at the unconscionable censorship imposed on our now-former editorial-page editor, Chuck Plunkett," and that Alden "must either invest in the newspaper or sell it to someone who cares about Colorado." That seems unlikely at the moment. By the time this piece is published, it will be Friday. I will probably have a job. Next week is anybody's guess.