Dear White People Is Both Timely and Timeless
In Season 2, the Netflix dramedy about black students attending a predominantly white university is better than ever.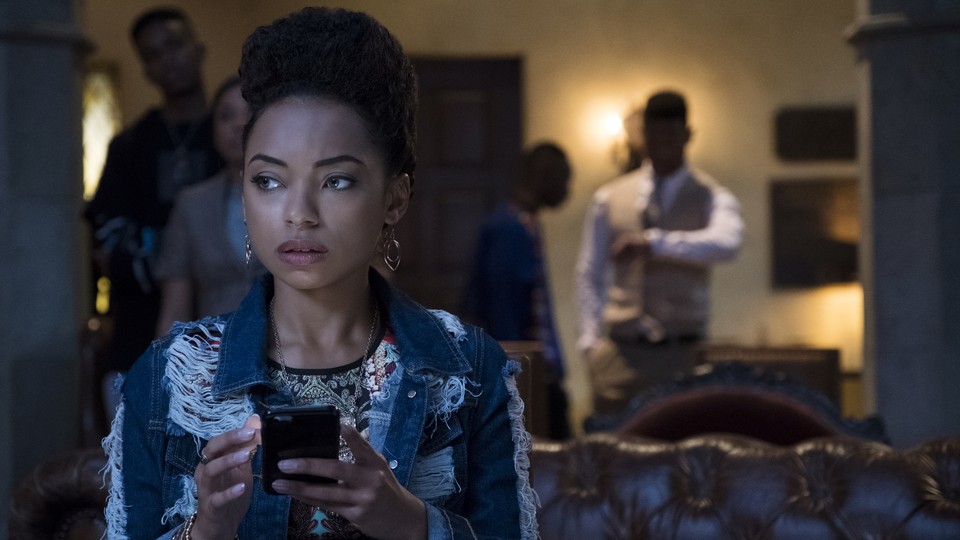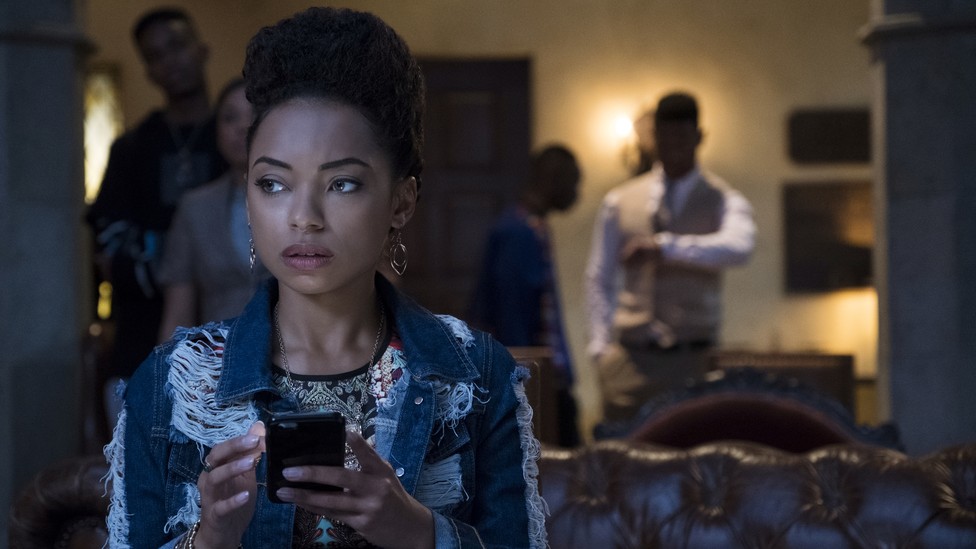 "Something's changed," Sam (Logan Browning) tells her best friend Joelle (Ashley Blaine Featherson) in the first episode of the new season of Dear White People. "Logic, reason, discourse. It's out the window now."
In a pop-cultural landscape that's been suffused with explicit political references over the past year, Season 2 of Justin Simien's Netflix series is unusual in that it never mentions President Trump by name. It doesn't have to. The aftershocks of his election have rippled into every aspect of American culture, and Dear White People, which focuses on the experiences of a group of black students at a fictional Ivy League university called Winchester, isn't interested in Trump himself so much as what his presidency has rendered.
This tight focus is why Dear White People is so eerily timely in Season 2, which tackles the conflict between student activists and a growing alt-right presence on campus that's emboldened by Trump's election. For one thing, the show has a new character played by an actress whom Netflix asked reviewers not to reveal: a black Fox News commentator named Rikki Carter who rails against the "victim mindset" of identity politics. In the wake of a news cycle that's spent two weeks dissecting Kanye West's public praise for Candace Owens and his trollish comments about slavery, the storyline feels prescient, to say the least.
In its first season, spun out from Simien's film of the same name, the show vaulted viewers into the experiences of a different student in every episode. There was Sam, the host of a college-radio show called "Dear White People" that aimed to shine a light on the racism inherent in everyday interactions between black and white students on campus. There was Lionel (DeRon Horton), a shy journalist on the college newspaper trying to carve out some sense of his own identity. There was Troy (Brandon P. Bell), the son of the school's dean, who felt hamstrung meeting every one of his father's lofty expectations. And there was Reggie (Marque Richardson), a genial overachiever who found himself at the end of a campus-security officer's gun in the first season's most wrenching episode. By depicting the same events through a multiplicity of viewpoints, the show complicated how viewers interpreted them.
Season 2 uses the same structure, but it inserts a series of flashbacks to Winchester's history, contrasting scenes of the school's more egregiously racist past with the conflicts happening now. And that's Simien's point: Dear White People feels so timely because it's timeless—the situations it explores never go away. In a conversation with The New York Times' Reggie Ugwu, Simien expanded on why the series doesn't explicitly mention Trump this season. "I just didn't want to say his name," he said. "I didn't want to give it that kind of power. I think the underlying issues that brought about the Trump presidency are American issues, and they've been around before Trump and they'll be around after Trump."
The new episodes carry this awareness as they depict Sam's targeting by an alt-right troll, and the emergence of a radio show in response to hers called "Dear Right People." Some of the drama seems inspired by the controversy Dear White People provoked when it debuted, with some commentators on the right dubbing it "reverse racism." Simien responds via the season's best episode, a tense, theatrical debate between Sam and her white ex-boyfriend Gabe (John Patrick Amedori), who's making a documentary titled Am I Racist? "I don't set out to be inflammatory," Sam says. "I just try to tell people how we feel."
In scenes like this one, Dear White People comes across as vital, enabling difficult, impassioned debates while allowing participants the space to screw up, to be wrong, to make mistakes with good intentions. If the new season has flaws, it's that it structures itself around an odd kind of overarching mystery, and that not every character gets the same kind of depth and complexity. Lionel, in particular, is underserved this time, pigeonholed into a knotty plot that seems like it'll finally make sense in Season 3. And the series doesn't always perfectly balance its vibrant sense of humor with its more serious interrogations. But for the most part, it's as entertaining as it is pointed, deepening the topics of Season 1 by alluding to the reality outside the show. Dear White People might not say Trump's name, but its excavation of the culture he's helped create makes it one of the most compelling analyses yet of this moment, an era where he's inescapable.