The New Prince of Pablum
In a wave of interchangeable Millennial pop stars, Charlie Puth's dorkiness on his album Voicenotes proves an asset.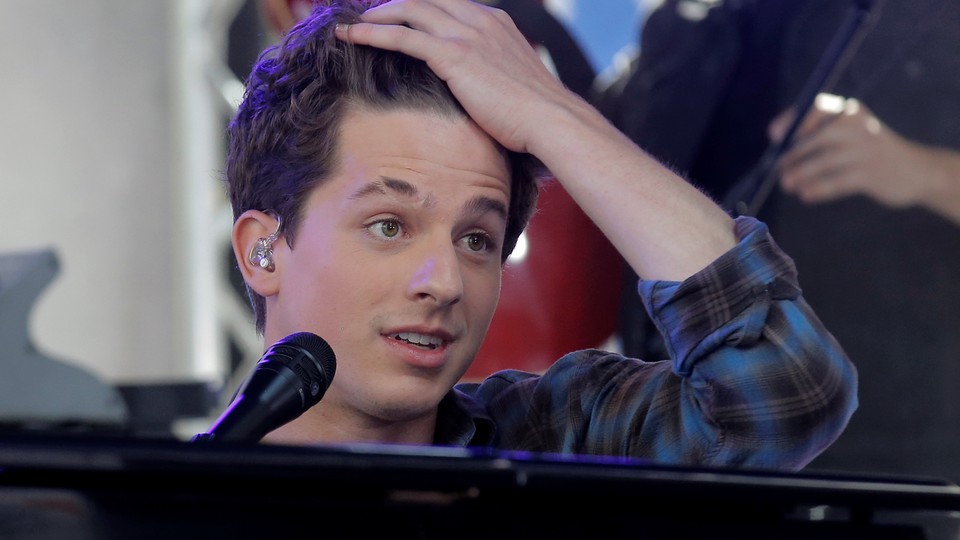 It's been said that the concept of the "guilty pleasure" is outdated. When cool-kid guitar-slinger Ryan Adams covers Taylor Swift's plastic pop, when the Pulitzers lend their rarefied air to a platinum-selling rapper, when the musical subversive Grimes dates capitalist caricature Elon Musk, who are you to fret that any particular Max Martin song or any particular bag of Flamin' Hot Cheetos is not for you? "If you want to listen to Rihanna while reading the latest from Dean Koontz, just go ahead and do it," wrote Jennifer Szalai in a 2013 New Yorker piece "Against 'Guilty Pleasure,'" and it's come to feel as though plenty of folks took her advice.
So I will not call Charlie Puth, the velveteen-voiced crooner who's ladled dollops of schmaltz onto the radio over the past few years, a guilty pleasure. But the 26-year-old might represent the culmination of the no-pleasures-are-guilty paradigm, in which a breathy singer can break out by channeling the deeply dorky, without a hint of irony. The sound of Puth's new album, Voicenotes, brings to mind Wham!, Sting, and Eric Clapton's "Tears in Heaven." Boyz II Men and James Taylor lend their quavers, and at one point there's a Hall & Oates interpolation. In a class of new Millennial singers whose successes haven't quite come with superstar status—can you tell apart Bebe Rexha and Zara Larsson?—Puth's disinterest in cool actually gives him an edge. So does his craftsmanship.
Puth's fame arrived in truly corny fashion, via "See You Again," Wiz Khalifa's 2015 Fast & Furious soundtrack song mourning the death of Paul Walker. Puth's falsetto, simpering and sticky, immediately seemed well-suited to an era when producers commonly manipulate voices to sound superhumanly high and squeaky. But it was "We Don't Talk Anymore" off his 2016 debut, Nine Track Mind, that hinted he could be a somewhat interesting cog for the soundtrack-industrial complex. Loping and sinuous, built around a beguilingly meek and bleated melody, the duet with Selena Gomez may survive as one of the only lasting artifacts of the recent "trop pop" wave.
Puth produced and co-wrote that song, as he does most of his songs. I mention this not to hold him up as a more "genuine" creator than the Justin Biebers of the world, but rather because it helps explain why his work sounds a bit different. The only memorable fun fact about his biography is that he claims to have "absolute pitch," meaning he immediately knows when, say, a car horn is blaring at G sharp. Trained in jazz and classical piano during high school and in production and songwriting at Berklee College of Music, he's a true music nerd—someone well aware that what makes Ariana Grande's new single so fresh is not the post-tragedy narrative around it, but rather the chord structure. Of course, his version of radio candy isn't avant garde, but it bears the hallmarks of someone thinking hard about how to capitalize on trends while teasing the ear with something new.
The big hit from Voicenotes, "Attention," is the best example. Between his patented choirboy-disco choruses, the verses are slyly gripping: Puth breaks his sentences into ascending and descending mini mantras, delivered at a careful, tentative pace. Nothing else on the album quite lives up to that track, but patches of inspiration abound. The opener, "The Way I Am," syncs Puth's syllables with fast, twitching electric guitar for an effect somewhere between "Smooth Criminal" and Metallica. The vacuum-sealed strutting of "How Long" and "Empty Cups" makes funky nods to Quincy Jones's work on Off the Wall, a sound he cannily sutures with festival-ready wooing on tracks like "Slow It Down." The less said the better about his James Taylor duet, "Change"—a vapid call for world peace—but his Boyz II Men collaboration, "If You Leave Me Now," makes an uncanny revival of an out-of-favor form of R&B.
Among the class of earnest white guys who clogged the charts last year—Ed Sheeran, Shawn Mendes, and the recovering One Directioners—Puth seems the least poised for extra-musical celebrity status, as he's chasing neither pin-up allure nor everyguy relatability. Most of the lyrics on Voicenotes offer frank, somewhat incriminating tales of dating in show-biz L.A, with him either pleading for reconciliation with girls he cheated on or tsk-tsking those who came onto him too strongly. So neither likability nor respectability are what's on sale here, and Puth knows it: "You can either hate me or love me, but that's just the way I am," goes the opener. With music like this, love and hate don't really matter—only enjoyment, which, remember, we shouldn't feel guilty for.