Cardi B's 'I Like It' Is the Song of the Summer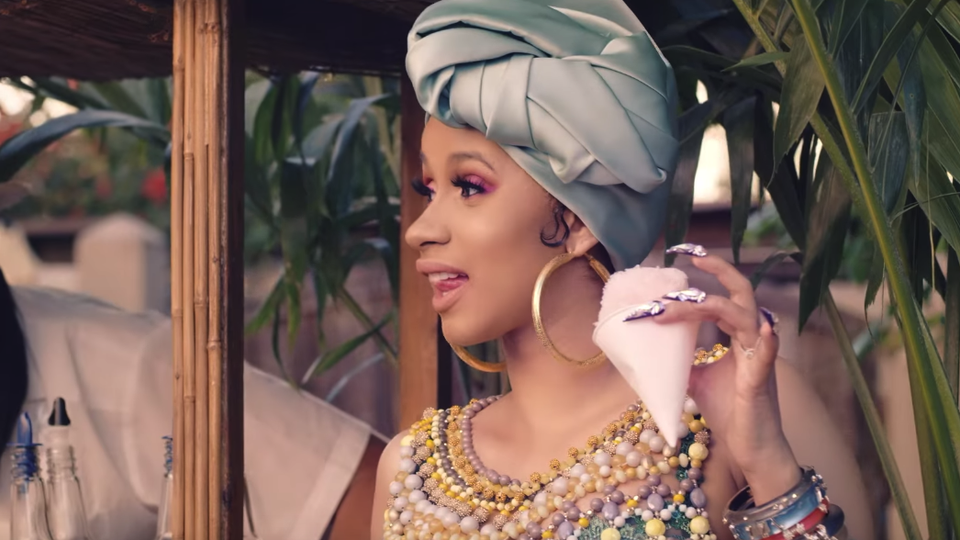 The perfect song of the summer doesn't always identify itself on first listen. It can evade recognition when played through headphones, avoid detection amid the vast wilderness of desktop playlists. There is no foolproof algorithm for discovery.
But one barometer never lies: the distinct boom of the speakers outfitted onto the cars driving down your block with windows open and stereo blaring. Administering the test is simple: Step outside on any balmy Saturday afternoon in June. The pulse of that year's song of the summer will course its way to you as quickly as the humidity assails those of us in the swampy dredges of New York.
By that metric, there's one clear winner so far this year. "I Like It," the fourth single from Cardi B's April debut, Invasion of Privacy, takes to outdoor speakers like it was meant to metastasize in summer air. The buoyant, horn-driven track interpolates "I Like It Like That," the 1967 classic from fellow Bronx native Pete Rodriguez, with reggaeton heavyweights Bad Bunny and J. Balvin each lending a verse to Cardi's rendition.
Like any song of the summer worth its weight in Tajín-covered mangoes, "I Like It" insists on collective merriment—it's a fête for the whole family. The Rodriguez sample grants the song both vigor and intergenerational appeal; even family members who may balk at Cardi's more brazen lines will be charmed into a two-step by the familiar Rodriguez refrain. The homage may be calculated, but its success—like Cardi's—is irrefutable.
In the video, which dropped Tuesday morning—just hours after the exuberance of Memorial Day barbecues finally faded into workweek torpor—a visibly pregnant Cardi shimmies down the block, adorned in jewel tones and copious statement jewelry. She's resplendent, a luxed-up version of the regular degular shmegular girl from the Bronx she's always been. For much of the video, her hair is swept up in headscarves; it's no Rihanna doobie wrap, but it's striking (and maternal) all the same. J. Balvin, meanwhile, spends most of his screen time rocking a two-piece outfit that resembles a fabulist take on tourist attire, as if the much-maligned Hawaiian shirt stepped into the machine that turned Steve Urkel into Stefan Urquelle. Bad Bunny's sartorial choices are the simplest, but he accessorizes the most boldly: Whether spitting his own lines or dancing behind Cardi, he holds tight to a hookah as though it is his anchor.
In standard Cardi style, the hook is brash, boastful, and impossibly catchy:
Diamond district in the jag (I said I like it like that)
Certified, you know I'm gang, gang, gang, gang (I said I like it like–)
Drop the top and blow the brains (I said I like it like that)
Oh he's so handsome, what's his name? (I said I like it)
Oh I need the dollars (I said I like it like that)
Beat it up like piñatas (I said I like it like—)
Tell the driver, close the curtains (I said I like it like that)
Bad bitch make him nervous (I said I like it)
Verses from both Bad Bunny and J. Balvin match Cardi's energy: Referencing his own hit record "Chambea," Bad Bunny begins his bars by taunting his haters: "Chambean, chambean, pero no jalan (¡jalan!) / Tú compras to'a las Jordan, bobo, a mí me las regalan (jejeje)." Like Cardi, he remains far richer—and flyer—than anyone who mocks him while lacking the temerity to say it to his face. Later in the song, J. Balvin opens with an invocation of Celia Cruz, the iconic Afro-Cuban singer whose "¡Azúcar!" became a hallmark of Cuban salsa: "Como Celia Cruz tengo el azúcar (azúca') / Tu jeva me vio y se fue de pecho como Jimmy Snuka (ah) / Te vamos a tumbar la peluca." The lines are both cocky and playful: Balvin claims he has all the sweetness (and by extension, spice) of the legendary Cruz, then brags about women falling to their feet in front of him in moves not unlike that of Fijian wrestler Jimmy "Superfly" Snuka, then speaks directly to stans, whose proverbial wig he knows the trio has knocked askew.
Both men, of Puerto Rican and Colombian descent respectively, add complementary dynamism to the track, the most Latin-influenced of the triumphant Invasion of Privacy. "I Like It" telegraphs the heritage of its chanteuse without room for misinterpretation: Cardi demands equal attention be paid to both sides of her Afro-Latina hyphen, that the two be understood together. "I Like It" is a medley of nods to her roots—the Dominican Republic, Trinidad, the Bronx. Her delivery builds on the savvy, reggaeton-inflected production: In the first verse, Cardi stretches out the word texts so that it nearly rhymes with exes, a move that grants the line rhythm—and also reflects the bilingual rapper's natural speaking cadence.
"I Like It" is irresistible because it channels the rapper at her best: when she feels at home. It's hard to argue with the meteoric rise of Cardi B, born Belcalis Almanzar to parents of Dominican and Trinidadian descent. The former-stripper-turned-reality-star-turned-bombshell-rapper bypassed traditional routes to fame, instead climbing her way to the top (in bloody shoes, no less). "Bodak Yellow," 2017's undeniable Song of the Summer, has been written about as though it emerged from thin air. But Cardi has been hustling for years, her music spanning an impressive range. The spirit that propelled "Bodak" to the top is the same infectiousness that made "Lick," one of her first tracks with fiancé Offset, an early indicator of Cardi's imminent takeover. That same verve that runs through "I Like It," a self-referential victory lap of a single. "Bodak" Cardi was hungry; "I Like It" Cardi still hustles, but she does it having tasted the fruits of her labor.
Barring any 11th-hour releases from petty Scorpio prince Aubrey Drake Graham, whose one-two punch of "One Dance" and (the Popcaan-assisted version of) "Controlla" dominated airwaves and parties alike in 2016's warmest months, Cardi appears to have at least one more summer in the bag. Nicki Minaj's newest offerings,"Chun-Li" and "Barbie Tingz," are both fun, punchy tracks—but neither refreshes. Childish Gambino's "This Is America" may knock, but it's too foreboding to serve as a summer salve. Ella Mai's plucky romantic bop "Boo'd Up" is too saccharine. Like other contenders for this year's title, Drake has yet to land a record for summer 2018 that sounds the way a perfectly chilled rum punch tastes. Where "I Like It" cascades with Cardi's confidence, "Nice For What," Drake's thoroughly adequate April offering, is merely a facsimile of what women want to hear. It sounds just fine, but there's no bite behind the pandering track. "I Like It," with its blaring horns and verbal venom, is a force to be reckoned with. Coming from Cardi, that's hardly surprising.