A Glorious Milestone for Albert Pujols
In reaching his 3,000th career hit Friday night, the Los Angeles Angels first baseman gave fans a chance to remember his historic greatness.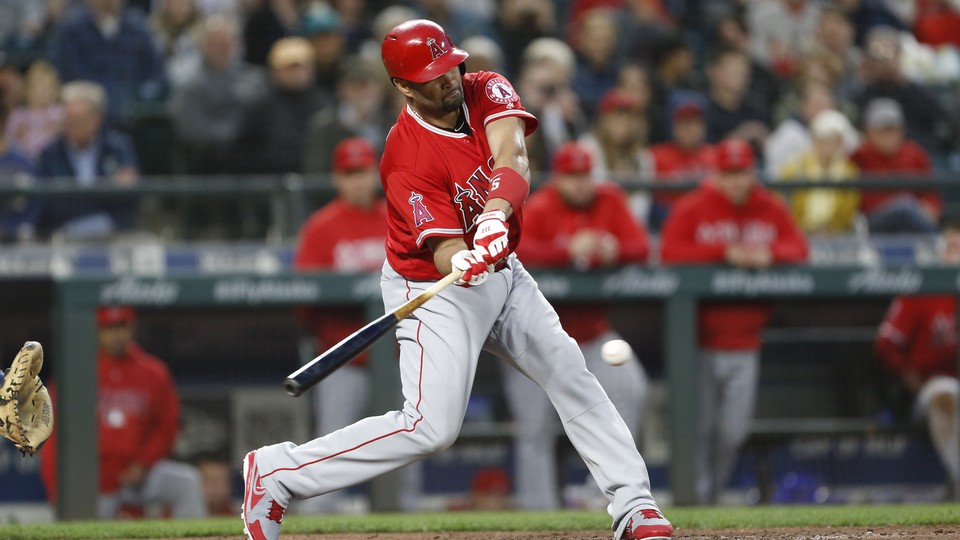 Today's Los Angeles Angels are stocked with sensations. They have Mike Trout, the consensus best player in the world. Shohei Ohtani, the two-way star who makes history seemingly every week. Andrelton Simmons, one of the most impressive defensive players of this century. And somewhere down the list, lost among his of-the-moment teammates, Albert Pujols, the man who not long ago thumped so many home runs for the St. Louis Cardinals that fans judged him not against his peers, but against baseball's all-time greats.
It can be easy to forget now that Pujols, officially listed as 38 years old but rumored to be older than that, has been diminished to a one-dimensional role player, but the first baseman was once one of greatest hitters to ever lift a bat. Over his 11-season run with the Cardinals, he reached nine All-Star Games, won three National League MVP awards, hit .328 while averaging 40 home runs a season, and led St. Louis to a pair of World Series titles. By the time he signed with the Los Angeles Angels in December 2011, he had already sealed his eventual place in the Baseball Hall of Fame.
That version of Pujols is long gone, betrayed by bad knees and slowed reflexes, but the slugger's accomplishments grow anyway. In the fifth inning of the Angels' game against the Mariners on Friday, Pujols flipped a 1–0 sinker from Seattle pitcher Mike Leake into right field for his 3,000th career hit, making him the 32nd player to reach that mark and only the fourth (along with Hank Aaron, Willie Mays, and Alex Rodriguez) to do so while also tallying 600 home runs. The milestone was a useful reminder, amid a painful late-career swoon, of a time when Pujols stood at the forefront of his sport, as baseball's main attraction.
Born in the Dominican Republic and schooled in Missouri, Pujols was not always a can't-miss prospect. He slipped to the 13th round of the 1999 MLB Draft and signed with his hometown Cardinals for a relatively meager $60,000 bonus. But it didn't take long for the young slugger to show he was special. After tearing through three minor-league levels in his first professional season, Pujols debuted with the Cardinals in 2001, batted .329 with 37 home runs, and won the National League Rookie of the Year award unanimously. From there, he was off.
During the years that followed, Pujols did everything well. He was a sturdy fielder at multiple positions, ultimately settling in as an elite first baseman, and a smart baserunner, if not necessarily a speedy one. But most of all, he was as fearsome a hitter as ever lived, the successor to Barry Bonds as baseball's best bat. Quickly, the numbers began to pile up, along with the MVP trophies. Pujols was the fifth-youngest player to 300 home runs and the third-youngest to 400, prompting some observers to wonder whether he could challenge Bonds's career mark. At the end of his 10th season with the Cardinals, Pujols held records for most home runs, doubles, extra-base hits, and total bases through a player's first decade in the major leagues.
But stupendous as his statistics were, his majesty went far beyond numbers. Pujols's swing felt as if it were constructed in a lab to maximize both power and grace. When he unloaded on a hanging slider, whipping his bat across the strike zone and releasing with one hand on the follow-through, he seemed to have solved every mystery of hitting, to have mastered an impossible craft. Cardinals fans tried to call him "El Hombre," in homage to Stan "The Man" Musial, but he preferred "The Machine." It fit.
Pujols was not only the consensus best player in baseball throughout much of his Cardinals tenure, but also the perfect leading man for a sport seeking an image overhaul. As steroid allegations swirled around many of the top players of the 1990s and 2000s, Pujols gave fans and media no cause for skepticism. He was humble, polite, famously charitable, and, as far as anyone knows to this date, clean. "The biggest compliment I can give Albert is he's never changed," Pujols's former manager Tony La Russa once said. "He's a perfect player. In all categories of the game—hitting, running defense, cheerleading, being a mentor—you see Hall-of-Fame greatness."
Pujols registered big moments with the Cardinals, from his legendary moonshot off Astros closer Brad Lidge in the 2005 NLCS to his three home runs in a single 2011 World Series game. More than that though, he delivered metronomic consistency. Year after year, he stayed healthy, put up massive numbers, placed near the top of the National League MVP voting, and kept his team in contention. He was, above all, dependable.
Until, one day, he wasn't. Pujols's decline began seemingly as soon as he left the Cardinals to sign a 10-year, $254 million deal with the Angels. His stats slipped. He missed almost half a season with a foot injury. He stopped receiving MVP votes, stopped making All-Star Games. Last year, his sixth in Southern California, his production dropped sharply, to the point where analysts began to question his usefulness as a major-leaguer. A healthy RBI total masked his struggles a bit, but he posted career worsts in batting average, on-base percentage, and slugging percentage, led the league in double plays, and appeared only sparingly in the field. According to the popular wins-above-replacement statistic, he was the single worst player in baseball.
So far this season, he hasn't been much better, prompting the question of just how much baseball he has left in him. These days, the conversation around Pujols often focuses on the ways he has become a liability. On how the money left on his contract ($114 million over four years) clogs the Angels' balance sheet. On how his inability to regularly play the field blocks potential at-bats for Ohtani. On how the team might be best off, at least from a pure baseball standpoint, benching or even releasing him.
Pujols's 3,000th hit gives the world an opportunity to forget all that, at least for a moment. To ignore the player Pujols has become and celebrate the player he once was. The player who posted historic numbers without a whiff of controversy, who spent a decade as baseball's gold standard. As the future Hall of Famer stood on first base Friday night, with teammates swarming him in celebration, it didn't matter that he was a weak link on a playoff contender, competing for a franchise that would likely dump him and his salary in an instant if it could. It didn't matter that the second half of his career has failed to live up to the first, leading a new generation of baseball fans to know him only as Trout's sluggish sidekick. In that moment, in the wake of hit No. 3,000, he stood among the all-time greats, right where he belongs.