Why ABC Finally Had to Cancel Roseanne
Following months of defending the show's star, the network ended the wildly popular revival after its namesake sent a racist tweet.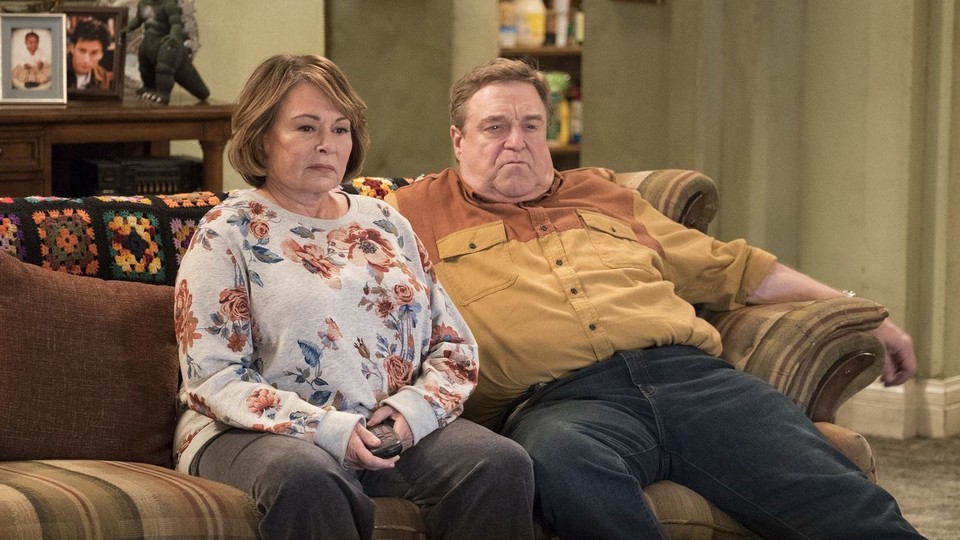 "You can't control Roseanne Barr," Ben Sherwood, the president of ABC, said in an interview with The New York Times in March. "Many who have tried have failed. She's the one and only." It was an easy deflection, one that made the star of his biggest sitcom sound like a brilliant, maverick artiste. But Sherwood was instead responding to a question about Barr's Twitter account, which often features conspiratorial, offensive material and has dominated much of the discourse about the show. Two months later, the network finally asserted control, canceling Roseanne on Tuesday just hours after Barr sent a nakedly racist tweet about the former White House adviser Valerie Jarrett.
Shortly beforehand, Barr called her tweet a joke made "in bad taste." But it was far from the first time she had said something heinous online; her social-media feed has featured many bursts of outright Islamophobia, anti-Semitism, and, in 2013, a similarly racist tweet about Susan Rice, then the national security adviser under Barack Obama. Still, the Jarrett tweet was the final straw for ABC Entertainment president Channing Dungey, who called it "abhorrent, repugnant, and inconsistent with our values." Disney CEO Bob Iger added, "There was only one thing to do here, and that was the right thing."
Barr's volatile personality was well-known to ABC when it ordered a revival of Roseanne in May 2017. The network's willingness to gamble on it was two-fold. Resurrections of '90s hits like Will & Grace and Full House had worked for other networks, but Roseanne was particularly appealing to ABC because it was looking for a show that would appeal to Donald Trump voters. Part of Barr's pitch for the revival was that her character would be written as a supporter of the new president, reflecting her real-life personality. Other members of the fictional family, like Laurie Metcalf's Jackie, are written as Clinton supporters who push back against Roseanne.
"We had not been thinking nearly enough about economic diversity and some of the other cultural divisions within our own country. That's been something we've been really looking at with eyes open since that time," Dungey said in a March interview with the Times. "[The show] speaks to a large number of people in the country who don't see themselves on television very often," Sherwood added. Trump called Barr to personally congratulate her after her show debuted to a massive 18.2 million viewers in March.
As the rise of streaming television and cord-cutting continues apace, ratings numbers like 18.2 million are just unheard of for a network like ABC. Though Roseanne's viewership cooled in the weeks after (typical for a new show), it was still by far the biggest hit of the year. In the crucial 18-to-49 year-old advertising demographic, the pivotal number for any TV series, Roseanne averaged a 3.6 Nielsen rating—the only show on network television to post a number over 3. Indeed, only five current nonsports shows average over a 2 (the others are This Is Us and The Big Bang Theory with 2.7, Young Sheldon with 2.2, and The Voice with 2.0).
The absolute enormity of that number was seemingly enough to overshadow any network concerns about Barr's online behavior, which, ABC seemed to reason, could be explained away by hinting vaguely at her eccentricity. Her Twitter feed was cluttered with rants about George Soros and retweets of conspiracy theorists, but the obvious bigotry of her Jarrett tweet managed to stick out immediately. Barr tweeted an apology less than 12 hours later, saying, "I should have known better."
The reality is that ABC knew what it was getting into when it brought Barr back into the limelight. But the network likely thought it could manage her public persona by convincing her to stay off social media (which she did in the immediate run-up to the show's debut). Or perhaps ABC believed it could counterbalance Barr's views by hiring figures like Sara Gilbert, Wanda Sykes, and Whitney Cummings, all of whom were producers on the show with more progressive politics. Though their creative input did seem to help temper the critical reaction to the show (which was largely positive), it could only do so much to distract from Barr herself.
Cummings already announced two weeks ago that she would not be a part of Roseanne's second season. Sykes tweeted Tuesday that she would not return; Gilbert, who also plays Roseanne's outspoken daughter Darlene, called Barr's tweet "abhorrent." After the cancellation, she added, "We've created a show that we believe in, are proud of, and that audiences love—one that is separate and apart from the opinions and words of one cast member." Roseanne the show was far from one-sided—though Roseanne the character was presented as a Trump supporter, much of the plotting derived from conflicts with her family.
But both ABC and the creative team had to know from the beginning that a show called Roseanne would be impossible to separate from the person it was named after. Had Roseanne returned for a second season (the writers' room was set to assemble Tuesday), it would have faced a slew of new questions about its star's bigoted behavior. The network finally, belatedly, realized it couldn't just reply again with, "She's the one and only."