You Were Never Really Here Is Never Really Here
The director Lynne Ramsay's latest film, starring Joaquin Phoenix, is high on style and talent, but low on plot, narrative, or emotional connection.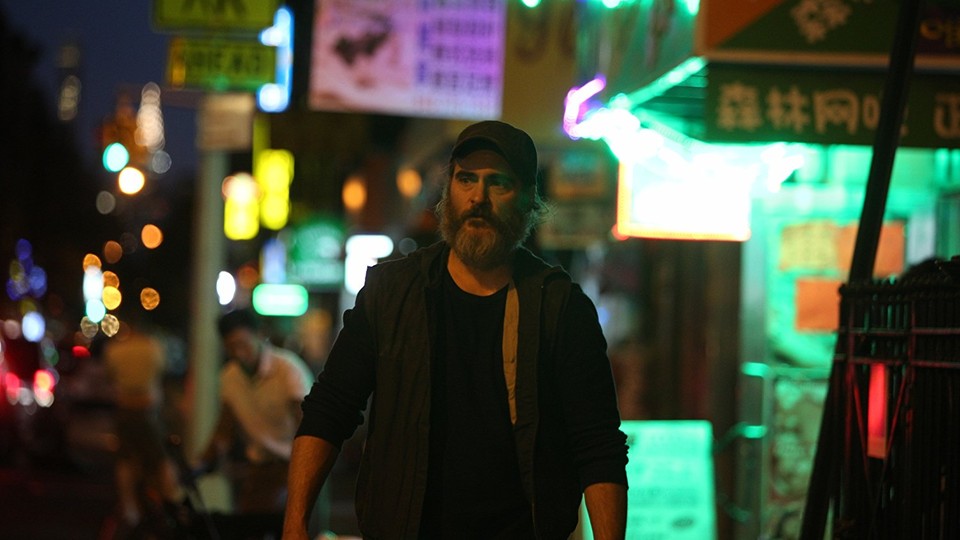 The film You Were Never Really Here left me pondering two principal questions. First: How many of the rolls of duct tape sold in hardware stores each year are purchased for the express purpose of binding and/or gagging people so that violence may be inflicted upon them? And second: How many of the ball-peen hammers sold are bought specifically in order to inflict such violence?
Duct tape and ball-peen hammers are the chosen methodology of "Joe," the protagonist of the film. Joe is a combat veteran who now makes ends meet by rescuing girls from sex traffickers and doling out violent retribution. You've heard of hired guns? Joe is a hired hammer, and not the kind who does cabinetry.
You Were Never Really Here is adapted from a Jonathan Ames novella by the Scottish director Lynne Ramsay, and like her other work it is powerfully imagistic and nearly bereft of dialogue or a conventional plot. Joe, who lives with his mother in a rundown apartment in New York City, suffers from visions of his own childhood abuse and combat trauma, and frequently contemplates suicide, sometimes going so far as to semi-asphyxiate himself with a plastic bag. When we first meet him, he is finishing up one job. His next, which makes up the bulk of the film, involves an underage trafficking ring that eventually leads him to a conspiracy involving a state senator, crooked cops and federal agents, and the governor of New York.
Sex trafficking, political corruption, childhood trauma, suicidal fantasy, and the frequent application of ball-peen justice—You Were Never Really Here is a film that practically begs to be described as "unsparing." But whereas Ramsay's other work, and in particular the haunting, horrifying We Need to Talk About Kevin, had tremendous gut-level impact, You Were Never Really Here feels remote and somnambulant—a bad dream viewers know will end after 90 minutes, never to disquiet them again. Its emotional stakes are inflated so overzealously that they scarcely register as stakes at all.
As one would expect from Ramsay, the movie is immaculately well-crafted, with some lovely imagery and a few doses of dark wit, as when Joe and an assassin sent to kill him end up lying on a kitchen floor together, quietly singing along to Charlene's "I've Never Been to Me" on the radio. Moreover, Ramsay is aided enormously by the fact that Joe is played by a bearded and beefy Joaquin Phoenix, one of the few actors one can imagine bringing the character's inarticulate suffering largely to life.
At its best, You Were Never Really Here reminded me of one of the most underrated films of the 1980s, Neil Jordan's Mona Lisa—only without peak Bob Hoskins or Michael Caine or anything more than the rudiments of a plot. It's not enough. Ramsay's and Phoenix's gifts are wasted on this thin and unpleasant reed of a story, a theoretically "serious" film that is in fact precisely the kind of nonsense fever dream—prominent politicians preying sexually on defenseless children!—that led an impressionable idiot to "investigate" Comet Ping Pong with an AR-15. You Were Never Really Here is not a film that particularly wants you to like it. But with its highbrow talent and arty flourishes—the film received a seven-minute standing ovation at the Cannes Film Festival—it all but dares you to admit that you disliked it. Challenge accepted.