The Yankees' Biggest Strength May Be Their Greatest Weakness
New York's power-hitting duo, Giancarlo Stanton and Aaron Judge, have set high marks in both homers and strikeouts—underscoring one of baseball's most pressing issues.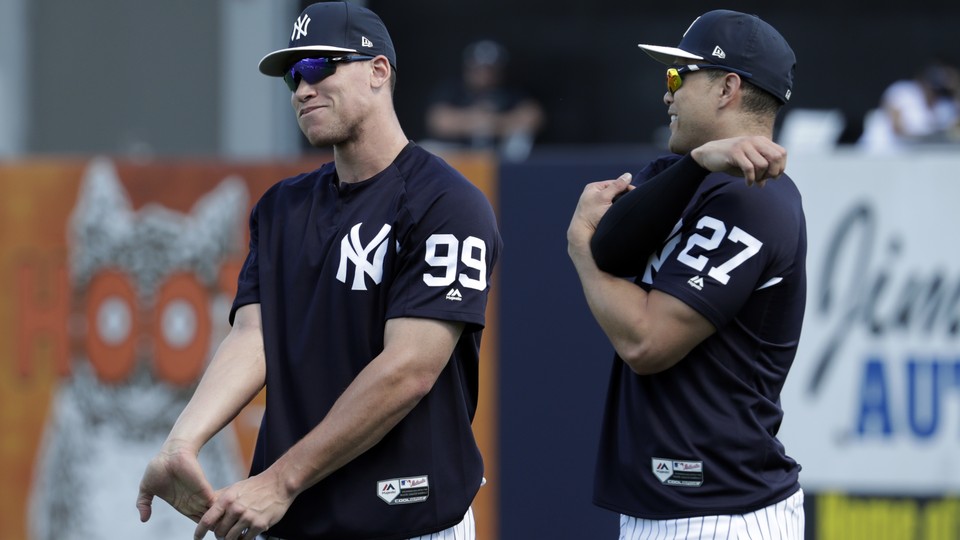 On the opening day of the season, Giancarlo Stanton—who last year hit 59 home runs en route to the National League MVP award before a December trade brought him to the New York Yankees—muscled two homers out of Toronto's Rogers Centre. The first came on a low fastball that he shot to right. MLB's Statcast measured it as the hardest-hit opposite-field blast since the system's inception in 2015. The second went to straightaway center and landed well up into the second deck; no advanced numbers were needed to appreciate it. For Yankees fans who had spent the winter envisioning how Stanton would pair with Aaron Judge, who in a 2017 Rookie of the Year campaign hit 52 homers of his own, the 6–1 win doubled as a welcome forecast. It was easy to imagine six months of long balls and blowouts.
At New York's home-opener victory five days later, though, concern cut the celebration. Stanton struck out each of the five times he stepped to the plate, and after his last appearance, a smattering of boos sounded. To someone just now joining the season, highlights from those two games could provide a handy summary: of the much-hyped Yankees' 5–5 start and of their star hitters' boom-or-bust tendencies, yes, but more importantly of the risk-reward calculations that increasingly govern baseball. Since the days of Babe Ruth, players have wanted to hit home runs, and teams have wanted to employ the players who do. Now, as homers and strikeouts alike pile up in record numbers, the question of how to find the balance between them is among the most pressing in the sport.
If Stanton and Judge are able to reprise their performances from last year while wearing the same uniform, they'll become just the sixth pair of teammates in MLB history to hit 100 combined homers in a season. (They'd be the third pair of Yankees to do so, joining the storied duos of Ruth and Lou Gehrig, and Mickey Mantle and Roger Maris.) At first glance, Stanton and Judge are a perfect stylistic fit: the former, with his garish biceps, chopping balls to every section of outfield seating. The latter, at 6-foot-7, sweeping his bat through the zone and lifting pitches into the clouds. But the pair would also be an outlier, likely shattering the mark for strikeouts within the 100-homer group. Together, they struck out 371 times in 2017, with Judge's 208 the most in all of baseball; no other 100-homer duo has ever tallied more than 306 Ks. So far this year, Stanton leads the majors with 20 strikeouts (opposite three homers), and Judge's 13 (with two home runs) are modest only by comparison.
In their outsized way, the Yankees' sluggers exemplify contemporary baseball's trends. Last season, MLB players set all-time highs in both total homers (6,105) and strikeouts (40,104). The correlation between the numbers isn't hard to figure. Many of today's hitters favor big, uppercutting swings designed to produce fence-clearing fly balls; the whiffs that inevitably result are just the cost of doing business. "Guys don't care if they strike out," the former pitcher and current broadcaster Al Leiter said after the league's home-run mark was broken in September, "and it's basically turn and burn."
The extent to which teams accept those strikeouts, though, can make all the difference. Last season's World Series champion Houston Astros—who hit for considerable, if not quite Yankee-level, power—featured only two 100-strikeout players. Their American League Championship Series win over New York, in which Judge struck out 11 times in seven games, made for something of a case study in competing philosophies of homer-hunting. At this early juncture of 2018, the Astros are again off to a splendid start. The mindset governing their at-bats hasn't changed, with their hitters still favoring putting the bat on the ball to swinging from the heels. "We do prefer a model where contact is made," the Houston general manager Jeff Luhnow said last June. "We're seeing the results of that."
During the 162-game regular season, teams of a certain quality tend to find their footing regardless of the particulars of their approach. But in the cauldron of a five- or seven-game postseason series, the inherent variability of power hitting can make all the difference. As Lunhow put it, "Sometimes you go on big winning streaks because you have guys hit home runs. But you can just as easily go on a long losing streak, because guys are striking out." It's possible to recover from a string of losses in April, less so in October.
The Yankees understand the risks facing a team founded on sluggers, even if those sluggers include two of the world's best. "I want us to be obsessed with controlling the strike zone," their first-year manager Aaron Boone said after taking the job, more concerned than his new players had been with the high strikeout totals. New York also has the failsafes of a deep-pocketed organization—a well-rounded roster and excellent bullpen—so they don't live and die by the fortunes of their headlining duo. Compensating for Stanton's lousy home opener, the resourceful shortstop Didi Gregorius drove in eight runs with a pair of homers and a double. After the game, Boone acknowledged the self-correcting aspect of his team's style. "I like when the big boy doesn't get any and we're able to score 11 [runs]," he said. "Because there's going to be a lot of days when we hop on his back."
Still, the Yankees' brand of baseball is destined to produce almost as much anxiety as it does offensive fireworks. On Sunday afternoon, Stanton again struck out five times—becoming just the third player in the last 100 years to do so twice in a season and ended the game by whiffing with runners on base in the 12th inning. More boos were heard in Yankee Stadium. Judge, who added two to his own strikeout total, preached patience and positivity: "We're going to look back on this in August and laugh about it."
Judge is almost certainly right, at least to a degree. He and Stanton have the type of talent that can hardly be suppressed indefinitely. In the coming weeks and months, their numbers will take on the familiar, astronomic bearing, and high-wattage power displays will offset the occasional bad nights. (A 7–2 shellacking of the Tampa Bay Rays last Wednesday, in which Stanton, Judge, and complementary basher Gary Sanchez all homered, offered a taste of what Yankee fans hope becomes routine.) But the start of this season is more than just a fluke waiting to be corrected; it's also a reminder of modern baseball's blown-out scale, and of the pitfalls built into it. As more players accept one extreme as the cost of another, a game long romanticized for its slow and subtle action has become, in large part, one of high panic and big payoffs—a kind of nightly crapshoot.
Tuesday evening, New York will start a series with the Boston Red Sox. It's a matchup not only of traditional rivals but also of momentary opposites, with Boston sitting at an MLB-best 8–1 despite having hit only seven home runs as a team. The focus of the baseball world will narrow on the series, as always, giving the Yankees and their fans the season's first semblance of real pressure. The law of averages might suggest New York's sluggers are due for a breakout; memories of recent games would tamp that hope. This uncertainty is a state the team's fans will have to get used to. They can be reasonably confident of a good season, but not of a good week.