The Promethean Puzzles of Westworld
The HBO show returns with multiple story threads to unravel and decipher.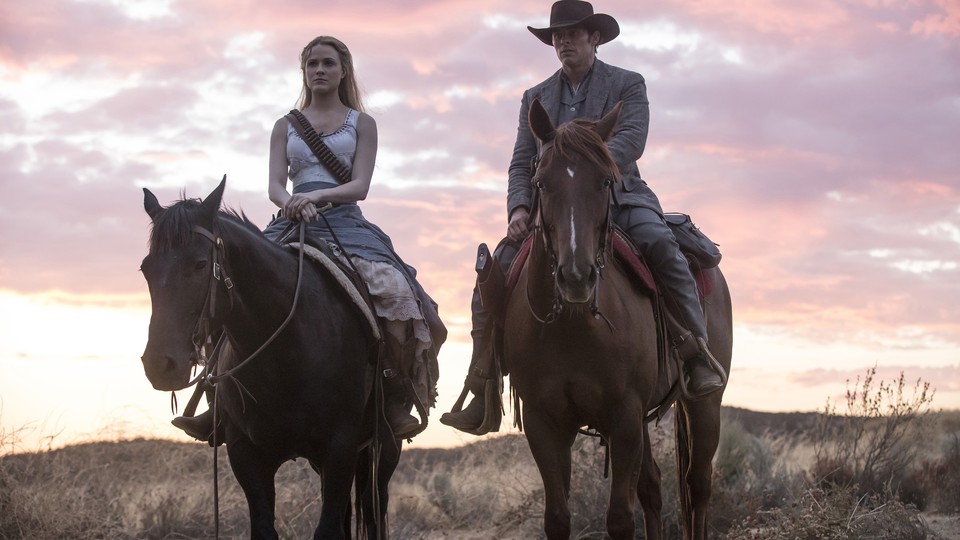 The first thing you might notice about Season 2 of Westworld is that the opening credits have changed. During the first season of the HBO drama about an adult theme park staffed by humanoid "hosts," the introductory title sequence featured a variety of images showing robots being sculpted into life by machines: sinews being painstakingly stretched over bone, skeletal hands playing a piano, a bone-white "couple" who appeared to be making love. In the very first shot a "sun" appears to rise over a mass of muscle and tissue, hinting that the frontier of Westworld isn't the Old West but the new technology within the hosts. In the second season, though, the image of the lovers has been replaced by a mother cradling an infant. And the homage to Leonardo da Vinci's Vitruvian Man that closes out the credits now features a body that's distinctly female.
What does this mean? Well, Westworld is a puzzle, and so self-aware about that fact that the rollout for Season 2 featured an elaborate tease for the show's Redditor-detective fan base involving Rickrolling and 21 minutes of a dog sitting at a piano. You could interpret the new elements in the credits as a nod to any number of threads Season 2 begins to unravel. Maeve (Thandie Newton), the host and former brothel-keeper, is on a mission to find the daughter who was written into one of her many "storylines." Dolores (Evan Rachel Wood) is newly sentient, and leading a violent uprising against the architects of her 30-year abuse at the hands of Westworld's more sadistic visitors. You could also read the image of a mother and child as a metaphor for the questions of creation that Westworld unpacks—the Promethean arrogance and folly of giving life to something without considering the consequences.
And that's the main drag of Season 2, although hardcore fans might argue it's an asset: There's really a lot going on. Season 1 introduced Westworld, a futuristic, exorbitantly expensive theme park set in the Old West whose humanoid hosts catered to its guests' every whim, even—or especially—when those desires included rape, torture, and murder. Hosts had their memories reset and their wounds patched up by Westworld's fleet of human technicians, allowing them to relive their ordeals anew the following day (like Prometheus, whose liver grew back each night only to be picked out again daily by an eagle). The pattern was disrupted when Westworld's co-creator, Robert Ford (Anthony Hopkins), updated the hosts' programming to enable their consciousness of what they were and what was happening to them. In the finale, encouraged by Ford (whom Dolores shot dead in an expression of her autonomy), the hosts took over Westworld in a gory coup.
Without spoiling any of the new developments, the second season continues and expands the narratives in play. There's the reality of the uprising playing out and the hosts running the show, which brings to mind the lessons from history that bloody revolutions rarely end well. (A frequently repeated rubric in the show, which seems to incite rebellion among the hosts, is a Romeo and Juliet quote, "These violent delights have violent ends.") There's the overarching question of what it means to be human—to have the capacity for self-awareness and love, but also for cruelty and barbarism. There's the contemporary resonance that comes when Dolores (whom Wood has cited as enabling her own real-life recovery from profound trauma) describes the host insurgence as a "reckoning."
There's also the fact that Westworld has always winked that it's a story about making stories. Westworld the park employs writers to create and script the loops various hosts play out, which you could (charitably) deduce is why the dialogue sometimes seems so flat. A welcome note of comic relief in Season 2 comes from Lee Sizemore (Simon Quarterman), Westworld's narrative director, who finds himself trapped in scenarios that he devised. ("You try writing 300 stories in three weeks," he grumbles at one point when his originality is questioned.)
The meta-ness doesn't stop there. Season 1 of Westworld critiqued the way purveyors of entertainment stoke baser human desires for graphic sex and violence … while serving up graphic sex and violence within the framework of a popular television show. Season 2 does the same with cultural stereotypes, via the Ghost Nation tribe that terrorizes Westworld, and with a new theme park owned by the same company. Is Shogun World (one of six parks operated by Delos) making a broader point about the samurai and geisha clichés embedded in Western ideas of Japanese culture? Or is it simply trafficking in the same imagery?
In short, there's a lot to think about. Deciphering the show's puzzles can be thrilling, as fans who'd long suspected the Man in Black (Ed Harris) was an older version of innocent William (Jimmi Simpson) discovered. But Westworld's complexity can also feel like an orchestra in which every musician is playing different compositions simultaneously. You long for some harmony, or at least the opportunity to focus on one melody at a time. Jonathan Nolan and Lisa Joy, who created the series, seem to have a masterful control over where their narrative is going, which makes it easier to trust that the multiple arcs will eventually align. The question of what to make of it all is less conclusive.
Still, Season 2 of Westworld is always absorbing, and more dynamic in its pacing than Season 1. It's also graced with some tremendous performers, notably Wood, Newton, and Jeffrey Wright doing double duty as Bernard (a robot in the present moment) and Arnold (Westworld's co-founder, seen in flashbacks). Bernard, who only recently discovered that he wasn't human, is the closest thing viewers get to a guide through Westworld's thorny terrain. He's more than a host, more than a mortal. And, for the first half of the new season, at least, he seems completely perplexed as to what's going on. "How did all these disparate threads come together to create this nightmare?" a character asks Bernard in one episode. Here's hoping everyone gets to find out.