The Rider Is the Best Film of 2018 So Far
Chloé Zhao's second movie is an astonishingly confident portrayal of life among rodeo cowboys in South Dakota's Sioux community.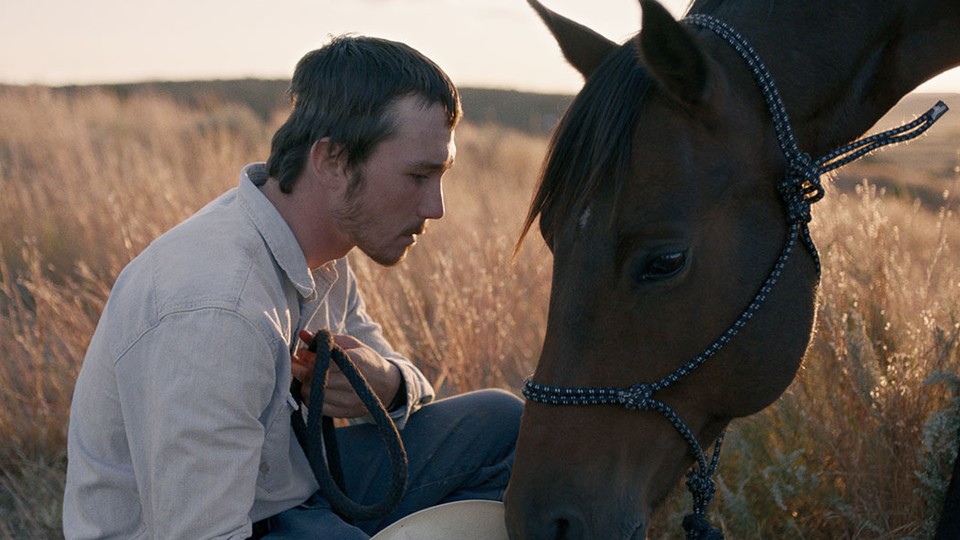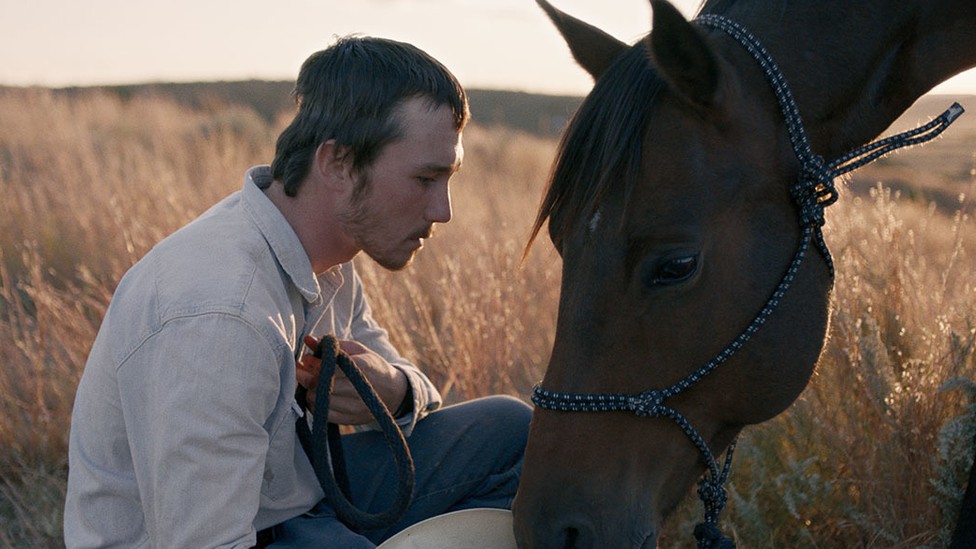 Brady Blackburn (Brady Jandreau), the protagonist of The Rider, was a rodeo cowboy until a few months ago, when he fell off a bucking horse and suffered a traumatic head injury. With a metal plate in his head and doctor's orders never to return to the saddle, Brady mostly finds himself wandering around South Dakota's Pine Ridge Reservation (where he lives with his father and sister) with little to do. In the cruelest irony, the brain damage has given rise to a strange symptom: One of Brady's hands sometimes locks into a clenched fist, physically unable to let go of whatever he's holding onto.
It's the one metaphor The Rider's writer and director, Chloé Zhao, allows herself in her second movie, which debuted at last year's Cannes Film Festival before getting a surprise slew of nominations at this year's Film Independent Spirit Awards, prior to its stateside release. That critical attention isn't misplaced. The Rider is a powerful, confident work that blends fact and fiction to create an authentic portrait of life in South Dakota's Sioux community. At the tale's center is a man struggling to put aside the one thing that gave his life meaning, even though he knows it could kill him if he doesn't.
Zhao, a Chinese director who studied filmmaking in U.S., also set her first work in the Pine Ridge Reservation: Titled Songs My Brothers Taught Me, the movie focused on the bond between a Lakota Sioux girl and her older brother, and the bleak conditions of their life. The film never felt sensationalistic, even if it was miserably one-note at times. But while making that movie, Zhao met the Jandreau family at the center of The Rider and worked with them to re-create the real-life story of Brady's injury and recovery process. (The performers all play fictionalized versions of themselves, but with a different surname.)
Though none of the central cast has acted professionally before, The Rider doesn't come off as amateurish. Brady Jandreau's performance as Brady Blackburn is astonishingly restrained and mature. As his hard-bitten father, Wayne, and autistic sister, Lilly, Tim and Lilly Jandreau are similarly impressive—to the extent that I spent the whole movie wondering if I had seen the actor playing Wayne in another film. (I didn't know, going in, that The Rider was a quasi-documentary—Zhao says the narrative is about 50 percent real, 50 percent exaggerated).
Thankfully, The Rider doesn't engage in the kind of elegiac allegories that stories about men and horses are so often guilty of. The animals Brady works with and trains are real creatures to him; they're not symbols of innocence lost or a bygone way of life, and the film's verisimilitude depends on that literalness. Brady's world of South Dakota's American Indian cowboys might be unfamiliar to many viewers, as might his attachment to the extremely dangerous rodeo life. But The Rider nonetheless feels broadly accessible as a story of a man losing something he really loves.
The first 30 minutes or so of the movie settles the viewer into the particulars of Brady's life. His friends are all cowboys wondering when he'll get back on the saddle; his family lives a shoestring life on the reservation (his dad drinks a little too much, his sister has developmental issues, and his mother, it's implied, died of a rodeo-related accident long ago). But just as I worried that Zhao was again leaning into the unceasingly grim tone of her last film, Brady takes an odd job training a wild horse that a neighbor recently purchased.
There's a remarkable training sequence that follows, one which Zhao allows to play out near-wordlessly, aside from Brady giving simple commands and trying to coax the horse into accepting him on its back. In that moment, the audience witnesses how strong Brady's connection to horses is, how skilled he is at bonding with them, and just how deeply he must feel his inability to ride. The naturalism of the scene, too, is incredible; the animal seems genuinely hostile before eventually calming down, through whatever feats of movie magic.
The rest of the film revolves around Brady slowly coming to terms with his new life, and fighting with his father over how involved he can still be in the rodeo world. Brady tries training animals, and coaching other riders, even knowing the immense risks of getting another head injury. He also takes a dull shelf-stocking gig at a supermarket, where (in one melancholy scene) he's recognized by two young rodeo fans who ask, with a hint of worry in their voice, if this is his new full-time job. The tension between Brady's old life and his new one guides the whole movie; there's understandable anxiety anytime he's near a horse, even though the audience knows it's the only time he's happy.
The Rider is the best film I've seen so far in 2018 (with the caveat that there are many months to go, of course). It also feels like the announcement of a major artistic talent in Zhao. She blends narrative with documentary seamlessly, giving the audience a glimpse into a way of life rarely seen on the big screen, without exaggerating its difficulties. She strikes another key balance, too: between conveying the dangers of Brady's risk-taking, and capturing the freedom he feels whenever he's in the saddle. Zhao clearly understands that universal conflict between desire and reality, and with The Rider, she's dramatized it beautifully.