The Inheritance and the Ambitions of Queer Art
A new, two-part play in London affirms the importance of connecting with the cultural past.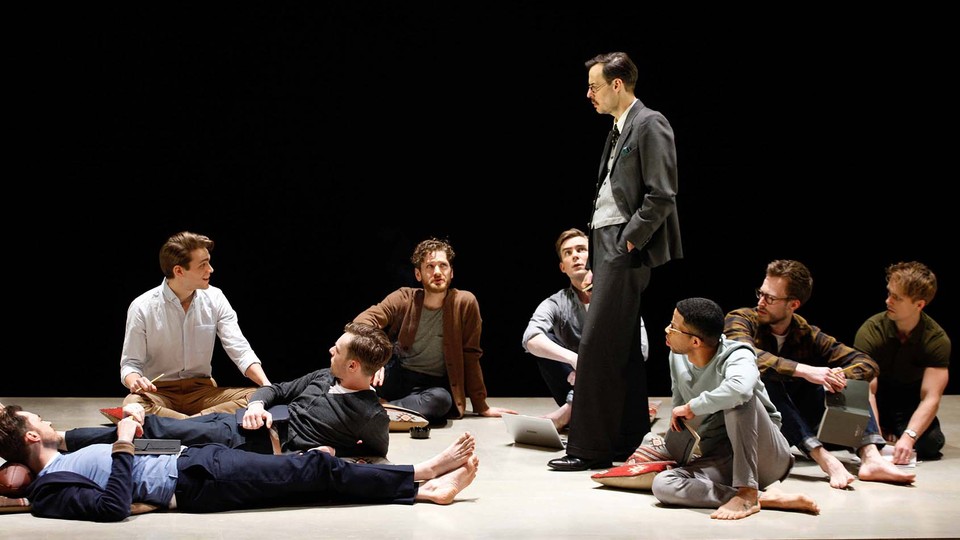 The Inheritance opens with a narrative device that could be unbearable if it weren't so charmingly done. A writer (Samuel H. Levine) has a story to tell, and for assistance he channels the spirit of his idol, the English novelist E.M. Forster. The unnamed writer explains that he wants to capture the world that he and his friends occupy as a group of gay men in contemporary New York. But he's struggling with how to transform their experiences into drama. "Friendship? Love? Loss?" Forster (Paul Hilton) replies. "Sounds like you're off to a very good start … Your lives may be different but the feelings are the same."
The fictional Forster is right, and wrong. The Inheritance, a new, two-part, nearly seven-hour play by Matthew Lopez that premiered at London's Young Vic theater in March, is a ferociously ambitious undertaking. It's a surprisingly efficient adaptation of Forster's 1910 classic Howards End, transposed into a modern Manhattan setting. But it's also a work that places itself, somewhat self-consciously, into the pantheon of great works of queer art that have emerged in the last few decades, even though the stakes of its story are drastically different. Rather than exploring questions of life or death, The Inheritance is an epic about cultural heritage. "If we can't have a conversation about our past, then what will be our future?" one character asks. "Who are we? And who will we become?"
It's a play that emulates both Howards End and works like Tony Kushner's 1991 masterpiece Angels in America, but it functions better in one mode than in the other. With Howards End, Forster was examining class wars in different echelons of middle-tier English society—the conflict between the bourgeois Schlegel sisters, the capitalist Wilcoxes, and the impoverished but aspirational Basts. The critic Lionel Trilling argued that the book is about who will inherit England: intellectuals, workers, or businessmen. Lopez takes this question and retools it. Like Forster, he zooms in on a particular stratum and examines the social, economic, and cultural forces in play. And he uses Forster as a character outside of the action to weigh in on proceedings, which enables the play's ongoing self-diagnosis about what art, particularly queer art, is supposed to provoke. Protest or self-discovery? Liberation or duty? Looking forward, or back?
The Inheritance reinvents the Schlegel sisters as a couple, Eric Glass (Kyle Soller) and Toby Darling (Andrew Burnap). In keeping with Howards End's fixation with real estate, they live in a rent-controlled apartment near Central Park inherited from Eric's grandmother, which they're soon to be evicted from. Toby is a writer whose gauzy roman à clef is being adapted into a play; Eric works for a nonprofit. When Toby leaves New York for work, Eric grows closer to Walter (also played by Paul Hilton), one half of an older couple in Eric and Toby's circle of friends. Over dinner one night, Walter tells Eric about living through the AIDS crisis in New York and nursing his friends as they died, one after another.
In the first, three-and-a-half hour installment of the play, the inheritance that Lopez is examining is mostly cultural. As Eric and his friends move through their lives and witness the 2016 election (among other recent milestones in history), they ponder the question of how their generation fits into gay history. "What does it mean to be a gay man now?" one character asks. "Not just who we love and who we fuck." The group throws out "broadly applicable cultural markers" that define them, like Grindr and brunch. As much as his characters are, Lopez seems to be struggling with the fact that the revolution is mostly over, at least in the U.S. Works like Angels in America and Larry Kramer's The Normal Heart had the AIDS crisis to rail against. The Inheritance exists in a world with marriage equality and PrEP, and Lopez seems anxious that people will forget what so much progress cost.
But the play's lowered narrative stakes are also a symptom of the fact that the world it features is a privileged one. The primary characters in the play are all white, and every character (with the exception of one in the second act, played fleetingly by Vanessa Redgrave) is male. Eric and his friends acknowledge the areas where work still has to be done—trans rights, addiction, the resurgence of HIV among gay men of color—but they aren't the focus of The Inheritance. In a recent story for BuzzFeed, the writer Steven Thrasher noted that while Angels in America (currently playing in a critically acclaimed revival on Broadway) is still the most celebrated story told about the AIDS crisis in the U.S., its characters don't reflect the reality of what the disease looks like. The Inheritance, which premiered more than a quarter-century later, still frames the anxieties of gay men in America as felt by white men in New York.
Still, in its first half The Inheritance is stellar—funny, fast-paced, and intensely moving. The Young Vic production is directed by Stephen Daldry (Billy Elliot, The Crown), who utilizes minimal production elements to enable the leaps in time between Forster's world and the reality of Eric and Toby. Playing both Forster and the ailing Walter, Hilton gives an astonishing performance, including a monologue about enduring the 1980s that seems to last upward of 15 minutes and is riveting throughout. Also doing double duty is Levine, playing Adam, a cocky young actor, and Leo, a sex worker who occupies the role Leonard Bast plays in Howards End. As Toby grows closer to Leo, Eric forms a relationship with Henry (John Benjamin Hickey), Walter's grieving husband, who's also a billionaire who voted for Trump.
What's surprising is how neatly the story of Howards End fits into the story of Eric, Toby, Henry, and Leo. The conflicts of the novel (liberalism versus capitalism, art versus money) continue to rage, and Lopez's characters occupy a world that seems to be as rapidly evolving as Forster's was. Forster, a closeted gay man, marvels at the modern experiences he witnesses within the play. "You have allowed me to see what I could not have lived," he says. "I think your lives are beautiful. And I know at what cost they have come." It's a profound moment of communion between the past and present that's echoed in the conclusion of the first half of the play, as Eric gets some sense of the volume of gay men who lost their lives in the 1980s and 1990s.
It's in the second half that the play goes awry. Lopez shifts tone, becoming almost painfully earnest, and peppering the script with heavy, preachy pronouncements about the responsibilities gay men owe each other. The conclusion is drawn out even further by a scene that seems to have been written for Redgrave, playing the housekeeper at Walter's beloved home upstate. The actress originally played the role of Ruth Wilcox in the 1992 film of Howards End, and while her casting is a neat moment of synergy between Lopez's play and his source material, the extended interlude serves no narrative purpose and drags toward its end.
It's also in the second half that the title's secondary reference becomes clear. The Inheritance refers to a cultural heritage passed down from generation to generation of gay men, but it also refers to a literal inheritance—the disease one character describes as "a chain of infection that had been passed down over the years." Lopez is explicit about his debt to Forster and Howards End, but he avoids referencing the works of culture that have shaped gay identity since then, many of which grapple with the AIDS era. The cultural and physical inheritances, though, are inextricably linked. Artists before Lopez faced a more urgent task—not just to define gay identity through art, but also to ensure it survived. The Inheritance, rooted in a work published more than a century ago, sometimes feels like it's only telling half the story.