Revisiting One of King's Final and Most Haunting Sermons
Delivered two months before he died, "The Drum Major Instinct" saw the preacher give his own eulogy.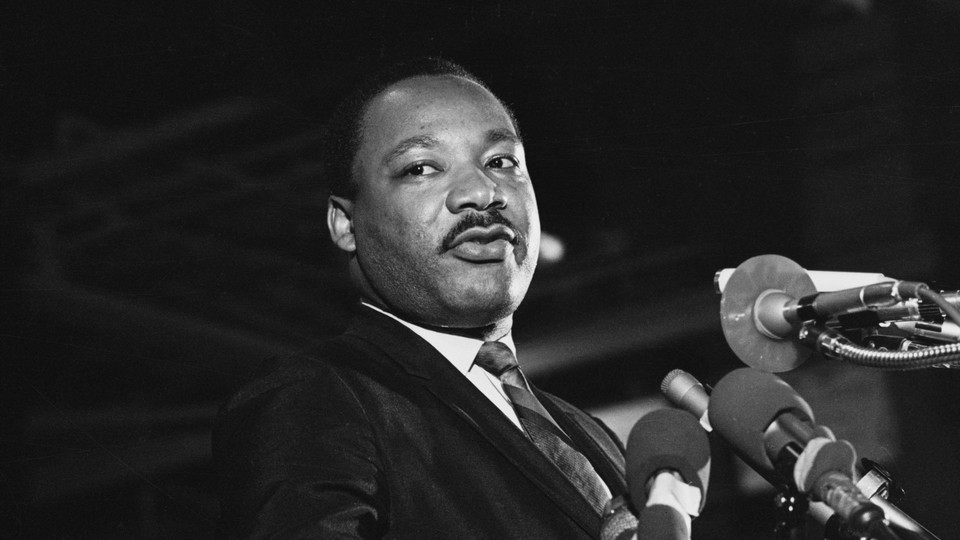 "The Drum Major Instinct" is one of Martin Luther King Jr.'s finest sermons and perhaps his most haunting. He delivered it exactly two months before his assassination, on February 4, 1968, at Atlanta's Ebenezer Baptist Church, where he served as co-pastor with his father. In both substance and style, the sermon is vintage late King: He fiercely articulates the imperatives of faith and citizenship with the voice of a preacher who had mastered his art.
Still, what distinguishes "The Drum Major Instinct" is that King concludes this homily by rehearsing his death, effectively spelling out the kind of eulogy he wanted delivered at his funeral. It's spellbinding to listen to, especially when King reaches the climax and begins to reckon with his imminent mortality, his voice heightened with the kind of emotion rarely heard in his other recorded speeches.
The sermon wasn't one of King's iconic addresses, nor was it delivered on a grand stage; rather, it was part of a Sabbath service given in his home church. In the sermon, King is a minister teaching and communing with his flock. Listening to the recording of "The Drum Major Instinct," in fact, we can hear a key feature of the black church: the call and response between preacher and congregation, with the latter's cries of "Amen," "Yes," "Preach it," and "Make it plain" adding resonance to King's words.
That Sunday, King preached on the virtues of service and the false ideals of greatness, adapting his sermon from a 1949 homily, "Drum Major Instincts," by James Wallace Hamilton, a prominent white liberal Methodist minister. Like Hamilton, King draws his text from a passage in the Gospel of Mark detailing an exchange between Jesus and the apostles John and James. The two brothers ask to sit next to Jesus in heaven; Jesus tells them the favor isn't his to grant, but theirs to earn by committing their lives to serving others. The apostles' request is motivated by a need to stand out, to be the exception. It's this basic human impulse for recognition that Hamilton and King refer to as a drum-major instinct. Both caution that this drive can be abused for self-serving purposes and pernicious ends. But, if nurtured, it can be a powerful resource for good and for achieving greatness.
---
While the central idea is borrowed, King's sermon is ultimately his own. "The Drum Major Instinct" is a work that must be heard, and not simply read, for clearly audible is King's power to align the sound and substance of his words. At the outset, when King is introducing the lesson, his voice is measured, his cadence controlled. But soon come the flashes of exclamation, as King stresses a word or a phrase with a quiver, a shout, or a roar. His cries come in shorter intervals as he goes on, becoming more pronounced with each social peril he warns against. And for much of the sermon, King shifts between a composed voice (laced with a tart irony) and a variation of whooping (brimming with righteous discontent). This seesaw of tones and emotions continues until the minister, eventually, reaches his self-eulogy.
Thematically, "The Drum Major Instinct" features King's signature blend of radical faith and politics. For the first two-thirds of the 40-minute homily, King illustrates his religious lesson with social messages that are as urgent today as they were in 1968. He counsels his congregation not to be "taken by advertisers" who insist material goods can lead to self-worth. He warns against the "snobbish exclusivism" that can lead churches to care more about their social standing than their mission to be a sanctuary for all.
America's "tragic race prejudice," King adds, is another example of the "perverted use of the drum-major instinct," leading white people to falsely believe in their own supremacy, and blinding the white poor from seeing that their fate is directly linked to that of black Americans. King is even more scathing when he describes the American quest for global supremacy as another perversion of greatness. "God didn't call America to engage in a senseless, unjust war as the war in Vietnam," he says. "We've committed more war crimes almost than any nation in the world, and I'm going to continue to say it."
In short, greatness cannot be won by might, nor by virtue of belonging to a privileged group. But, King preaches, if his audience can harness the drum-major instinct and put it to use in the service of justice, they can strive toward the kind of greatness Jesus embodied. And to serve, King exhorts, requires no entitlements or credentials but "a heart full of grace" and "a soul generated by love." This path to distinction and recognition, he suggests, is available to all.
* * *
The conclusion of "The Drum Major Instinct" is masterfully wrought, as King captures the urgency of his moral-political message by anticipating his own end. "Every now and then I think about my own death and I think about my own funeral," he says. "And I don't think of it in a morbid sense. And every now and then I ask myself, 'What is it that I would want said?'" Speaking in a posthumous voice, as if calling out from the dominion of the dead, he instructs his congregation to keep the funeral short. He asks that whoever eulogizes him be brief, skipping over his resume of countless awards and degrees and instead focusing on how he died pursuing justice. With unfettered emotion, King says:
I'd like somebody to mention that day that Martin Luther King Jr. tried to give his life serving others. (Yes) I'd like for somebody to say that day that Martin Luther King Jr. tried to love somebody. I want you to say that day that I tried to be right on the war question. (Amen) I want you to be able to say that day that I did try to feed the hungry. (Yes) And I want you to be able to say that day that I did try in my life to clothe those who were naked. (Yes) I want you to say on that day that I did try in my life to visit those who were in prison. (Lord) I want you to say that I tried to love and serve humanity. (Yes)
Charged with passion and pathos, these lines are perhaps the sermon's most stirring. A first-rate orator, King uses repetition not only to itemize the things he had done to earn his death (and to embody the very lesson he'd preached), but also to stress key phrases like "I did try" and "say that day." King takes the sermon to its emotional peak and ultimately concludes with a grief-driven recapitulation of the homily's ideas:
Yes, if you want to say that I was a drum major, say that I was a drum major for justice. (Amen) Say that I was a drum major for peace. (Yes) I was a drum major for righteousness … Yes, Jesus, I want to be on your right or your left side, (Yes) not for any selfish reason. I want to be on your right or your left side, not in terms of some political kingdom or ambition. But I just want to be there in love and in justice and in truth and in commitment to others, so that we can make of this old world a new world.
On April 9, 1968, the day of King's funeral, Coretta Scott King, his widow and comrade, requested that the elegiac ending of "The Drum Major Instinct" be played as part of the memorial service. This, too, is spellbinding to watch. How uncanny that only two months after King stood to deliver this sermon on the same dais he would be lying in a coffin; and that the same words would be spoken again in the same church to eulogize him. Yet, King's murder wasn't unexpected, as "The Drum Major Instinct" attests. During the short interval of his public life, from 1954 to 1968, death had become King's close companion—his house had been bombed, he had been stabbed, and he had faced a legion of white vigilantes and sheriffs.
In the last year of his life, King had turned to his ministry to voice what it felt like to live under the pall of death. In a sermon he gave in Chicago in August 1967, for instance, King confided, "Living every day under the threat of death, I feel discouraged sometimes." And, as it's well-known, the night before his assassination in Memphis he ended his last sermon, "I've Been to the Mountaintop," with a fairly elaborate discussion of mortality.
King's late sermons also express the feelings of a larger black collective contending with similar forces of loss, and connect with a long tradition of African American elegizing. Given the systematic killing of black people across U.S. history, mourners have had to invent ways of grieving not only the dead but also the living, for whom the possibility of sudden and arbitrary death is all too real. The prospect of dying is such a persistent theme in African American culture—from spirituals to hip-hop music, slave narratives to contemporary literature—that it reveals how much loss animates both black life and art.
If we take black music alone, songs like "Feel Like My Time Ain't Long," "I'm Traveling to the Grave," and "When I'm Dead" are among a cluster of spirituals that conjure up imminent death and what Frederick Douglass called "the death-dealing character of slavery." Robert Johnson's blues classic "Hellhound on My Trail" is a song also about the threat of lynching. Songs that foresee death abound in hip hop—"Only Fear of Death" and "Death Around the Corner" being two powerful examples just from Tupac Shakur's repertoire. Indeed, it's easy to glean from the canon of black culture, to borrow from the poet Claudia Rankine's essay, "the condition of black life is one of mourning"—mourning born out of both a death-riddled past and a precarious future.
Though King's influence is readily visible throughout American culture 50 years after his assassination, it's still all too common to see his words divorced from his life and what he stood for. Those who watched the Super Bowl this year may recall a Ram Trucks TV spot, which featured an excerpt of "The Drum Major Instinct," and which ran exactly five decades after he gave the homily. There was an immediate backlash, and rightly so: No King sermon is fit for a commercial, but especially not this homily, which explicitly confronts the dangers of capitalism and calls out advertisers by name. The spot was little more than a crass ploy to use a work of mourning, and a militant call for radically transforming America, to sell automobiles.
The 50th anniversary of King's death offers an occasion for a deeper consideration of his words, indeed as one way to stymie such vacuous appropriations of his ideas. If anything, "The Drum Major Instinct" reminds Americans of, and emboldens them to change, the fact that they live in a country and a world still rife with the "three evils" of classism, racism, and militarism. Today, King's sermon is a pitch-perfect counterpoint to the ugly cacophony of the present political culture. Exquisite and fierce, "The Drum Major Instinct" should move all of us who encounter it—and move not only our senses, but also our resolve to achieve a more just world.