How the Pulitzers Chose Kendrick Lamar, According to a Juror
Jazz violinist Regina Carter explains how the jury considered the first rap, and pop, album to win the prestigious honor.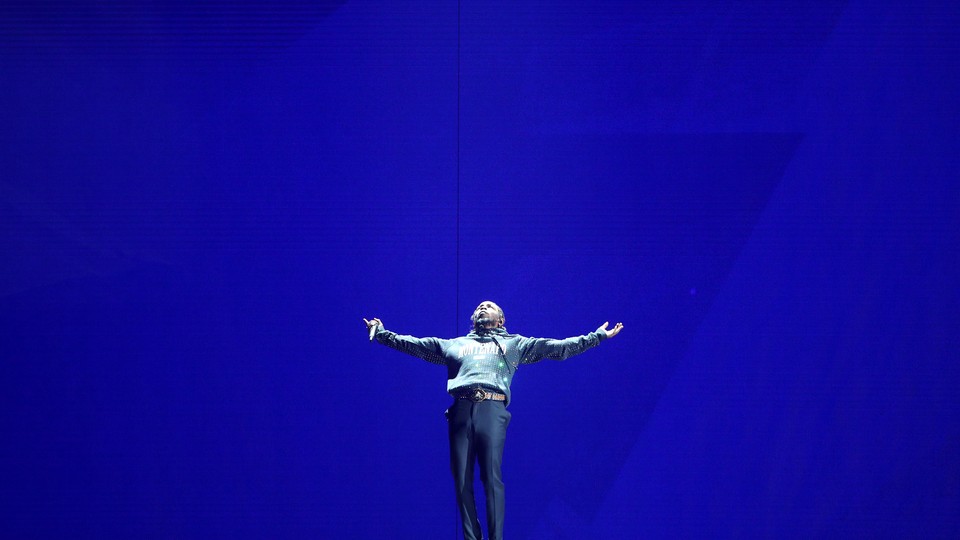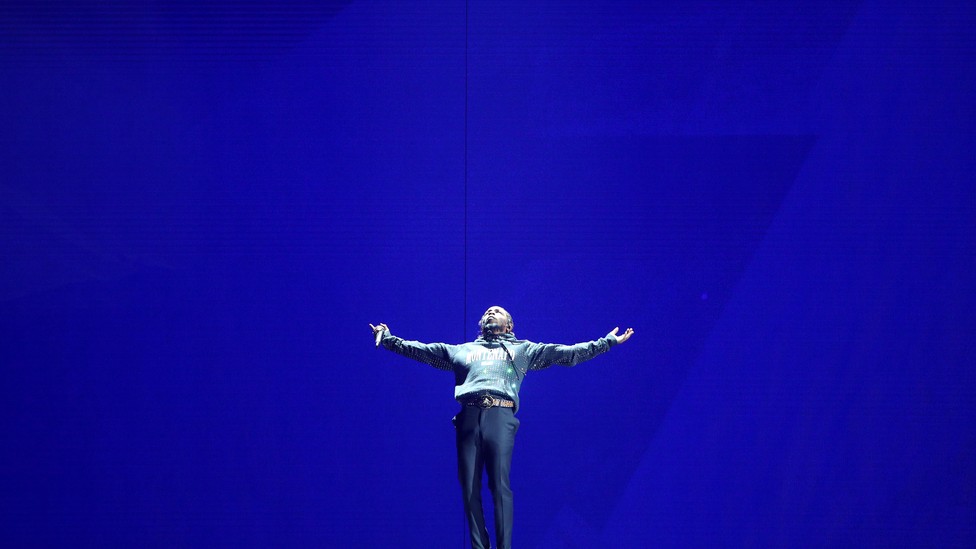 When violinist Regina Carter heard that Kendrick Lamar had won the Pulitzer Prize for Music, she was taken aback. "I was actually a bit shocked!" she says.
Her reaction wasn't unique—the award for Lamar's Damn is the most discussed prize in the category in years—but she at least had some warning: Carter served on the jury that selected the finalists for the Pulitzer. Still, after she and her peers sent the finalists on to the final jury, she didn't learn who the winner was until Monday, along with everyone else.
As Spencer Kornhaber wrote, the decision to give the award to Lamar raises a host of provocative questions. Less provocative, but fascinating, is how the jury came to its choice. Carter was one member of the panel, along with music critic David Hajdu; Paul Cremo of the Metropolitan Opera; Farah Jasmine Griffin, a professor of English and African American studies at Columbia University; and composer David Lang. Carter, a distinguished and fiery violinist, represents the jazz world, though she has a foot in classical, as well: In 2001, she was chosen for the rare honor of playing Paganini's violin. Carter also won a MacArthur "Genius" grant in 2006.
Jazz, though sometimes called America's classical music, was snubbed by the Pulitzers for years, including a notorious decision by the board to decline a special citation for Duke Ellington in 1965. In 1997, trumpeter and composer Wynton Marsalis won for his work Blood on the Fields, and since then two other jazz musicians, avant-garde saxophonists Ornette Coleman and Henry Threadgill, have won. Carter was also on the jury in 2016, when Threadgill won. Given how long it took the Pulitzers to recognize jazz, I was eager to hear Carter's thoughts on the importance of recognizing hip-hop, as well as how the jury approached Lamar's album. This interview has been condensed and edited for length.
---
David A. Graham: How does one become a member of a Pulitzer jury?
Regina Carter: I got an email invitation asking if I would want to serve. They explain the whole process. I was on two years ago. That was my first time. Then I got a call again for this past jury. But I don't know! It's not something you can apply for.
Graham: What is the process of judging?
Carter: We're listening and watching. Sometimes it's scores that we're looking at, sometimes listening, sometimes there's video to accompany. If it's an opera, we might have the libretto if there is one present to consider as well. We're there all day for three days. You kind of have to go through a "Does everyone agree on this? Does not everyone agree on this?" process, and if a majority of people don't agree on one, then that doesn't come back into the second round. The next one, maybe four out of the five people, that stays in. You're narrowing down the works. And then you just have to start talking about why you think a piece is strong, what about the piece. You listen together. Sometimes just hearing someone else's perspective of what to listen to or what they heard or sometimes reading the libretto or sometimes just taking a fresh listen to it, you hear something else that maybe you didn't hear before, and sometimes not.
Graham: I assume you heard Damn before judging. Were you familiar with it?
Carter: I heard it. It's not something I'm playing always in my home. I am probably more familiar with Kendrick Lamar from To Pimp a Butterfly. I remember walking in—and here I am, an older person, it's not really my genre of music. But I walked in and I think it was a video or something on TV and my husband was checking it out. I was like, "Oh, who's this?" He's like, "Kendrick Lamar, check it out, he's pretty prolific." I just sat down and it was like wow. I just felt like what he had to say and how he would say it, you had to really sit down and think about it and what does it mean for me? It might mean something completely different for someone else that's listening to it. I felt like it was his experience as a black man in America—and a lot of peoples' story, not just his story—and just trying to figure stuff out. It's so poetic. I felt like if you took his lyrics and put them in a book, it would be great literature.
Graham: David Hajdu said the jurors talked about hip-hop-influenced work, and then moved toward simply choosing a hip-hop piece. Was that how you recall it?
Carter: I guess so. It was just this piece, this project was there for us to listen to. For some of us it was the first time hearing it. I love the fact that everyone took the time if they weren't familiar with it, they took the time to really listen to it and then come back and talk about it. Sometimes you can get folks from certain genres that can be—it's kind of a high-brow attitude that hip-hop isn't music. But it's an American art form. It needed to be included. Once listening to this, everybody knew that this was a distinguished piece of work that should be included.
Graham: Do you get many submissions from rap or other popular genres?
Carter: This year I was surprised that there was more of a mixture. There were some kind of country and western–sounding pieces. Some pop pieces, pop-sounding pieces, some other black American music was submitted. I'm sure now in the future more people will submit. There was more than there had been two years ago, and definitely if you think about 1997 was the first year that jazz was nominated, with Wynton's piece Blood on the Fields. Before that it was pretty much European classical.
Graham: Was the infamous 1965 snub of Duke Ellington on your mind in choosing Lamar?
Carter: I wasn't necessarily thinking of that. It's probably more so on my mind now because of what's going on in this country politically and just the ugliness of people—the intolerances that people have of each other and of each other's cultures and music. It wasn't a decision of, Oh, let's just give this to a hip-hop artist, or to Kendrick Lamar, because of that. The piece stands alone. I think it's a brilliant, brilliant work. I think he's brilliant. Knowing that we were considering this, I felt really proud of us, the jurors, being able to realize that there's other great American music and great American art forms besides what we've always been told is great.
Graham: With a rap record, you have various people involved—the MC, but also producers, beat makers, and so on. Did that factor into the calculation?
Carter: For me it wasn't. Although it takes all those people, I was looking at Kendrick Lamar as the one who's delivering. He's kind of the librettist, if you will, of this. I was looking at it as a whole piece.
Graham: One concern I've heard since the award, including from people who loved the decision, is that the Pulitzer helps to bring attention to classical and jazz works that would not otherwise be commercially successful. That's obviously not a problem for Kendrick. Is there a danger that classical and jazz will lose an important forum?
Carter: I can see why they might think that, but I'm sure the people who were on the Pulitzers prior to Wynton's win in 1997, the classical musicians when that was awarded thought the same thing. You don't have the same jury every time. I don't think there's a need to worry. Thinking of people whose work may not have been known, everyone knew who Wynton Marsalis was in 1997. I'm sure everyone's not even familiar with who Kendrick Lamar is. You might have heard his name floating on around on TV, but that doesn't mean you know who he is.
Graham: Or that you've listened to him seriously.
Carter: Right. So I don't think that's an issue. Just the fact that this record was nominated, it was granted a Pulitzer—it says that this is a part of the American art form. Not that hip-hop needs that, but just because some people may look down on it. I remember how when I studied European classical music and then I switched to jazz, my teacher looked down, and said, "Oh, that's not real music." When you have that attitude toward a specific art form, you have that attitude toward the culture from which that comes. That's why winning a Pulitzer is saying, you know, take a minute and if you can open yourself up to try and listen to this. You might not like it. You don't have to like it. But you can't even make that decision if you've not respected it enough to listen to it.
Graham: Did you expect the outpouring of attention this has received?
Carter: I found out when we all found out, watching it. I was actually a bit shocked! But happy. We submit works, and then they pick from that. I wasn't sure how people were going to react. I thought there was going to be a lot of anger, or a lot of negativity, and I was quite happy to see that there was more positive reaction.