Josh Rosen and the NFL's 'Ideal' Quarterback
Pro football tends to prefer signal-callers who fit a certain mold. But a few draft prospects stand to push the league further outside its comfort zone.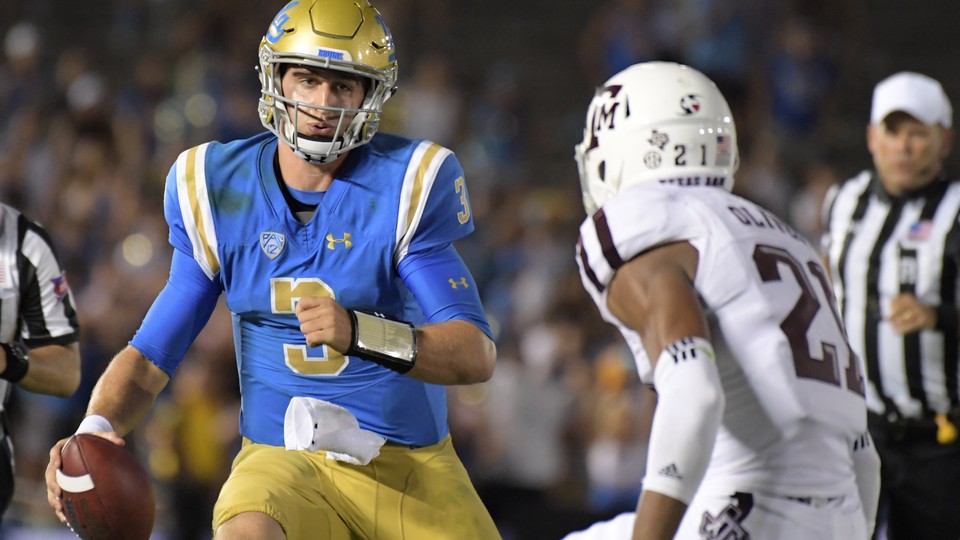 There may be nothing in sports at once so essential and elusive as a franchise quarterback. NFL teams spend years, sometimes decades, searching for their own Peyton Manning or Aaron Rodgers: a signal-caller with the physical attributes to make pinpoint throws and the mental abilities to master a playbook and thrive under pressure, plus the ineffable "it factor" that helps rally teammates behind them. Often in that search, whether leading up to the draft or in free agency, decision-makers seem to have a distinct (and familiar) archetype in mind: tall, handsome, hard-working, easy to like, with a strong arm but also a natural charisma and knack for leadership. And when a talented quarterback comes along who doesn't quite conform to that mold? Well, things tend to get complicated.
Few classes of quarterback prospects ever have threatened the NFL's orthodoxy more than the one that'll take the stage at the league's draft on April 26. In addition to statuesque, leader-of-men pocket-passers Sam Darnold and Josh Allen, there's the Heisman Trophy–winning Baker Mayfield, who put up gaudy college stats but has been dogged by concerns about his height, his brashness, and his leadership. There's Lamar Jackson, another Heisman winner who has faced questions about whether he should even stick at quarterback given his tendency to leave the pocket and run more than NFL teams prefer. And there's Josh Rosen, a player with all the tools to be a successful pro but knocks against him, including the idea that he's "too smart" for the NFL and the claim that "he might like humanitarian work more than football."
Mayfield, Jackson, and Rosen will all likely be selected in the first round next Thursday (with only Jackson having any real risk of slipping beyond that). But where exactly they are picked, especially relative to Darnold and Allen, will say a lot about how the modern NFL views players, and quarterbacks in particular, who deviate from the league's prototype.
The criticisms Rosen has faced tell a particularly interesting story. Despite impeccable mechanics, enviable stature, and impressive college statistics, the UCLA alum has fallen in some mock drafts due in part to off-field concerns that would sound strange in most other industries. Sports Illustrated's Peter King has reported that teams worry "football isn't that important to [Rosen] because he's a rich kid," that he's "a crappy leader," that "he's too smart for his own good," that the anti-Trump hat he once wore suggested an inclination toward politics, and that he "cares a lot about the planet." Some analysts have questioned whether he loves football as much as other prospects do, while others have dinged him for being "a Millennial."
To observers outside the NFL bubble, such criticism can seem awful silly. As Deadspin's Patrick Redford wrote last month, after listing the gripes about Rosen, "None of those personal characteristics have anything to do with whether Josh Rosen will be a good football player or not." And indeed, the specific criticisms of Rosen don't always withstand scrutiny. Plenty of previous great quarterbacks have come from relative wealth and possessed substantial intellect. Rosen's teammates speak highly of him. And as for political headwear? Consensus greatest-quarterback-ever Tom Brady made headlines in the fall of 2015 for the "Make America Great Again" hat he displayed in his locker—a fact that has caused Rosen's defenders to cry hypocrisy.
But the NFL has long been known to prefer conformity over individuality, as it has restricted touchdown celebrations, banned personalized cleats, and fined players for offenses such as wearing the wrong color of socks and running backward into the end zone. And the league's conservatism seems to become particularly pronounced where politics are involved. When dozens of players last fall demonstrated during the national anthem to protest police brutality and racial injustice, most owners suggested (or demanded) they stop, while pointedly declining to sign player-activists like Colin Kaepernick and Eric Reid. It's likely that teams see Rosen's anti-Trump hat (and other anti-Trump remarks) and brazen comments opposing NCAA amateurism and worry that he might, as the Fox Sports Radio host Colin Cowherd put it, "go political" during his pro career.
Jackson and Mayfield face different sets of criticisms than Rosen, but they buck the standard quarterback mold in their own ways. Mayfield is known for his fiery passion, which has led him to demonstratively "plant" an Oklahoma flag on Ohio State's field after a Sooners victory and profanely taunt Kansas players who provoked him—actions that strike some observers as unbecoming of a team leader. And although Jackson inspires no notable off-field concerns, he prompts the usual skepticism about quarterbacks who run, to the point that multiple teams reportedly asked him to work out as a wide receiver during the pre-draft process.
With teams apparently wary of Rosen's individuality, Mayfield's swagger and Jackson's unconventional skillset, most experts forecast Darnold and Allen as the first quarterbacks off the board next week. After all, both players are tall, strong, stationary, and noncontroversial—everything teams seek at the sport's most visible position. The fact that Darnold threw a troubling number of interceptions in a disappointing sophomore season last year and Allen struggled against lower-level competition in the Mountain West Conference seems almost beside the point.
Though we can't know which of these quarterbacks will truly pan out best, it's worth considering whether teams sometimes overvalue players who fit the common archetype. That would help explain why, to name a few examples, Blaine Gabbert was drafted five rounds ahead of Tyrod Taylor in 2011; Brandon Weeden went two rounds ahead of Russell Wilson in 2012; and human-skyscrapers Brock Osweiler and Mike Glennon received lucrative multi-year contracts (in 2016 and 2017, respectively) that they quickly failed to live up to. It can sometimes seem as if the league favors players who look the part and maybe talk the part, even if they can't necessarily play the part.
Teams' adherence to a strict mold for quarterback prospects has hurt them on the field in at least one way. Black quarterbacks have historically been uncommon in the NFL, in part because, as a 2017 Washington Post study found, league draft profiles are less likely to describe them as intelligent or capable of leading—creating the perception that white quarterbacks in the NFL are the norm and black ones are the exception. (Many observers have wondered whether some criticism of Jackson this draft season has been rooted in such bias.) Yet according to analysis published last year by The Guardian, black signal-callers perform better than their white counterparts relative to their draft position, suggesting the league systemically undervalues them. In other words, by conforming to an archetype (in this case a racist one), teams may be not only propagating damaging stereotypes, but also costing themselves valuable wins.
There is some reason to believe that the NFL's orthodoxy has become less rigid than it once was. Wilson and Drew Brees have shown that relatively undersized quarterbacks can thrive in the pros. The old debates over whether Colin Kaepernick's tattoos disqualified him from being a good leader look frivolous now that the heavily inked Deshaun Watson is recognized as a rising star. No one today pays much mind to Bill Parcells's rules for drafting quarterbacks, which prescribed selecting only players who had started three years in college and graduated with a degree. And whereas true dual-threat quarterbacks used to be exceedingly rare, they're now sprinkled across the league. Overall, the quarterback position appears more diverse than ever in terms of size, skillset, race, and temperament.
But ultimately, the picture of  an "ideal" quarterback is ingrained deeply in the NFL psyche. NFL teams have been picking apart quarterback prospects for decades, and front offices remain packed with traditionalists. Thus, every quarterback to pass through the draft is still compared against, and scrutinized over any deviation from, the typical mold. Rosen gets questioned for his individuality, Mayfield gets dinged for his irreverence, and Jackson get knocked for his freewheeling style. All while Darnold and Allen, more traditional prospects, earn the status and salary that come with being a top pick.
By virtue of entering the NFL at the same time, this year's class of quarterbacks will be judged against each other for years to come. And although one group alone won't end any debates over what makes a great pro signal-caller, Rosen, Mayfield, and Jackson have a chance to expand, just a bit, the league's conception of what a quarterback looks, talks, and acts like.