Let the Sunshine In Is a Very French Romantic Comedy
Claire Denis's new film, starring Juliette Binoche as a divorcée navigating love in Paris, is full of horror and swooning possibility.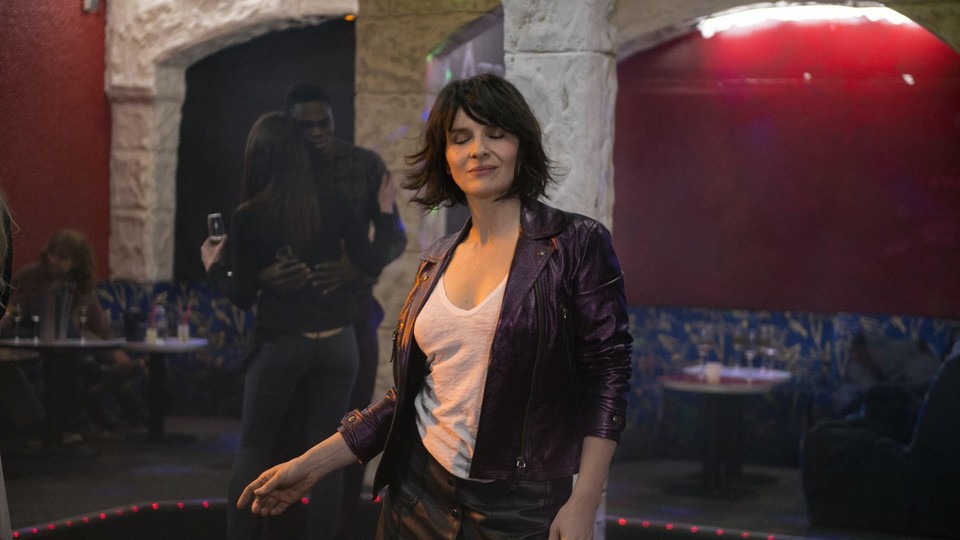 2018 in film has already seen its fair share of spine-tingling horror: Think of the blind alien beasts of A Quiet Place or the psychedelic, sinister "Shimmer" of Annihilation. But nothing in this delightfully varied year of cinema has terrified me quite as much as the French dating scene, at least as presented in Claire Denis's wonderful—sometimes joyous, and other times wrenching—comedy Let the Sunshine In. As a director, Denis has long been unafraid to point her camera at stark brutality, making movies about colonial atrocities, cannibalistic vampires, and civil wars. So I suppose it's no surprise that her take on a romantic comedy occasionally had me recoiling in my seat.
Let the Sunshine In isn't exactly as chilling as that sounds; it's just far more frank on the subjects of love, sex, and human connection than most films in the genre are. The story follows Isabelle (Juliette Binoche), a divorced woman seemingly having a mild mid-life crisis, as she navigates the joys, anxieties, and cruelties of dating with various flawed (if intermittently appealing) partners. The movie is lightly inspired by the romantic travails of Denis's co-writer Christine Angot, a controversial French novelist, but it also drew from Roland Barthes's 1977 work of philosophy A Lover's Discourse: Fragments. In short, Let the Sunshine In is a unique, spellbinding work, worthy of comparison to Denis's best films.
Isabelle is an artist living in Paris and sharing custody of her 10-year-old daughter with her ex-husband (also an artist). But for most of the film, she is alone—rattling around a cozy apartment and meeting her friends, and romantic interests, for dinner or drinks. Let the Sunshine In is mostly powered by conversation, but it hits hardest when people stop talking. That's true in the film's arresting opening scene where Isabelle has sex with Vincent (Xavier Beauvois), a portly middle-aged banker who aggressively focuses on trying to give her an orgasm, ignoring her quiet protestations that she already feels good.
Denis renders the encounter intimately while acknowledging the distance between the partners, keeping Binoche's face in the frame as much as possible. It's a depiction of uninspired lovemaking that doesn't fully tip into frightening or slapstick territory; there's comedy to be found here, sure, but also disappointment, angst, and a hope for something better. In the viewer's later encounters with Vincent, he comes off as a bit more monstrous (he's nasty and arrogant toward bartenders and waiters while on his dates with Isabelle). But Denis hinted at his hidden abrasiveness from the start.
In addition to Vincent, there are several other men in Isabelle's orbit. There's an unnamed actor (Nicolas Duvauchelle) struggling with alcoholism; though his emotional connection with Isabelle is immediate, he has profound struggles with intimacy. There's also a salt-of-the-earth fellow named Sylvain (Paul Blain) who woos Isabelle at a bar but depresses all of her friends with his supposed lack of intellect. There's the retiring Marc (Alex Descas), who's in Isabelle's friend-zone but sometimes seems like he'd make for a better husband. And then there's her actual ex-husband, Francois (Laurent Grevill), whose bond with Isabelle is undeniable but comes with a lot of lingering disputes.
Every dynamic has its own fraught issues and an enchanting sense of possibility. By digging into the bleaker side of things, Denis lends the movie a healthy groundedness, and Binoche's performance is so captivatingly human, it keeps the entire enterprise on track. Yes, Isabelle is sometimes sad, sometimes wracked with confusion and self-doubt, and often makes bad decisions. But she's always trying to seek out what is meaningful and true in the world.
One minute Isabelle's laughing and dancing (an extended set piece involving Etta James's "At Last" is a fantastic interlude); the next she's crying and bemoaning the death of her love life. Both states of mind feel equally believable. There's no typical sense of forward momentum to Let the Sunshine In, but the same could be said of everyday existence. Denis's foray into the often-goofy world of the rom-com is at once a cold bath of realism and a bewitching portrait of the power of love—however fleeting that feeling may be.