Lean on Pete: A Deeply Sad Tale of a Boy and His Horse
Though it's not an easy watch, Andrew Haigh's film is bolstered by wonderful performances from Charlie Plummer and Steve Buscemi.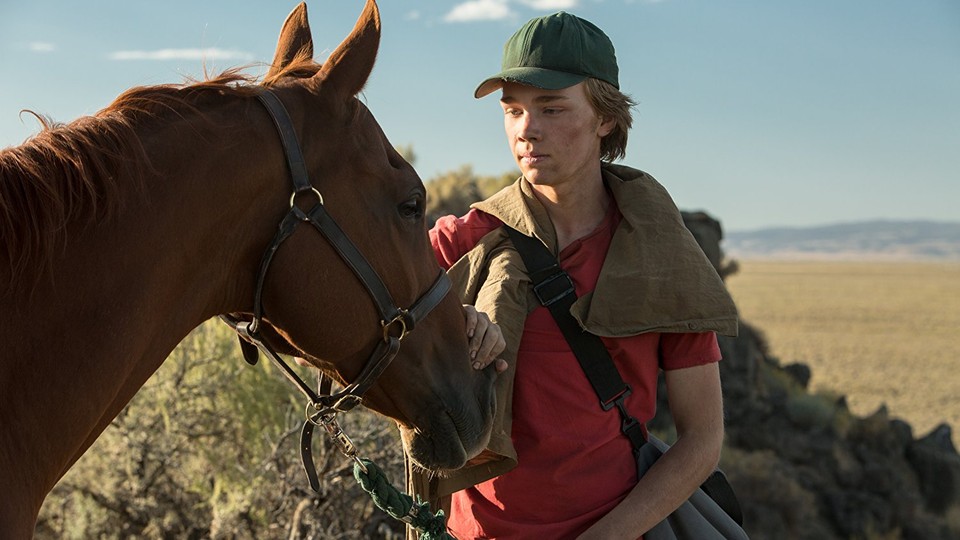 "Don't get attached to the horses," a grizzled trainer named Del (Steve Buscemi) advises his young assistant Charley (Charlie Plummer) not long into Lean on Pete. It's professional advice—he's cautioning against forming an emotional bond with an animal you might later have to sell. But his words feel like a warning for the viewer, too, as the quiet drama of Andrew Haigh's new film promises to build into something more grueling. There have been so many coming-of-age tales over the years about the connection between an adolescent and an animal—think of Kes, or Old Yeller, or Au Hasard Balthazar. They rarely end smoothly.
With that warning in mind, it's worth noting that Lean on Pete, also written by Haigh and based on Willy Vlautin's novel, isn't just a tragedy of a boy and his horse. It's also a muted, sometimes touching, other times arduous odyssey through impoverished parts of America that rarely show up on film. Lean on Pete has more of an epic scope than Haigh's previous movies, including intimate relationship dramas like Weekend and 45 Years. But the film retains his skill for delving into tiny internal nuances—Haigh is a director who can tell a story by just training his camera on an actor's face, without using a line of dialogue. When it's at its subtlest, Lean on Pete sings with power; but when things get outwardly grim, it loses a little of its impact.
Set on the outskirts of Portland, Oregon (at least in the first act), Lean on Pete follows Charley, a sensitive, subdued kid who lives with his hard-drinking, hell-raising dad, Ray (Travis Fimmel). By chance, Charley gets a job at the Portland Downs helping Del, a veteran horse trainer whose glory days are well behind him. Del runs a shoestring operation doing what he can to win a few races with the cheap or overlooked animals he can still afford to own. He's as jaded as they come—not exactly cruel, but matter-of-fact.
Charley, meanwhile, is a devoted worker and a moon-eyed kid who loves his screw-up dad, but he's also looking for some kind of inspiration. So no wonder he falls for the horses, especially Lean on Pete, an under-sung but marginally talented quarter horse that wins a couple races and captures Charley's heart. "It's not a pet," a jockey named Bonnie (a wonderfully flinty Chloë Sevigny) reminds Charley, who worries that Del might sell Lean on Pete for slaughter whenever the horse outlives his usefulness. And indeed, Charley's bond with the creature is a little more emotionally intense than one of master and pet.
Plummer and Buscemi make for a mesmerizing pair as they work together in the bygone-feeling world of cheap horse racing. Haigh makes it clear that the cynical Del really does care for Charley, even as the trainer worries the boy is too soft for the job. But between the bitter reality of Del's industry and the continued loutishness of Charley's father, the audience knows trouble is ahead. Soon enough, Lean on Pete becomes a more draining drama about a runaway kid trekking across the prairie in search of salvation.
I adored the first third of Lean on Pete so much that I was never as invested in the rest, particularly the taxing midsection that sees Charley running into various pockets of American culture (a group of listless veterans, a transient homeless community). While Haigh's portrayal of the horse-racing world feels thought-through and researched, some of these briefer encounters have a whiff of tourism. The sleepy realism of the first act slowly falls away as Charley's journey becomes almost mythic in length. But Plummer (who played the kidnapped Getty scion in 2017's All the Money in the World) is such an obvious talent that his careful performance keeps the film rooted despite its wilder twists.
Lean on Pete's ending, too (which I wouldn't spoil), is so masterful that it helps undo some of the second act's sillier excesses. That's a quality I'd assign to Haigh's last film (45 Years) as well—he's a director who grounds his characters thoroughly and makes every plot development spring organically out of them, which means his movies tend to struggle as they get more heightened. But Lean on Pete settles back down once it focuses more on Charley, rather than the wide, scary world he's passing through. It's a film that's certainly worth seeing, with the caveat that it's not an easy watch. Of course, you could try and heed Del's advice and not get attached to the horses, but Haigh's skill as a storyteller makes that practically impossible.