Kiri Is a British Import Worth Watching
The four-part miniseries is a thoughtful and devastating story about the death of a 9-year-old foster child.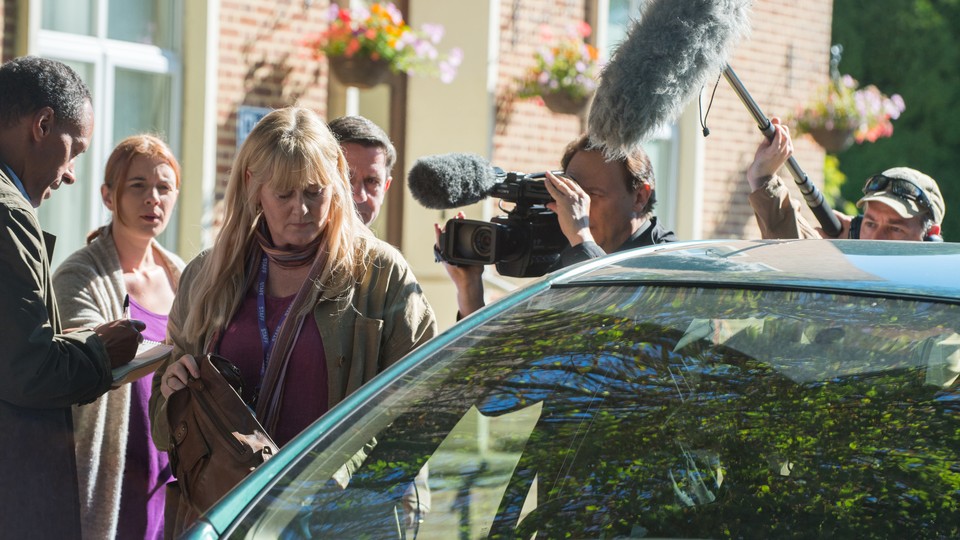 If there's one thing British TV drama does better than its American counterpart, it's turning real-life events into necessary cultural debates. Ripped-from-the-headlines stories in the U.S. get relegated to one-off episodes of Law & Order: Special Victims Unit, or sporadic "topical" plotlines in other splashy network dramas. But in the U.K., which has perfected the art of the three- or four-episode miniseries, they're gracefully and thoroughly dissected. Recent shows like Peter Kosminsky's The State, Jack Thorne's National Treasure, and Nicole Taylor's Three Girls have excavated and exposed the fault lines of modern Britain, from institutionalized sexual abuse to the draw of ISIS.
Kiri, which arrived on Hulu earlier in April, is billed as the follow-up to National Treasure, since it's also written by Thorne (his theatrical continuation of J.K. Rowling's universe, Harry Potter and the Cursed Child, opens on Broadway later this month). Its story and characters, though, are entirely new. Miriam (Sarah Lancashire) is a social worker in the southwestern city of Bristol, presiding over the adoption of a young black girl, Kiri (Felicia Mukasa), by an upper-middle-class white family. In the first episode, Miriam escorts Kiri to her first unsupervised visit with her grandfather, whose son—Kiri's father—has recently been released from prison, where he'd been serving time for drug-dealing and assault. A routine event turns into a tragedy, the media picks up the story, and national outrage ensues.
The original National Treasure, which starred Robbie Coltrane as a beloved British comedian accused of sexual assault, was responding to Operation Yewtree, the police investigation into horrendous sexual-abuse allegations against the TV personality Jimmy Savile and others. As much as National Treasure spun out the question of whether Paul Finchley (Coltrane) was innocent, it considered the cultural environment that fostered his stardom, enabled his excesses, and tore him apart for profit the minute his halo slipped. Kiri takes a similar approach. The outrage when Kiri is found dead is less about what happened to her and more about finding someone suitable to blame. Britain's right-wing press targets Miriam, and the squishy liberal sensibilities that argued a black girl being fostered by a white family might benefit from some sense of her cultural origins. The media also ignites a frenzied hunt for Nathaniel (Paapa Essiedu), Kiri's father, who's the prime suspect in her murder.
The genius of Thorne's writing is that he plays to his viewers' assumptions and then pulls the rug out from underneath them, exposing their own biases in the process. In the first episode, which centers around Miriam, one particular reading of the case seems obvious. In the second, which focuses on Kiri's grandfather,  Tobi (Lucian Msamati), the case totally reorients itself. During scenes where Kiri's foster family, the Warners, record TV interviews about their loss, the director Euros Lyn portrays them through the many screens on set, underlining how they're seen by the greater public. Their pain is filtered and saturated for mass consumption, by a public ravenous for stories that affirm its sense of how brutal and ugly the country has become.
But what really sets Kiri apart is its performers. Lancashire is something of a national treasure herself, having started out playing a lovable blonde barmaid on the long-running northern soap opera Coronation Street. Since then she's distinguished herself as one of the most powerful TV actors in the country. In Sally Wainwright's Happy Valley, which gained an enthusiastic U.S. audience on Netflix, she played a steely police sergeant dealing with the suicide of her daughter and the parole of her daughter's rapist. In Kiri, she's blousier, more vulnerable, but similarly anchored in her impossible job. The first scene in the series shows Miriam adding a shot of something to her morning coffee, and given the rest of her day, it's hard not to sympathize. She visits a teenager in school who's broken a girl's arm, and who begs to see his birth father. She greets an old charge who's exuberant after being acquitted in court, only to learn it was for a rape accusation, and he was almost certainly guilty.
Kiri feels rooted in a series of recent British cases involving the appalling deaths of children who were known to social services, and who should have been protected. The general public, immediately and inevitably, lambasts the social workers who failed to act. Thorne's perspective is more nuanced: He makes it clear that Miriam is extremely good at her job, as well as a habitual drinker who drives children to appointments while under the influence. Lancashire's portrayal makes Miriam more sympathetic than she could be in someone else's hands, because it's easy to see, despite her blasé affect, how much she cares. When she learns about Kiri's death, her face contorts into a mask of horror and pain. "Christ," she says. "That poor girl." Her supervisor has to remind Miriam what their crisis meeting is about. "Poor us," she interjects. "Poor you."
As Tobi, Msamati is the other standout. The second episode takes up the question of how a grandfather could make such an error in judgment and then answers it in devastating fashion. Msamati, a British-Tanzanian theater actor, is extraordinary in the role, conveying layers of hurt, anger, and guilt at what his family has become. The Warners, by contrast, are kept at a distance. In the last two episodes, which focus mostly on Alice (Lia Williams), Jim (Steven Mackintosh), and their biological son, Simon (Finn Bennett), the story becomes slightly less absorbing. Thorne seems compelled by the central mystery of his story to make them enigmatic, but they end up feeling not quite like flawed flesh-and-blood people. It's a minor weakness, though, in a series that achieves so much. Kiri, a gripping drama, also takes some of the most loaded subjects in contemporary culture and widens the debate around them. No one, Thorne presents, should get to feel comfortable when the stakes are so high.