Music That Mourns, Whether It Wants to or Not
Jason Aldean's new album doesn't reference the mass shooting at his Las Vegas show last year, but that in itself is a statement.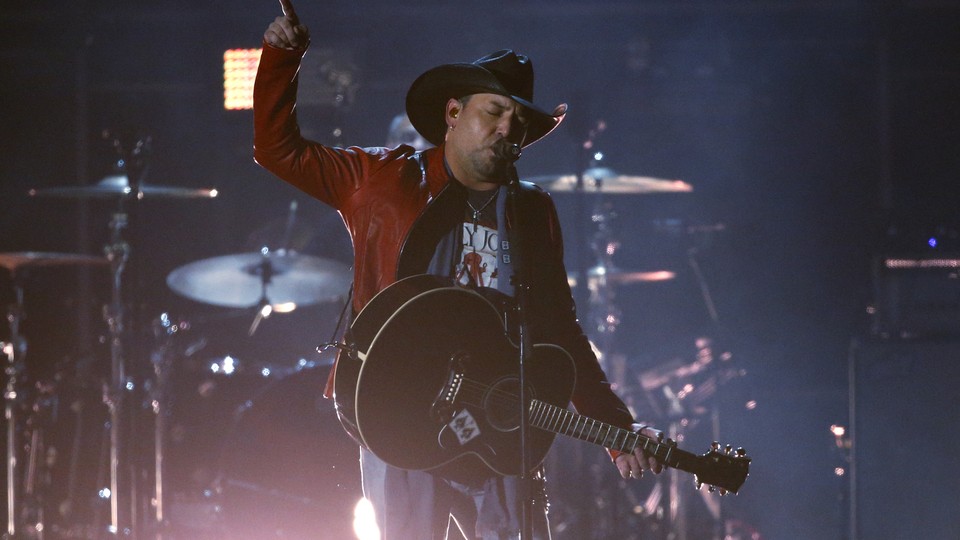 In the days after the Las Vegas country-music festival at which the deadliest mass shooting in modern American history happened, attendees Steve and Teresa Munoz, husband and wife, differed about what to listen to. Steve only wanted to listen to country songs, he later told Pitchfork's Quinn Moreland for a revealing article about the survivors of concert violence. Teresa absolutely did not. She adjusted, though, and months later, country singers and live music play a bigger role in the Munozes' lives than ever before. Said Steve, "I'm definitely more obsessed with going to concerts now." Said Teresa, "Since Route 91, I've paid so much more attention to lyrics, instead of just the melody."
Six months after Las Vegas, 11 months after the bombing outside an Ariana Grande show in Manchester, and two years and five months after the attack on Eagles of Death Metal listeners in Paris, it remains dumbfounding that concerts have become such venues for mass violence. What's clear is that survivors each process what happened in different ways, and that process can alter how they hear music. An anodyne love song may become a traumatic trigger, as was the case for Steve Munoz with Aldean's "When She Says Baby," which had been playing when the shooting began. A popular breakup ballad may swell with new meaning, as was the case for Teresa Munoz with Cole Swindell's "Middle of a Memory," which she said reminds her of all the concertgoers whose memory-making was cut short.
The filter of tragedy will inevitably color some of the reception to Jason Aldean's new album, Rearview Town—even though, or maybe even especially because, it lacks any reference to the massacre at all. "Anybody that's sort of looking for references to Vegas throughout the record, you're probably gonna be grabbing at straws," he told NPR, adding that most of the album predates the shooting. In the liner notes is a short dedication to the victims and their families, but other than that, Aldean said, "I don't feel like I need to go address it on an album to really bring some closure to everything."
Aldean, 41, is a personally taciturn, musically muscular, big-tent entertainer who outfits country's clichés about whiskey and women with surging rock guitars and occasional patches of rapping. The shooting indeed appears to have changed none of that. Rearview Town thrums to life with Kenny Loggins–esque rumble and Aldean crooning that he wants a cigarette and a shot of Patron. The waltzing single "You Make It Easy," now No. 3 on the country charts, serenades a special someone who turns his life into bliss. Over mid-tempo saunter and with a wistful wail, the melancholy closer "High Noon Neon" sketches the loneliness of a dive bar in daytime.
And yet: How can we not take themes of self-medication and loss in the context of what happened? Aldean asks for that aforementioned shot of Patron wearily, so as to get through a trying week. The message of "You Make It Easy" is a redux of "When She Says Baby," the now-tainted tale of transcending hard times with love. "High Noon Neon" features eerie images of empty asphalt expanses, and is one of a number of songs where the subject is absence itself: of a lover, of old friends, of a town's vitality. "I swear I can still hear you singing like an angel through my Chevy stereo," he sings on another song. "On every turn every street I drive down a memory / You're everywhere we used to go."
There's no reason to doubt Aldean's insistence that his songwriters sketched most of this material without concern for Las Vegas. But it's a tribute to the effectiveness of the music as pop, and those songwriters as conjurers of widely applicable emotions, that it often feels as though Aldean is reaching for very common comforts to get his way through very specific pain. And this is, of course, country music's great power: offering a language of boots and beers through which to process one's own, not-quite-so-cowboy life.
This is also what music can do more broadly, as we've seen again and again in the wake of catastrophe. When Aldean played Tom Petty's "I Won't Back Down" on Saturday Night Live after Las Vegas, he transformed the song via context. Context, too, changed Ariana Grande's "One Last Time," which became a rallying song following the calamity in Manchester. Something similar happened to Eagles of Death Metal's "I Love You All the Time," which other acts covered as a gesture of solidarity, and the band's cover of Duran Duran's "Save a Prayer," which rose on the charts in the wake of the Paris attack.
Surviving horrors like these can transform a musician's celebrity persona too, often in more explicit ways than it transforms their art. The typically laconic Aldean has spoken about the emotional difficulty of visiting with the wounded and the families of the dead. He's also made gentle calls for gun control, a rare step for a country star even now. Meanwhile, Ariana Grande, previously most associated with fun, feminist pop, joined the recent March for Our Lives rally after the school shooting in Parkland, Florida. And Jesse Hughes of Eagles of Death Metal has taken a more agitated stance: lobbing conspiracy theories about the attack, suggesting that many of the victims were cowardly liberals, and ridiculing the Parkland protestors. (After backlash and concert cancellations, he apologized for some of his rhetoric.)
Whether Hughes or Grande will tailor their music to voice their post-tragedy messages—and whether their songs will directly grapple with those tragedies at all—remains to be seen. Certainly it would seem logical that artists would want to process their feelings through their art, but then again, doing so may be too trying an experience in many cases. For now, there's Aldean's record, whose greatest statement may be in not making one. The people who died at his show were there to hear him do what he does best, and he might argue he is honoring their memory by continuing to do that.
Aldean's apparent determination not to be too changed by horror recalls what Steve Munoz told Pitchfork about why he took in so many country songs after surviving Las Vegas: "I felt like if did not listen to music, I was giving [the shooter] control because I would be associating all the evil that had happened with the music of that night." It also brings to mind why Teresa Munoz has been trying to attend the concerts of all the other acts who were at the deadly festival. Doing so, she said, "shows us they're okay, and we're okay."