Janelle Monáe's Dirty Computer Is for (Almost) Everyone
The R&B singer's album and movie are works of cheery, accessible radicalism.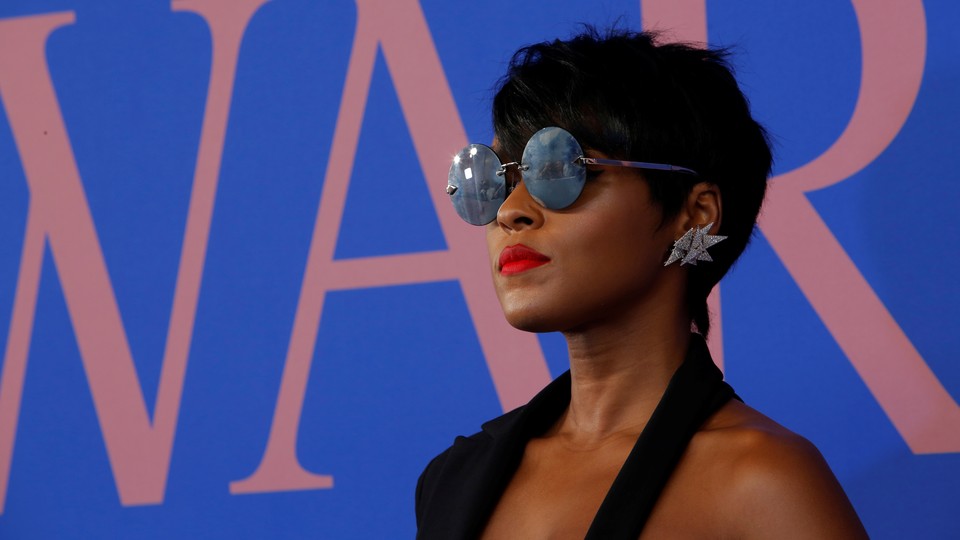 Just how freaky is Janelle Monáe? Many of the Atlanta pop visionary's lyrics tackle that mystery, but her most telling answer might be in her 2013 single "Q.U.E.E.N." "Is it peculiar that she twerk in the mirror?" she asked. "And am I weird to dance alone late at night?" As listeners shimmied along, solo or en masse, the question resolved itself: No, Janelle, you're not weird at all.
Monáe's muse is nonconformity, but almost more as a concept than a practice. Which is not at all to say she's a normie—a normie wouldn't wear "vagina pants," or rap over a woozy blend of doo-wop and folk, or release a 45-minute-long "emotion picture" with her album. But rather than radiate the true inscrutability of her mentor Prince, she glorifies the way that everyone, at some point, can feel like an outcast. Her music conducts modest experiments under bright lights, and if the songs ask to be thought of as Frankenstein creatures, they are happy, healthy, well-adjusted ones.
Dirty Computer, her third album, is pleasingly warm and punchy from front to back. '80s new wave and '90s pop rock inform the palette more than loungey R&B, as it was on her 2010 masterpiece, The ArchAndroid, or spaghetti Western sounds, which marked 2013's rangy The Electric Lady. Prince, as always, looms large too: "Kiss"-like guitar jangles emerge on the punkish rally of "Screwed" and amid the sphinxlike grooves of "Make Me Feel," while the caffeinated and clever "American" reads as a "Let's Go Crazy" tribute. Most impressive is how Monáe successfully balances competing ideas like an A-student juggling her extracurriculars. She'll morph into a glowering rapper for short spurts, and her choruses often mark the moment when funk grind gives way to something flightier, freer, and ecstatic.
The accompanying film, which debuted on MTV and BET, remixes the retro-futurist ingredients of her previous work: Rather than pretend to be an android on the run from oppressors, she imagines a Handmaid's Tale–like dystopia in which nonconformists (called "dirty computers") are captured and scrubbed of their memories. As it switches between images of a Kubrick-cold fascist monastery and the vibrant recollections of Monáe's character, the artist's aesthetic style holds steady: bold shapes, colorful lines, broad references. In this future, the weirdos dress like leather punks or David Bowie lookalikes, and the geodesic headgear of memory-wipers might be purchased at Urban Outfitters. There are flashes of a wilder imagination, too, like in the creative diversity of genital references for "Pynk." I'll not soon forget the image of Monáe hoisted upside down, tied in what appear to be ropes of glowsticks.
Album and movie alike almost feel like a YA novel, or Disney production, but ever-so-slightly skewed for Monáe's raunchiness and politics. Black, female, and—she recently confirmed to Rolling Stone—queer, Monáe wants to turn the conversation about "intersectionality" into something lively and tangible. Her songs describe discrimination with fresh verbiage, and include some of the most memorable protest lyrics of the Trump era (sample: "Hundred men telling me cover up my areolas / While they blocking equal pay, sippin' on they Coca Colas"). Stevie Wonder makes an appearance to preach universal love, but unlike a certain other pop idol's espousing of such notions recently, this is humanism with a progressive edge.
The fact that most anyone can enjoy Monáe's tuneful defiance is key. She'll happily draw in listeners whose biggest social transgression is, say, dancing alone. But she'll do so to help her more urgent cause: fighting society's exclusion of people based on immutable characteristics. She wants, in essence, to make everyone normal—no matter what they look like, who they love, or how they dance. The most affecting moment comes on the slow-cresting sermon of "So Afraid," in which this "dirty computer" cops to very quotidian fears of failure and loss. Elsewhere, on the widescreen anthem "Crazy, Classic, Life," she pines for a sort of acceptance that is radical only because it hasn't been fully granted:  "I'm not Americans' nightmare / I'm the American dream."